learn
San Francisco Tiburon Loop Bike Ride
The Tiburon Loop bike ride is one of the most popular rides in the San Francisco area, pleasant and rolling, with very little traffic once you pass through downtown Tiburon. You can also take the ferry back from Tiburon to San Francisco, which many cyclists do on this route. The ride features maybe the craziest descent in the area, on Conzelman Road. Civilization level is high, and traffic is light except going through Sausalito and into Tiburon.
STAGE ONE:

Great Highway
From the Daly City BART station , go west on John Daly Boulevard. John Daly Boulevard is a smooth, fairly wide 4-lane expressway. Descend on John Daly for about 2 kilometers; turn right on Lake Merced Boulevard. Lake Merced Boulevard is a slower 4-lane road with a few potholes. Take Lake Merced about a kilometer to John Muir Drive (just south of Lake Merced itself). John Muir is a wide road with little traffic; don't get on the stupid "bike path" to the right, it's horrible on weekends. Lake Merced sometimes has some nice views. After about a mile, John Muir ends at Skyline Boulevard; turn right on Skyline (it's a merge). Skyline is a fast 4-lane highway with a reasonable shoulder. Take the first left off Skyline (about a kilometer) onto the Great Highway.
The Great Highway is a blast if the weather is right. There's a short, somewhat steep hill, then a longer descent on the other side that brings you out to the ocean. After the first light (about a kilometer), it's rail-straight and fast for about 3 km; there's usually a nice tailwind on this section, and it's pretty and often closed to motor traffic. There's sometimes drifting sand on the road but usually not on the northbound side. There are traffic lights placed periodically but they're only to let pedestrians cross to the beach so they're usually ignorable.
After about 3 km the straight section ends; you'll see the Cliff House up ahead and a windmill across the intersection to the right. Turn right (on Lincoln Way) and immediately left on South Drive into Golden Gate Park. All the roads in Golden Gate Park are wide and well-paved and are often closed to motor traffic on the weekends. Most of them have rolling hills; don't push it too hard because we have (at least) one real climb up ahead.
Presidio

At the top of the first hill, turn left (streets are marked poorly if at all in Golden Gate Park) and then quickly right onto John F. Kennedy Drive. JFK climbs some more but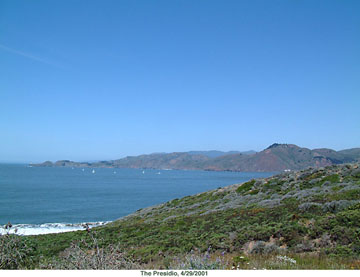 not too steeply; again, don't push it too hard. After about 2 km, and just before we come to an overpass, turn left on an unmarked street. This ends shortly at Crossover; turn left on Crossover. This will take us around a bend to a light at Fulton and 25th. We will go straight through the light onto 25th Avenue.
25th Avenue leaves the park and enters a mostly residential area in the Richmond district. There is one somewhat steep but short climb in the second block and it's mostly flat to the end about 2 km down. When it ends, turn right on Lincoln Boulevard (aka El Camino Del Mar). Lincoln will take you into the Presidio; it is a fairly significant climb, but it rewards you with some great views of the Golden Gate, Seal Rocks and the Marin headlands. Feel free to stop on the way up and have some water or a snack. Lincoln climbs for almost a mile; this is the biggest climb we've had on a beginners' ride, but it's really not that bad if you take it easy and gear down appropriately. Also, the best views are on the steepest section; take a break and look out over the ocean to the rocky Marin headlands. After the peak it descends for a bit to the Golden Gate Bridge visitor's center.
STAGE TWO:
Golden Gate Bridge Crossing

Turn left into the Golden Gate tour bus area. There are restrooms and a snack bar here, and we'll probably take a break. After that, go up the road by the visitor center. On weekends bikes must use the west sidewalk (really they should use the west sidewalk all
the time but the bridge authority for some reason keeps the west sidewalk locked during the week, forcing bikes to use the east sidewalk and dodge tourists in high winds). To get there you go up to the east sidewalk and turn right on a path that goes under the bridge (it's marked). The bridge is no fun; there's usually a stiff crosswind and it's just generally unpleasant. Be careful around the bridge towers, the winds whip around them and make riding treacherous (slow way down and you'll be OK). The bridge lasts for about 3 kilometers and exits into a little-used parking lot.
Conzelman

Climb up the short, steep hill in the parking lot and turn left on Conzelman. Conzelman is a GGNRA road; the speed limit is never above 25 and in fact is 15 for most of its length. The traffic at the bottom is sometimes heavy; it
gets lighter the further you go up. Conzelman climbs steeply for a bit, then less steeply for a while; the climb lasts for about 3 km total, and has awesome views of the bridge, the headlands, and San Fransisco all along its length. You might want to stop to rest at one of the "vista point" turnouts. At the very top of the hill there's yet another great view, plus garbage cans and various tourist-oriented plaques about the discovery of San Francisco, etc. It's a good place for a stop in spite of these.
After this area Conzelman becomes a narrow one-way street with a descent that is stunning in every sense of the word; do not let your speed get out of control. The really steep part ends after about 2 km and it flattens out, then climbs for a short stretch, than has a more controlled and fun descent for about another 2km.
Bird Island

Continue straight after the descent (the road again becomes two-way) along Conzelman; this will take you out towards Point Bonita and the Point Bonita Lighthouse. The lighthouse itself has recently reopened,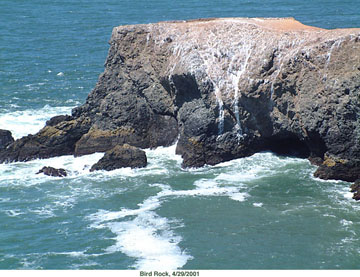 but the footpath is for pedestrians only, so we won't stop unless people are really interested in checking it out. Continue on to the right and stop at a lot overlooking Bird Island. It's a great place for birdwatching if you're into that, and there are sometimes whales offshore as well. If it's not too chilly, this is a good place to stop for a snack.
The lot is a dead end; we turn around and head back the way we came, turning left on Field Road. Field Road (which becomes Simmon Road, which becomes Bunker Road) is fairly wide and starts with a nice tailwind-aided descent through the rolling hills of the headlands. After about 2 km it starts to climb. There's a dirt path off to the right that climbs the hill and meets the paved road at the intersection of McCullogh and Conzelman; I've never ridden it, but the knobby-tire types might be interested in trying it out. Continue on Bunker Road. This climbs slightly until it enters a tunnel between West and East Fort Baker. The tunnel is sloped downwards and has a tailwind in this direction, but it's only one lane (for both directions), so be alert. If you get a good head of steam, this tunnel can be pretty fun. The bike lane is usually not usable due to debris and sand.
After exiting the tunnel, bear to the right until the road ends at at an unmarked road called perhaps Sausalito Lateral.
STAGE THREE:
Turn right on Sausalito Lateral. This is a fairly busy road which climbs for 1km or so, and then goes underneath Highway 101. After the underpass, turn right on Conzelman and then left back into the Golden Gate Bridge parking lot. Cross the bridge, and then get on the bike path at the other end. Do not go into the bridge tourist area; stay on the bike path until it hits Lincoln, then turn left. Follow the Stage One instructions above from there to Embarcadero BART. Total riding is about 45 km.