learn
San Diego's Perfect Pace
By Glen Ochoa.
Perfect Pace is a new gay club dedicated to the outdoor sports of hiking, backpacking, and camping. Based in San Diego, the club serves both men and women for the Southern California area, with most members residing in Los Angeles and San Diego.

Perfect Pace primarily focuses on overnight backpack trips in South and Central California and the Southwest, but also hosts many day-hikes, extreme power hikes, and car camps.

New members are always welcome. There is no membership
fee, but the events do require payment to cover permit, campground, transportation, food, and other costs. Carpool passengers are encouraged to offer contributions to drivers. Out-of-town guests are also invited to Perfect Pace events.
Besides the Events Calendar their&nbspweb site offers&nbsptrip reports, a gallery of recent hikes, inspirational stories, and tips on techniques and gear.
Have you ever looked at an REI catalogue and imagined you were one of the folks in that trip. Well, stop dreaming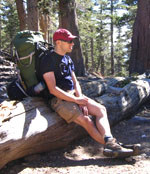 and come to a Perfect Pace event. Perfect Pace heavily celebrates photography of the outdoors and the members in that setting. Great pictures and trip reports of the events are posted on-line only a few days after the trip takes place. Perfect Pace takes hundreds of pictures on each trip and only s the few that capture you and the essence of the event at its best. Many of the albums are musical slideshows and some include streaming video. All the photos are also downloadable for that perfect screensaver.


Check out their Events Calendar&nbspfor their current backpacking and hiking trips.
And for more information on the overall club, visit their website at http://www.perfectpace.com/

&copy 2007 Gay Outdoors All Rights Reserved.