learn
North Carolina's Best Gay Nude Swimming Holes
By Mike Boisvert.
I've combed North Carolina for the wildest gay swimming holes to fit your skinny-dipping need, be it a happening scene, mixed crowd, or a waterfall-misted solitude.
Northwest of Morgantown
Upper Creek Falls (Pisgah National Forest off Blue Ridge Parkway)
Great waterfalls, huge boulders and pools, and a large overhanging rock! scenic region of Wilson Creek where these falls are located is a popular recreation area. This area of Upper Creek Falls is popular with gay men, and nude sunbathing is common here. The gay area is separated from the swimming holes and other sites on the creek where most visitors go. National forest rangers do patrol this area, and they will issue citations for nudity fines are about $75 so you should use discretion about being nude. Rangers have even gone to the extent of using their binoculars to check for nudity, so be aware that there is some risk of stripping down here. Don't be confused by other signs you may see for Upper Creek Falls when you are trying to find this place. The gay area is accessed near milepost 22.
Geting There: From Morganton, NC, take HWY 181N towards Linville. The trailhead and parking lot are approximately 0.8 miles North of the Barkhouse Picnie Area on HWY 181. You will see a brown and yellow USFS sign on the right side of the road. If driving from the Linville area, travel HWY 181S. Approximately 4.1 miles South of the HWY 181/183 junction, you will see the sign, parking lot, and trailhead on the left.
South of Durham
Indian Creek Beach (Jordan Lake)
Indian Creek Beach is used because the parking area for the nude beach is at the Indian Creek Wildlife Observation Site. Trails on the north side of the parking lot lead to a long beach area that is used almost exclusively by gay men, most of whom swim and sunbathe nude. Up to 25 nude bathers will be here on warm weekend afternoons. This nude area has not existed for very long and the continuation of nudity here is currently threatened. Lake officials receive informal complaints about nudity and sexual activity at Indian Creek. Most of the complaints about this site seem to be related to nudity that occurs very close to the public access area or about blatant cruising in the parking lot or on the wildlife trails. Such reckless behavior will probably end up shutting down this nude area for good. Don't provide the fuel. We all pay the price because of a few idiots. THE SITE HAS NOW BEEN CLOSED FOR EVERYONE. UNFORTUNATELY, THE INABILITY OF A FEW HORNY GUYS TO CONTROL THEIR URGES HAD RESULTED WITH THIS AREA PERMANENTLY CLOSING!
Directions: From Interstate 40 on the south side of Durham (east of Chapel Hill), take Exit 274. Head south about 7 miles on State Route 751. Look for a "Wildlife Observation" sign, then turn right into the parking lot. This is the Indian Creek Wildlife viewing site. Take one of the trails from the right (i.e., north) side of the parking lot through the woods to get to the beach. Make sure you are a good distance from the public access area before disrobing.
Sylva and Cullowee
Paradise Falls
The Paradise Falls form three tiers that house one swimming hole each. This place is very remote and it takes a short but rugged hike from the road to get down to the falls so be prepared for an adventure. Of course the hike is well worth it with stunning views, excellent water, and refreshing falls. IT IS VERY IMPORTANT that you make sure that they're not going to be releasing water from the dam upstream before venturing into these great swimming holes. Also, diving is not safe in any of the falls. Clothing is optional for all falls.
Directions: At the intersection of highways 64 and 281 north in Lake Toxaway, take highway 281 north for 1.3 miles and bear left on Slick Fischer Road just past the little store/cafe on the left. Drive about 4.5 miles until it ends back on 281 north. Take a left on 281 north for 4.7 miles to the semi-circle dirt/grass parking area on the left. You would have come around Tanasee Creek Lake on the left and then Wolf Creek Lake on the right. The grassy parking lot is just after the lakes. There's a church immediately after this on the left after where you turn around if you miss it, but please do not park in their lot. If you're coming from Cashiers, head north on highway 107 for 14.5 miles from the intersection of highway 64 and take a right on highway 281 [Canada Road]. Drive 12.3 miles to the parking on the right just past the church. Coming from Cullowhee, you would turn left on highway 181 from highway 107.
Knoxville, TN Asheville and Waterville, NC
Big Creek Area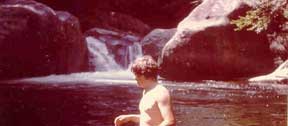 With the Great Smoky Mountains National Park known for its abundant and beautiful creeks, they don't get any better than the one called Big. And the first part of the route follows an old railroad grade—used to transport trees during
the logging boom at the start of the 20th century—making for a gentle entry into the deceptively steep Smokies. Allow plenty of time for frequent stops at swimming holes and a waterfall in the first few miles of the hike: Midnight Hole is a deep blue gem just 1.4 miles in; Mouse Creek Falls is a 45-foot cascade just a bit farther. (Tip: Camp along the Big Creek Trail just beyond the old logging camp at Walnut Bottom.) .
Directions: From Knoxville, follow I-40 to Waterville; exit SW. Turn R then veer L onto Waterville Rd. Follow straight to Big Creek entrance. Pass ranger station and park in lot just beyond Big Creek trailhead.
If you have d information on these areas, contact us so we can share with everyone: webmaster@gayoutdoors.org.
This story was researched with the help of Michael Boyd's book, Naked Places, A Guide for Gay Men to Nude Recreation and Travel, which may be purchased at Amazon.com, by clicking here: http://www.amazon.com/exec/obidos/ASIN/096560893X/gayoutdoorsco-20
&copy 2006 Gay Outdoors All Rights Reserved.