learn
Dry Southwest, Uncertain Summer
IT was a beautiful day in the Santa Fe National Forest. Mike and Kathy Serk, hikers from the suburbs of Santa Fe, N.M., were taking a break along the Raven's Ridge Trail, sitting on fallen logs in a pool of sunlight for a leisurely lunch of sandwiches and potato chips. Around them, towering spruce trees and pale green aspens swayed gently in a mountain breeze. Songbirds flitted among the branches. Nearby on the clear, dry trail, hikers and mountain bikers occasionally passed by.
But something was out of kilter.
These conditions were perfectly normal for mid-June, but this was the first week of March. The trail should have been buried beneath several feet of snow.
This year snow and rain have largely passed the Southwest by. The period from November through March was the driest in Santa Fe and Albuquerque since record-keeping began in 1892. Statewide in New Mexico, this was one of the driest seasons on record. Arizona set new records for winter drought, with Phoenix recording no rainfall for a stretch of 143 days and some Tucson residents reduced to watering the cactuses in their gardens. A smattering of spring storms have done little to make up for the missing moisture.
The Serks and New Mexico's other seasoned nature lovers know well what drought like this portends in a national forest, and they are getting their outdoor time while they can. "We really love it up here, and plan on coming up a couple of times a week," Mr. Serk said. "Until they shut it down."
No one has said officially that this forest will be shut down. No one has announced, or yet decided, that its trails will be off limits this summer to backpackers and campers or its rivers closed to rafters and kayakers. But the signs are clear enough. Drought means fire danger, and when that danger is high enough, the public is barred. Forest Service officials are predicting an early start to this year's wildfire season, which could be severe.
The fuel-moisture content — a measure of the ratio of moisture to combustible material in dead trees, which indicates how prone they are to burning — was down to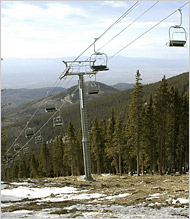 between 7 and 10 percent in early March, said George Devis, a ranger at the Carson National Forest headquarters in Taos, N.M. That would be a frighteningly low reading even in the normally dry months of midsummer. "Whenever we've had catastrophic fires," Mr. Devis said, "that reading has been below 10 percent. And we're already there."
Rangers at several national forest districts in New Mexico and Arizona gave noncommittal answers when asked what kinds of restrictions were likely.
The Santa Fe and other national forests in the New Mexico mountains are popular for recreational activities from hiking in remote wilderness to camping in developed campgrounds near paved roads. If the public lands are closed, thousands of vacationers will have to find other places, putting pressure on the forests farther north, where there has been no shortage of snow and rain. The Serks are doing their best to look on the bright side. "This will force us to go to places we've never been to before," Mrs. Serk said. "We'll just take some four-day weekends and explore some backcountry areas in Colorado."
On the day the Serks were having their picnic, the views from the nearby trails told the story. From the steep switchbacks on the way up to Lake Peak in the Sangre de Cristo range, which reaches up to 12,409 feet, breaks in the tree branches revealed brown slopes at the Santa Fe Ski Basin, a ski area 16 miles northeast of Santa Fe. Empty chair lifts dangled over runs that had been snowless for most of the ski season.
This summer, river sports seem likely to be curtailed, too. Water levels are low; the National Weather Service predicts that flows in the Rio Grande this summer will be 35 percent of normal. Mr. Bailey, who works in the Taos office that manages the popular Racecourse section of the Rio Grande, said there would be enough water for kayaking, but rafts, though usable, would be bumping along the river bottom. Commercial rafting companies may adapt by switching to fleets of inflatable kayaks.
But he described the outlook for the Rio Chama, northern New Mexico's other main recreational river, as "grim." Natural runoff is so low that only releases of water from the El Vado Reservoir, part of the system that supplies water to Albuquerque, may save the kayaking and rafting season. "We're hoping to get a few releases scheduled for the period between July 4 and Labor Day," Mr. Bailey said, "but nothing is certain yet."
And regardless of water levels, if forest lands on a river's banks are closed, rafters and kayakers might be barred from favorite spots.
Rangers are advising people to make sure the land they want to use is still open by calling Forest Service offices, or checking the offices' Web sites, before venturing out. But that recommendation doesn't much help people trying to plan summer vacations. "It's frustrating," said Matt Jessee, a science teacher who plans to drive a van full of high school students to the Southwest for an end-of-the-year trip from Carolina Friends School in Durham, N.C. "We can't make any promises to the kids at this point about where we're going or what we're doing. They were really looking forward to a river trip on the Chama or the Dolores, which now seems impossible."
Eliot Salgado, a firefighter in Rio Rancho, N.M., who serves on wilderness fire crews, believes that "just about everything is going to be shut down." With a sardonic smile, he predicted, "I'm going to be one of the few people who gets to spend time in the forest this summer." More time, he added, than he'd like.