learn
Good Times at a Backpackers' Paradise
Adam Bridges&nbspis tearing through Damascus, Va. After weeks of hiking the Appalachian Trail and 10 days without seeing a town, he's back on the grid. He has just devoured a large pizza topped with broccoli, pepperoni and hunks of ricotta cheese, sharing it with his hiking partner, Plunger.
Now, sifting through the contents of a small brown box he picked up at the town post office — duct tape, cellphone charger, wallet-size picture of his two nieces — he asks Stumpjumper about the hikers' bug that's been going around. At the library across the street, he s his online trail journal and waves to Bill E. Goat. Then? Beer, where he'll find Yield.
Having walked 460 miles, Mr. Bridges, a k a I'm Still Adam, has just descended on Damascus, which bills itself as the friendliest town on the Appalachian Trail — a place where beards grow long, women's legs go unshaven and just about everybody goes by a trail name.
From May 19 to 21, Damascus will stage what has become probably the largest single gathering of hikers anywhere: an annual festival called Trail Days. Last year, despite a steady rain, an estimated 20,000 to 25,000 people showed up for the celebration in a town with an official population of 1,094.
It is during Trail Days that Damascus, a place shaped by the walkabout spirit of the Appalachian Trail and all the nicknamed hikers who pass through, puts on its brightest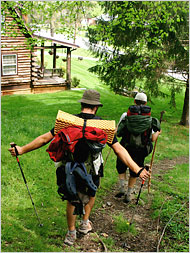 display. The festival is a backpacker's Mardi Gras. It's an alumni reunion for anyone who has ever hiked the 2,159-mile Appalachian Trail, a moment in time when America's most famous long-distance footpath goes nonlinear.
It starts with a townwide yard sale. After that, there's the Trail Day Pageant. Then comes a tarp-raising contest Appalachian Trail Jeopardy presentations from the Whittling Club a homemade gear contest, followed by a useless gear contest. Bands play. Gear manufacturers set up shop. Tents of all shapes, colors and sizes are erected a foot apart in a makeshift campground of 2,000 campers. The weekend culminates with the hiker parade, often consisting of more than a thousand participants marching through the center of town as onlookers soak them with squirt guns.
The first Trail Days took place in 1987 to celebrate the Appalachian Trail's 50th anniversary. Back then, there were no more than 10 vendors.&nbsp
This year, however, there will be 150 vendors, 5 musical performances and more than 40 events. The number of visitors camped out in downtown Damascus along the river got so big a few years back that town officials had to tighten the reins and move the bulk of campers a half mile from the center of town.
Damascus is one of a few notable towns along the Appalachian Trail. Among the other high points are Harpers Ferry, W. Va., near the approximate halfway point of the trail Hot Springs, N.C., where hikers can soak in hot tubs filled with geothermal spring water and Hanover, N.H., which doubles as a raucous college town. But Damascus is the place mentioned most when hikers talk about towns on the trail.
Once there, if you've started at the trail's southern terminus on Springer Mountain in Georgia&nbspin early spring, you've cleared the often snow-covered Smoky Mountains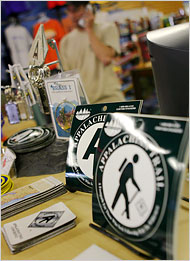 and trekked approximately one quarter of the way. By then, some hikers are so eager to get to Damascus that they walk through the night on a hellish, blister-inducing jaunt known as the "40-mile challenge."
Upon arrival, many hikers do not know what town's next.
In Damascus, hiking boots can be traded for lighter trail-running shoes. Broken clips, straps and shoelaces can be replaced. Winter garments, like down jackets and gloves, can be mailed home. The nearly penniless can find odd jobs clearing land, cleaning rooms, driving shuttle buses.
Establishments cater to hikers, as a growing number of the town's merchants are hikers themselves. The Dancing Bear Inn, run by Bob Smith, who is known as Dancing Bear, offers a barrel of rags for cleaning gear and a clothesline out back for hanging tents and sleeping bags to dry. The Baja Cafe, owned by the former trail hikers Jared Yelton and Becky Pike, offers fish tacos and a chance to check e-mail free. Meanwhile, the more upscale Lazy Fox Inn may well offer the best breakfast on the Appalachian Trail: homemade doughnuts, hash browns, cheese grits, baked apples, bacon, eggs, apple butter and peach preserves.
Backpacking legends often roam the town's streets. There is Tennessee Jack, who, as the story goes, once slept with a dead groundhog stuffed in the backpack he uses as a pillow. There is Wee Willy, who wears a denim hat that reads Hiker Trash and may or may not have once used moonshine to light his backpacker's stove. There is Pirate, who sports tattoos of Vikings on both arms, smokes a pipe and walks around with a handheld global positioning system unit around his neck. And there is Lone Wolf, long-bearded and independently wealthy, who has hiked approximately 16,000 miles on the Appalachian Trail.
Damascus, surrounded on three sides by national forest, is on other trails as well as the Appalachian: the Crooked Road Musical Heritage Trail (a 250-mile trail through southwestern Virginia&nbspthat taps into the roots of the region's music) the Virginia Creeper Trail (a 34-mile rail trail that gets an estimated 250,000 cyclists a year) the TransAmerica Trail (a 4,247-mile road cycling trail that goes from Yorktown, Va., to Astoria, Ore.) and the Iron Mountain Trail (a 43-mile hiking and mountain biking trail).
All this has made Damascus a town where the paths of hikers, bikers and road trippers converge. The chamber of commerce uses the nickname Trail Town, U.S.A. "There are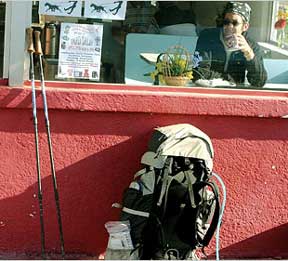 so many trails around here that some hardly ever get used," said Dennet Dwyer, a mountain biker who lives in town and works at a nearby lumber company.
Plastic shamrocks hang like love beads from a walk-up window inside the Dairy King as Mr. Bridges joins the line of hikers, bikers and residents waiting to place breakfast orders. The line gets to be seven deep. "No 80's music," barks a hiker with the trail name Gumby at a fellow hiker standing at the jukebox. Raindrops pelt the hoods of cars in the parking lot as plates of French toast and hash browns are passed to waiting customers.
Adam Bridges will stay another day in Damascus before returning to the wilderness. Come Trail Days, however, if he can hitch a ride back, he'll join the masses in Damascus.
HITTING THE TRAIL
Trail Days runs from May 19 to 21. For more information, visit http://www.traildays.info/.
Damascus is 130 miles southwest of Roanoke, Va. Once you've arrived, there is little need for a car as trails literally run right out of town. General information about the town is at http://www.damascus.org/.
The town is largely surrounded by the Mount Rogers National Recreation Area. For general information about this natural area, visit www.fs.fed.us/r8/gwj/mr.
The Place, a two-story hostel with bunk beds and no mattresses that asks for a donation of $4 a night, is a legendary overnight stop for hikers passing through Damascus. Backpackers looking to splurge check in at Dancing Bear Vacation Rentals (203 Laurel Avenue 276-475-5900 http://www.dancingbearrentals.com/ $55 to $78). The jump to more upscale lodgings puts you at the Lazy Fox Inn (133 Imboden Street 276-475-5838 price $65 to $75).
Five outfitters rent bicycles in town: Adventure Damascus (http://www.adventuredamascus.com/), Bike Station (http://www.thebike-station.com/), Blue Blaze Bike &amp Shuttle (http://www.blueblazebikeandshuttle.com/), Ole-Barn (http://www.ole-barn.com/) and SunDog Outfitter (http://www.sundogoutfitter.com/).