learn
New York's Best Gay Nude Swimming Holes
By Mike Boisvert.
I've combed New York for the wildest gay swimming holes to fit your skinny-dipping need, be it a happening scene, mixed crowd, or a waterfall-misted solitude.
Ithaca, New York
Potter's Falls (a.k.a. Six Mile Creek Gorge)
Potter's Falls is a 25 ft. cascading fall, and is considered to be Ithaca's favorite sunbathing spot. Potter's Falls (a.k.a. Green Tree Falls) is on Six Mile Creek, a natural area full of cascades, rock formations and wildflowers—so many that it was designated a wildflower preserve in 1970. The trail's first mile is believed to hold the greatest wildflower diversity in the state.
No fee
Dogs allowed on leash
Swimming prohibited
Channeling the vibe from the scenic creek gorge, Potter's Falls is a popular home to gay men, but also many others including the cute college boys from Cornell University. Historically popular, it draws folks who come with beer coolers to enjoy the pool that is deep enough in some parts for diving off the ledges. Because there are some flat areas of rock, it's an ideal place for nude sunbathing. In fact, it can become a party place.
Note:
The Lower Reservoir - Has a sign "SWIMMING PROHIBITED." People do often swim here from a large, flat rock - but you may be subject to arrest if you do.

Potter's Falls - is upstream of the lower reservoir and is the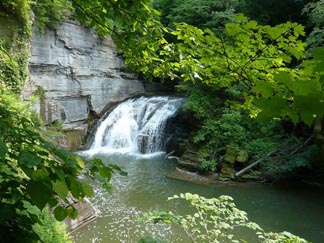 main swimming place in a large pool at the bottom. There is a network of trails and it is easy to get lost so keep track of your route and ask directions of people you meet.

Upper reservoir - Upstream from Potter's Falls - this is the water source for Ithaca and swimming is definitely NOT permitted.
Potters Fall Nudity Bathing TV Story

Directions to swimming hole: Rangers, (different one every year) not police, visit usually once a day and quite often not at all. They look for kids jumping from rocks and rowdiness. They don't make arrests, but instead are quite pleasant and friendly to deal with. There is longtime tradition of skinnydipping and nude sunbathing at Potters Falls, and it continues today in a positive and friendly environment." However the trails are dangerous. In the last two years, there've been three bad falls from gorge trails, two fatal.
Follow Rt. 79 east from the Commons 1mi and turn right on Giles St. Turn left into the trailhead parking area marked Mulholland Wildflower Preserve, just before the bridge. ike upstream on Greenway Trail & East Gorge Trail: 2.4mi. Caution, steep sections with poor footing. Moderate difficulty. Open year round.
Westfield, New York
Skinny Dip Falls
The falls are located in Chautauqua Gorge that is a clothing-optional area located near Westfield in the westernmost part of New York and rarely crowded. After hiking on a warm day there are several refreshing small waterfalls.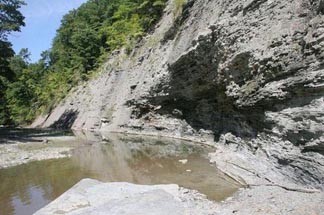 There is level space along the creek for sunbathing and small small pools for soaking or swimming. It's the kind of place where doing very little feels good: simply sit and absorb the gorge or meander through the small pools. T
Click Here For More Information and Detailed Directions
New Paltz, New York
Split Rock Hole
The Mohonk Preserve, about 6 miles west of the funky hamlet of New Paltz, is a climbing mecca full of fit and hot rock climbers. Home of the 'Gunks', the Mohonk preserve attracts thousands of climbers from around the world each year. Click here for more info: http://www.mohonkpreserve.org/.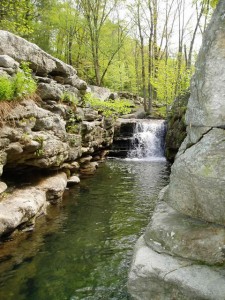 During the summer, the heat and humidity can be nothing short of brutal. A dip at the popular Split Rock Hole in Coxing Kill Creek (nudity is prohibited) can be more than welcome relief. Although Split Rock may not be the biggest secret, it is secluded and serene. It contains the coolest water. Walk across the bridge here, just past the bridge on the left there is a tree limb stairway. Go down and follow path for about 10 minute walk. Some trees are marked with yellow paint so it's easy to follow. You will know when you get there. Not a very deep swimming hole, but wading and sunning are nice here and bathing suits are said to be a personal choice but rarely worn. It's an ideal paradise for naturists. There are flat rocks for sunbathing. Small crowds gather including some gay men. It's quiet on the weekdays but very popular on warm weekends. While nudity is perfectly acceptable in the designated areas, Mohonk Preserve officials are vigilant about not tolerating any kind of sexual behavior.
Getting There: From New Patlz head west on Co. Rd. 299 until it dead ends. Make a left onto Hwy. 44 for about 1.5 mi.. Go under the small bridge and follow the road to the bottom of the hill and look for the parking area on the right. From the parking lot head south on the trail to the Trapss and make the first left. In a few hundred yards find your refreshing oasis. You are required to have a preserve permit to use the area but if you show up early enough you may sneak by before the ranger station is staffed.
Tannersville, New York
Upper Kaaterskill Falls
The spectacular Kaaterskill Falls at 260 ft., are the highest falls in New York State. The consist of two tiers the upper falls dropping 175 ft. (swimming hole clothing optional) and the lower falls (no swimming hole) dropping 85 ft. into the rocky basin. The upper falls swimming hole is enclosed in a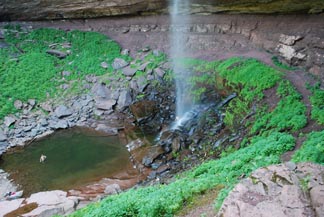 spectacular amphitheater setting that has been known as clothing-optional depending on who shows up first. It is a tough, steep, dangerous climb on sometimes loose rocks to get to the upper falls. Some have fallen and been hurt. This keeps most people away, but a few adventurous gay men visit. For the best camping, head to nearby North-South Lake Campground (http://www.dec.state.ny.us/website/do/camping/campgrounds/northsouth.html). Or walk back into time at the Rosehaven Inn, perched at the head of the famous Kaaterskill Clove (http://www.rosehaveninn.com/).
Directions to swimming hole: From Kingston, go north on I-87 to Exit 20. Go north on RT 32 for 6 miles then north on RT 32A then west on RT 23A. RT 23A, 1.4 miles west the junction of RT 32A and RT 23A in Palenville, there is a large pullout on the south (left) side of the road. (Apparently called "Palenville" by locals.) Park here and continue walking west on the road, along Kaaterskill Creek. This is a VERY narrow, winding and busy road. Be extremely careful as the road shoulder is narrow. When you reach the bridge over Kaaterskill Creek, take a left on the trail and follow the rocky path down to the swimming area. This short, but rugged 0.7 mile walk through a deep gorge ends at the base of spectacular Kaaterskill Falls.
Lake Placid, New York
Copperas Pond
When gay New Yorkers want to a place to camp and skinny dip in the Adirondacks, they motor to the deep, clear water of Copperas Pond. There are large rocks and you can jump into the water (there are underwater rocks, check first). Plus you can camp at the lean-to. It's an easy 1.5 mile walk to Copperas Pond so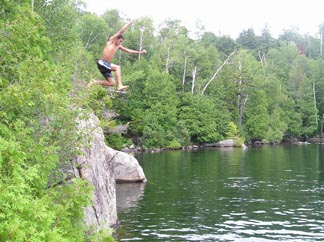 bring your wine, beer and food. Crowds here are small. If your plan is not to spend the night, there is lots to do at Lake Placid once you return.
Directions to swimming hole: To get here from RT 73 in Lake Placid: At the intersection of RT 73 and RT 86 in Lake Placid, turn north on RT 86. (Set your odometer here.) Two ways from here:

First way: Roughly 4.5 miles from the intersection of RT 73 and RT 86 in Lake Placid, there is a trailhead on the right for a trail marked Owen Pond -it is about a 1.5 mile easy walk up this trail to Copperas Pond. When you get to the pond you can look across and see the rocks, you just follow the pond around the to the lean-to.

Second way: Roughly 6 miles from the intersection of RT 73 and RT 86 in Lake Placid, will be the Ausable River and 2 paved "Parking Areas" on the left. The first one is the main trail to Copperas Pond. It is about a .5 mile walk (uphill, strenuous) to the pond. When you get there follow the pond to the right, you will come across a lean-to. The trail stops there, but if you keep walking over to the rocks that you can see from the lean-to you can find many spots for sunning and swimming. Just follow the rocks, it looks harder than it is.
If you have d information on these areas, contact us so we can share with everyone: info1@gayoutdoors.org.
&copy 2006 Gay Outdoors All Rights Reserved.