learn
Withlacoochee River Kayak Trip
By Kelly.
Located in the Withlacoochee River in Hernando and Sumter Counties, this winding river is utterly beautiful and surprisingly serene. It flows north, like the St. John's, a rare trait among rivers.

About 8-9 of us went out on a beautiful late morning from Nobleton Outpost for a 5-mile upstream one-way paddle. Gorgeous skies, low water and great company!

We met about 11 a.m. and everyone was on time (yes, believe it!).

The new owners of the outfitters are awesome (and family!).
We had some first-time paddlers with us and this was a perfect trip for them.
It was an easy paddle for them, beautiful day.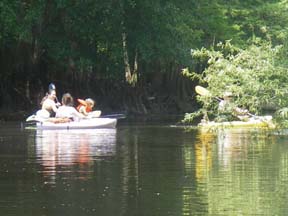 The water was low, but there weren't any problems with that.
It was kinda cool to see all the cypress knees that looked like something from a gaelic fairy tale.

We finished the 5 miles in a couple of hours, as promised, and ended up back at the outpost.
Next time, I would go the full 9-mile route and WILL be going back!!
Great river and real gem. Never knew it was so nice.

Rainbow Paddlers is a gay, lesbian and gay-friendly group that goes out at least monthly mostly in Central Florida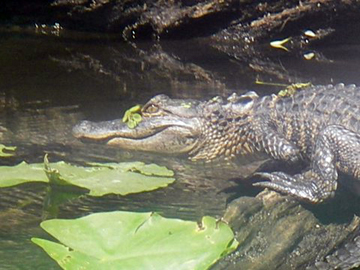 (Orlando, Tampa, Cocoa Beach, Ocala). Novices to experienced. Some impromptu outings. Have email list for communicating mostly. No drinking on our outings. For more info, visit their website
© 2006 Gay Outdoors ; All Rights Reserved.