learn
A Naturist's Guide to Southwest Florida's Beaches
Due to the "nature" of our business, friends, visitors, and clients often ask us, "Are there any nude, clothing-optional, or European-style beaches in Southwest Florida?" We answer with a "Yes" and then ask them a question. "How do you plan on getting to them, on foot, by car or by boat?" First of all, we consider Southwest Florida to be one of the best "beaching" areas on the planet. It is close to great shopping, theaters, hospitals, and restaurants, yet has a wonderful variety of barrier islands and beaches to visit. More often than not, you will see porpoises, a tremendous variety of birds, and other wildlife while boating or visiting a beach or barrier island in Southwest Florida.
We have traveled to the South of France, Spain, The Balearic Islands, the Hawaiin Islands, and the Caribbean Basin in search of beaches, but still enjoy coming home to Southwest Florida, and Fort Myers specifically. The water is usually around 88-92 degrees in the summer and briefly falls to the upper 60s during our short winter.
We originally moved from Alexandria, Virginia, to North Miami Beach, Florida, in 1985, before the Bakers-Haulover beach had been approved as clothing-optional. In 1987, we moved to Marco Island and frequently enjoyed going nude on the northern end of Tigertail Beach, just a short walk north past an old wooden fence.
Even during the season, we were able to discreetly enjoy Tigertail's northern inlet area in the nude. The inlet had a wide sandy beach, surrounded by some small trees and brush.
Infrequently, we would be sleeping, enjoying the sun and shallow surf, and a textiled couple would walk around the turn on the beach and see us, before we would see them.
More often than not, those couples, who had walked to the secluded northern end of the beach, like us, were also nudists.
When we eventually purchased a boat, we were able to explore several other clothing-optional beaches. Key West is only 90 miles due south of Marco Island.
The first island just south of Marco Island, is Kice Island, and is just about four miles long, totally uninhabited, with white sandy beaches and deep water just offshore of the southern tip. The northern and middle section of Kice Island have shallow depths and some shoaling offshore, so a shallow draft vessel is preferred here.
Farther south, the U.S. Fish and Wildlife Service or the Everglades National Park Service control the backwater areas and barrier coastal island, depending upon your location. Nudity on boats and the small islands is common practice and the rangers won't bother you, unless you approach a sea turtle or eagle's nest.
Several larger barrier islands, such as Pavilion Key, southwest of Everglades Cith have good beaches. Frequently, nude campers utilize the Pavilion Key beach.
If you travel north from Marco Island, the first barrier island, Keewaydin Island, is about seven miles long and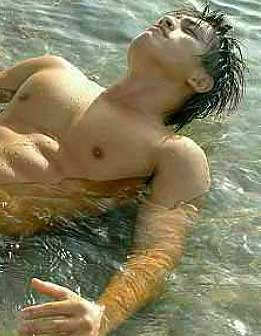 mostly uninhabited, although there are some private residences along the shore. It is still very amenable to nude sunbathing and shelling.
In 1996, we had moved to Orlando and frequently enjoyed visiting Playalinda Beach near the NASA Space Center, Cypress Cove in Kissimmee, and Paradise Lakes in Lutz, Florida. But in 2001, we decided to move "back to the water," and picked Fort Myers Beach as our new home.
We chose Fort Myers for a couple of reasons. First, it is located below the Tropical Convergence Zone, which helps keep our winters about 10 degrees to 15 degrees warmer than Central Florida. Secondly, Fort Myers Beach housing costs are not as high as Naples and Marco Island.
From Fort Myers Beach, you can sail south towards Naples and beyond. Or, you can motor the entire way from Fort Myers Beach to Tampa Bay, via the Intra Coastal Waterway (ICW), without going into open water in the event of foul weather.
Since moving here, we have enjoyed several clothing optional beaches in the Fort Myers Beach area. One of our favorites is on the north side of Big Hickory Pass, on Big Hickory Island, just north of Bonita Beach. Depending upon the weekend, there can be anywhere from between 30 to 300 people.
Another beach that you can drive to, that has changed status from clothing-optional to textile and back again, depending on the "powers that be," was the Sanibel Naturist's former unofficial beach on Silver Key. It is about
a one-mile walk north (or west, depending upon your viewpoint) from the Bowman's Beach parking lot on Sanibel Island. On any given weekend, about 6 to 20 locals use it.
As you up the ICW, there are several private islands, such as Cayo Costa, Useppa Island, and Cabbage Key. These are private islands, and it is strongly suggested that you do not go nude on them.
North of Cayo Costa you will enter Charlotte Harbor. It is a large body of water and the average depth is around 12 feet. Several boaters traverse it in the buff.
From Charlotte Harbor, you can stay in protected waters (the ICW) and travel the entire way to Tampa Bay. It is an interesting journey when the open waters of the Gulf of Mexico are rough.
Come and visit a Fort Myers Beach soon. We'll look forward to seeing you.
Courtesy of Internaturally.