learn
Gay Outdoors' Mad River Lodge
By Mike Boisvert.
Enjoy all that New Hamphire has to offer at Mad River Lodge!
Taking a cool dip in the Mad River. Sunbathing on a perfect sandbar. Hiking up a spectacular mountain for jaw-dropping views. Discovering a hidden beaver pond. Snowshoeing through fresh powder. Re-energizing with every breath you take!
Moments like these feel far off the beaten track, yet they are closer than you think! Basically the Mad River Lodge is the home of Mike Boisvert, the GayOutdoors President, and Jon Normand, who provide lodging for folks who attend their trips on weekends. Otherwise it is not open to the public.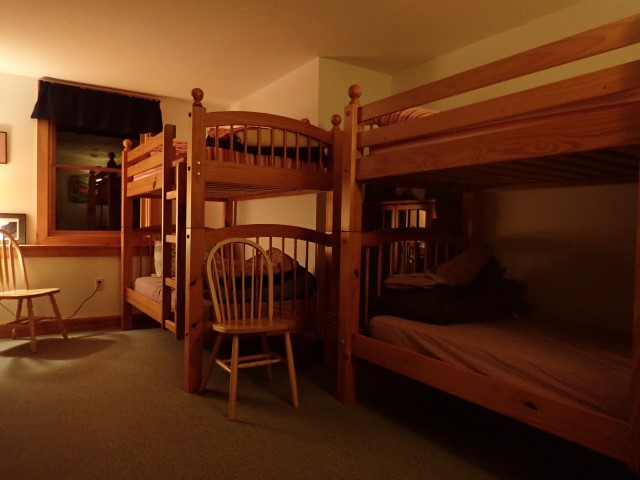 The Mad River Lodge is a lovely mountain bunkhouse bordering the White Mountains and Lakes Region of New Hampshire, near Waterville Valley, on Exit 28 off I-93 in the town of Campton, NH. Along the shore of Mad River, it serves as a base for gay outdoor enthusiasts including hikers, paddlers, bikers, climbers, snowshoers and skiers. Picturesque views, spectacular foliage in the fall, and a true snowshoers lodge in winter. The Lodge hosts up to 8 overnight guests in two bunkrooms, with linens, blankets and towels. There are two bathrooms with showers.
Bagels with coffee is served each morning and is included in the nightly rate. A home cooked meal is served Saturday night for an additional cost of $10. Guests usually bring snack items to share. We don't serve beer and wine so you must bring your own. We have some space in our fridge to keep them cold but it's best to bring a small cooler. You can place your lunches in our fridge.
The Lodge has a common area with a large dining room table that seats 10, self-service kitchen, and a living room with fireplace. In addition to the common area, the lodge also has two more comfortable common areas -- the library near the bunkrooms and the loft with a 50 inch TV/home theatre system. Sink into couches, sleep by the glow of the fire, read your book, watch a movie, and enjoy a glass of wine. Be alone or meet some wonderful people. We have an outdoor deck with a lots of chairs and gas grill for cooking. Our guests enjoy sunbathing, listening to the sounds of the Mad River and stargazing. Did we mention the fireflies in early summer? From the lodge you can walk down to the river for sunbathing and soaking. The Lodge sits on five acres of woodlands that abuts the Mad River and the White Mountain National Forest. The soothing sounds of the Mad River rushing by is heard. We are located at the gateway into Waterville Valley along the Mad River with views to Sandwich Dome. Welch and Dickey Mountains are 0.5 mile away. With Franconia Notch to our north and pristine Squam Lake to our south, we feel privileged to have the best of what New Hampshire has to offer!
We are not able to accomodate pets at Mad River Lodge however Sunshine, our indoor cat, will keep you entertained!
Smoking is not allowed.
We have Wi-Fi thoroughout the house and you'll be able to receive calls on your smartphone.
RATES:
The Friday night rate is $25. The Saturday night rate is $35 and includes a home cooked meal for dinner. Bagels and coffee is served each morning.
The Mad River Lodge is conveniently located 3 miles off Exit 28 from I-93. It's off Route 49 as you drive into Waterville Valley, NH. We provide more detailed directions after someone signs up for a trip and mentions they would like to spend one and/or two nights.
© 2018 Gay Outdoors ; All Rights Reserved.