learn
America's Most Pristine Ocean Wilderness
Seventy miles from Key West, Dry Tortugas National Park has more moats than bars. It also has 200 square miles of the most pristine ocean wilderness in America.
For two hours, you're zipping along a catamaran out of Key West, passing nothing but blue water and a few uninhabited islets. Then, 60-some miles west of your starting point, a brick colored mass begins growing-and growing-on the horizon. Ultimately, the image resolves into a huge fortress set on a spit of sand-Buckingham Palace plopped onto Gilligan's Island.
In terms of brawn alone (the largest masonry structure in the Americas!), it's plain to see why the 11-acre Fort Jefferson on 16-acre Garden Key was known in the mid-19th century as the "Gibraltar of the Gulf": A military force controlling these waters could guard the shipping lanes linking Jamaica, Cuba, New Orleans, and the East Coast it could help defend the Union from the bellicose British and rebellious Confederates. For a time, the fortress served as a prison where Union deserters and others suffered relentless heat, mosquitoes, and yellow fever. The monolith, which, oddly, is surrounded by a moat despite being built on an island, is so weighty that is has compressed the island's underlying coral like Styrofoam-Garden Key's not as lofty as it used to be.
Today, the fort has become the home base of Dry Tortugas National Park, which is the biggest marine reserve in North America-the second largest in the world, after Australia's
Great Barrier Reef. The park has the most pristine waters in the Florida Keys and the healthiest reefs to be found in the contiguous United States. Birders, fishermen, and divers know it as a place where you can see things you just won't see anywhere else. The ideal tools for a three-day jaunt to Fort Jefferson: a sit-on-top kayak, some snorkeling gear, and basic camping equipment.
Dry Tortugas may be the most remote national park in the lower 48-it is, after all, 70 miles from the nearest road-but it's easily reached by ferry. On a typical&nbspday, a couple hundred folks disembark, but only a few are camping: the rest will catch the return ferry this afternoon.
Your first mission will be to get wet. Don fins, masks, and snorkels, to enter the blue world of the harbor. You'll run into a four-foot nurse shark. Or you'll find yourself hovering over a stingray with a five-foot wingspan and a four-foot tail. It will start digging in the sand as if to hide, then take off in a whoosh. You'll encounter a torpedo of a barracuda. At sunset, you'll witness the spectacle of a ray breaking the surface. You'll like this place.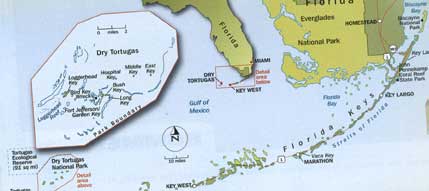 Getting There: For visits to the upper or Middle Keys, flying into Miami International Airport and renting a car is the best option. You can follow Route 1 through a network of parks and preserves all the way to Key West. For those planning a visit to Key West or Dry Tortugas, most major airlines also fly into Key West International Airport.
Upper Keys: Biscayne National Park (www.nps.gov/bisc) harbors manatees, bottlenose dolphins, sea turtles, and eagle rays. Biscayne National Underwater Park offers snorkeling ($30) and diving trips ($45) and rents kayaks ($16 an hour) and canoes ($8 an hour). Camping on the nearby keys is on a first-come, first-served basis ($10).
On Key Largo, visit John Pennekamp Coral Reef State Park (http://www.pennekamppark.com/). Camping is available for $25 a night reservations are recommended. Coral Reef Park Company runs snorkeling trips ($31) to the offshore reef. The company's kayaks and canoes rent for $10 an hour.
Middle Keys: Marathon is home to one of the region's best sailing schools, Florida Keys Sailing ($120 to $1,700 http://www.sailfloridakeys.com/). Adjacent to the school is the Sombreyo Resort and Lighthouse Marina ($135 to $175 http://www.sombreroresort.com/), a great base for sailing, fishing, and kayaking.
Lower Keys: Key West is the jumping-off point for Dry Tortugas National Park (www.nps.gov/drto) and Tortugas Ecological Preserve (www.fknms.nos.noaa.gov/tortugas). Ferry services include Sunny Days Catamarans ($95, $130 if you stay overnight http://www.sunnydayskeywest.com/), which provides snorkeling gear. Camping is available only on Garden Key&nbsp($3) all supplies must be&nbspbrought in. Live-aboard dive-boat operations in Key West include Taylor Made Excursions (about $200 a day http://www.scubaworld.com.taylormade/).&nbsp&nbsp