learn
Best Gay Beaches 2007
By Mike Boisvert.
Saba, Caribbean >>The Diving Beach


Saba, is not only gay friendly to its tourists but has a considerable local, gay and lesbian community. Unlike some Caribbean destinations, the gay friendly attitude is not a recent marketing ploy, it's just the way it is. Whether gay or straight, people don't come to Saba to get picked up at a limbo bar or dance the night away. Saba is chosen for its incredible beauty, peacefulness, fantastic scuba diving and nature walks. Without the marketing might and advertising dollars of larger destinations, only the few discerning travelers discover this gem. Saba's volcanic origins have blessed her waters with spectacular formations and structural diversity. From shallow patch reefs to deep water seamounts, Saba offers interesting diving at each depth and for every diver's experience level. The Saba Marine Park("SMP") was established in 1987. One of the few self-sustaining marine parks worldwide, it's important to note that it was not established to help repair a damaged environment and ecosystem, but rather to safeguard and ensure the continued quality of an extraordinary resource.To feel the rush yourself, hire a dive operator such as Sea Saba (http://www.seasaba.com/). Be sure to save some energy to stop by Joe Bean's Glass Studio on Booby Hill--jewelry and specialty items can be purchased or plan an extra day and sign up for a class to create your own!
Where to Stay: Unwind at El Momo Cottages. In the quiet neighborhood of Booby Hill, the lucky discover this special eco retreat. Enjoy the privacy of your own cottage with balcony and a spectacular ocean view. The property offers an unmatched ambience created by owners Angelika and Oliver Hartleib. El Momo is located on quiet Booby Hill which is a 10 minutes walk away from the tiny village of Windwardside where you can find the post office, bank, souvenir shops, Internet cafe, grocery stores, dive shops, wellness day spa, massage centers, yoga & pilates studio, museum, art gallery, trail shop, tourist office and some great restaurants.Pack up your diving and snorkeling gear for a trip to nearby Pink Beach, or even closer, the wreck of the Hilma Hooker. ($75 to $100 per night; http://www.elmomo.com/index_en.html)
Ipanema Beach, Brazil >>The Sexy Beach

If it's beach fashion you're going for, it's here in Ipanema. It is right in the middle of the action - there's a particular stretch which is to be found at the end of Rua Farme de Amoedo - the place to be at, if you wish to be seen and cruised!. Like a dream sequence, it Ipanema Beach near Rio de Janeiro, has flirtatious men in speedos, fine khaki sand, emerald water, and an abundance of cheap beer. It is a catwalk for countless twentysomething green-eyed, dark-skinned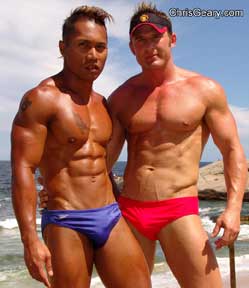 men in bikinis. It's a flaunt-it, all-night party zone with bronzed men playing futvolei (a popular sport much like volleyball but without hands) in the sand or on shorboards in the offshore break. Still, the main sport is definitely paquera---flirting, a fine art on a beach where gorgeous men are everywhere. Subtlety won't get you far in the land of outrageous one-liners and full-bore ogling. As the sun falls, this on-the-make crowd migrates to open-air bars. Ipanema does not have big gay dance clubs, but the lounges and venues on Rua Teixeira de Melo have live DJ's, and special dance parties. It's great for weeknights, to warm up before you go clubbing, to run into that cute guy you met earlier at the gay beach. A combination of professionals, intellectuals, actors, fashion victims, gym bunnies, artists, models, fag hags, lesbians, and others keep things eclectic and fun. Circulate between Le Boy Club and The Copa. DLR/Pleasure/Bedroom, on Estrada do Joa, caters to the same crowd. These clubs with have theme parties with live DJ's. Dress to kill.

Where To Stay: To be nearest the center of gay life (especially during Carnival), seek accommodations in Ipanema. Our top recommendation is the gay-popular Ipanema Plaza (Rua Farme de Amoedo, 34, Ipanema; +55-21/3687-2000; www.ipanemaplazahotel.com, hotel@ipanemaplaza.com.br; R$ 330-630), offering boutique-style décor, on the gayest street in gay-popular Ipanema and steps from the gay beach.

Ogunquit Beach, Maine

>>The Retro Beach

Three miles of beautiful, wide, white-sand beach are the lure for visitors, a majority of whom come from New England and the province of Québec. By day, the beach is gay-popular, but many visitors also indulge in coastal
Maine's numerous activities, from hiking and fishing to outlet shopping and antiquing. Little has changed in 100 years at this beach on the Atlantic Ocean: the Marginal Way, a one-mile-long walking path with breathtaking views of the beach and sea, and Perkins Cove, a touristed but charming area filled with quaint old buildings. Bathhouses for changing and showering stand; unique boutiques of the soap-and-candle variety and several excellent restaurants. The gay scene begins on the gay section of the beach, migrates to Front Porch for après-sun drinks, then converges on one of Ogunquit's few nightspots.
Where To Stay: Occupying a lovingly restored 1839 Cape-style house, Moon Over Maine B&B (22 Berwick Rd; 207/646-6666 or 800/851-6837; www.moonovermaine.com, mailtmoonmaine@aol.com; $59-119) offers tastefully appointed and plush rooms, each of which is named for a planet. All have private baths, color/cable TV and refridgerators. An outdoor hot tub warms up cool Maine evenings. the clientele is mostly younger gay men.
Russian River, California >>The Camping Beach

Forget the opulent hotels and beaches on the shore. The finest gay camping accomodations is away from the California coast at Russian River, 90 minutes north of San Francisco. The Woods Resort (www.rrwoods.com), centrally located in downtown Guerneville, is situated
between the tall, swaying redwood trees and the hypnotic flow of the splendid Russian River for the ideal getaway. For many travelers, the Russian River is the place to get away from it all. For many of the city locals it is becoming a near religious weekend experience. Relaxing in the sun, taking in the slower pace of life, and enjoying the company of other guys; I must admit it gets addicting fast. The Woods also has one of the largest pools in the area and a deck area where the boys can be found lounging around. Within walking distance to shops, restaurants, dancing and live entertainment, The Woods Resort sits in a quiet corner bend of Fifes Creek. The Armstrong Woods State Reserve, for example, tops natures list of beautiful art work, and is the prime attraction in the area (the Armstrong Woods are a 752-acre stand of old growth redwoods, with miles of hiking, biking and horseback trails).
El Matador, California >>The Insider Beach

The rugged beaches of northern malibu are where Angelenos go for their fix of wild coastline---all of them, it sometimes seem. But somewhere along the Pacific Coast Highway, about halfway between the twin mob scenes at
Zuma and Leo Carillo, a simple brown sign indicates you're passing El Matador State Beach. Don't. Instead, park in the tiny lot, follow the narrow trail, and descend the steep staircase down the 150-foot bluff. You'll discover a paradise only the locals know about. The crowds are small and mixed men/women and gay/straight. Towering, jagged freestanding rocks dot the shorebreak and the beach, creating tide pools and private pockets of white sand. They're the perfect spots for El Matador's prime actvity: just chilling and watching the waves break, preferably with the one you love. If it's a weekday, you'll likely have the place to yourselves. But if you're not alone head 100 yards north to a deserted quarter-mile strip of sand, where beach access is limited by the sprawling estates perched overhead. Careful: High tide could leave you stranded. Then again, that might not be a bad thing.
Where To Stay: If you need a hidden hotel room, too, the Malibu Beach Inn (www.malibubeachinn.com)15 miles south is a local favorite for ilicit power-coupling. Even if its not known as a "gay" inn, the private balconies with hot tubs is great for private romance.
Lac Bay, Bonaire >>The Windsurfing Beach

Unyielding 20-knot onshore winds attract windsurfers from around the world to Lac Bay, on the eastern shore of Bonaire in the Netherlands Antilles. The lack of boat traffic in this lagoon--it's a protected marine sanctuary--means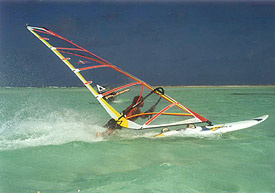 wide-open lanes for those with sails. And there are three distinct zones suitable for all skill levels. As for the white-sand beach, it's absolutely pristine. To feel the rush for yourself, rent a rig from Jibe City right on shore (from $20; 011-599-717-5233; www.jibecity.com) The gay population is not large enough to support gay businesses (bars, nightclubs, etc) in Bonaire. Neither are gay tourists visiting the island. However Bonaire is "gay friendly." Be sure to save some energy at Karel's, an open-air mainstream bar--on a pier in the capital of Kralendijk--with live salsa and merengue music.
Where To Stay: Unwide at Ocean View Villas. Exclusive and intimate, warm and alive - Ocean View Villas is John and Tim's little corner of paradise on the arid and pristine island of Bonaire in the Southern Caribbean….a favorite destination for scuba diving and snorkeling! (from $80; 011-599-717-5253; http://www.oceanviewvillas.com/english_index.html)
Horn Island, Miss. >>The Wildlife Beach
Make the eight-mile boat trip to this barrier island in the Gulf of Mexico and you'll quickly learn that the only crowds
here are the wildlife variety. And by wildlife, we are not talking gay circuit parties! We'll understand if you go a bit feral yourself upon arrival at the 14-mile-long, mile-wide wilderness preserve. You can jump off the boat and go "gigging" with homemade spears, Survivor-style, in waters teeming with mullet, stingrays, and bull sharks. Cast for flounder in the tidal lagoon at the island's north end, or catch ling cod in the waves at the southern tip. On land you'll glimpse bald eagles, white pelicans, cormorants, and herons in the dunes and pine-oak woodlands. Too much to see in one day? Spend the night camping on the shore by the "Chimney," what remains of an old army building from World War II. But keep your eyes peeled for alligators making their way into the ocean to hunt.
How To Get There: Take an hour-long cruise from Biloxi with Ship Island Excursions ($22 round-trip; 1-866-466-7386; www.msshipisland.com). For more information visit the National Park Gulf Islands National Seashore website: http://www.nps.gov/guis/.
Long Beach Washington Peninsula, >>The Campfire Beach
Having your own pit of fire in the sand feels at once primitive and extravagant. And no place has more tempting pyro possibilities that this photo-op beach inside Washington's Long Beach. Leadbetter Point, the Willapa National Wildlife Refuge, Cape Disappointment (aka Fort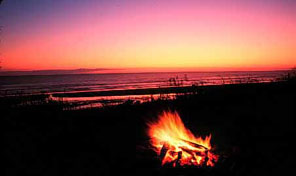 Canby) State Park, the Ilwaco Marina, and public beaches offer venues for kayaking, beach combing, bird watching, hiking, fishing charters, clam digging, horseback riding and kite flying. You can probably buy firewood from many of the campgrounds in the area. After enduring the bracing water temperatures and hard-core currents with a bodyboard or kayak, a toasty campfire is just what you'll need. Do keep your campfire size smaller than 4 feet on each side and 3 feet in height. Light your pyre while watching the winking lighthouses punctuate the indigo evening. As the sun goes down you'll keep all the birds company. It's enough to make you break into "Kumbaya."
Where To Stay: When the fire smolders out, drive to Long Beach to Anthony's Home Court; Anthony's consists of eight brightly outfitted, antique decorated cabins and twenty-five full hookup RV sites. (cabins start at $80 and the RV sites at $22; 1-888-787-2754; www.anthonyshomecourt.com)

Jimbaran Bay, Bali >>The Gourmet Beach

In the late afternoon on the shores of Jimbaran Bay, football games cease and sailors and surfers come off the water for a traditional Balinese feast. As the sun falls, cooks from the beachfront cafes, called warungs, ignite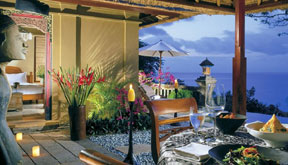 mountains of coconut husks in 20-foot-long barbecues, sending billows of fragrant white smoke and the aroma of sweet lobster and ocean-fresh snapper through the air. More than 40 warungs, with traditional thatched roofs and teak tables on the sand, line this expensive crescent beach. At the Menega Cafe, choose your prawns, squid, lobster, fish, and crab from the tank; they'll be grilled and smothered with bumbu, a blend of chili, garlic, sweet soy, and lime, and served family-style with baskets of rice, sauteed water spinach, and spicy sambal sauces. As you sip a Bintang beer and take in an electric sunset over the volcano of Mount Agung, young Balinese surfers clad in sarongs and batik headbands serve up dinner--and tips on the best surf breaks.
Where To Stay: Not far in Kuta, you can retreat to the Ramayana Hotel with a great pool (from $60; +62 361 751864; www.ramayanahotel.com)
© 2007 Gay Outdoors; All Rights Reserved.