learn
Portland Urban Adventure Race
By Rob Jagnow.
At first, Kristina just said that her car had-been rear-ended, but upon further prompting, we learned that she had been involved in a fairly serious five-car pileup.&nbsp She felt okay, but wisely heeded the muscle pain and decided not to race.&nbsp On top of losing our teammate, the three kayak paddles that we had rented for the race were now
locked inextricably in her mangled car trunk, awaiting rescue.&nbsp This left us 36 hours to find a new teammate and three new kayak paddles.

Thankfully, my extensive associations with the MIT Outing Club have given me access to cheap gear rentals, as well as mailing lists with more than 500 outdoorsmen and outdoorswomen who I assumed would all jump at the opportunity to join me and Tomas for the weekend.&nbsp Race
fees were already paid and I'd rent a car if necessary all they needed was a mountain bike and a little enthusiasm.

As it turns out, I have apparently acquired a reputation within the MIT community as something of a masochist.&nbsp Very few people recognized my invitation as a "great opportunity for adventure."&nbsp In fact, it seems that the vast majority of the recipients interpreted the invitation as "inevitable pain, and probable death/dismemberment."&nbsp In
the end, I received only one response from a racer who met the qualifications.&nbsp Thankfully, Chris Morath turned out to be a great fit for the team - highly competitive, easy-going, and in excellent shape.

Amid our preparations, both Tomas and Chris asked me if they should bring their best running shoes for the race.&nbsp I indicated that they should bring something that it's okay to destroy, explaining that it's not uncommon to find yourself covered in mud up to your neck during this type of race.&nbsp Tomas and Chris took my advice, but foolishly
interpreted my warning as hyperbole.

The race started at noon on Saturday, kicking off with more than 50 canoes darting into the dense forest with hopes of being the first to reach the Presumpscot River.&nbsp Not two minutes into the race, Chris and I found ourselves chest-deep in a small, muddy tributary that reeked
of rotting leaves and industrial waste as we tried to float our canoes to the main river.&nbsp Meanwhile, Tomas was ahead of us, carrying our paddles and scouting the route.&nbsp Slipping on the mud banks, he found himself covered in the putrid muck up to his neck with another team dragging their canoe across his body while he laughed at the absurdity of his predicament.

Finally at the main river, we clambered into the canoe and set up a solid, sustainable rhythm.&nbsp It's admittedly a little awkward to paddle a canoe with kayak paddles, but time after time, I've observed racers naturally sort themselves into teams with kayak paddles in the lead and those with canoe paddles lagging behind.&nbsp This race was no exception, and we soon passed all of the teams with traditional
paddles and started to fight our way through the kayakers as well.

Ninety minutes later, we hauled the canoes ashore and marched them across a broad field, arriving as the third team at the transition area.&nbsp As Chris and Tomas grabbed some calories and prepped their bikes, I looked over the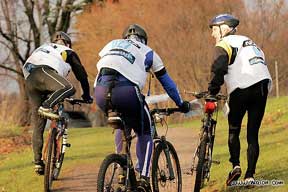 map and prepared to navigate the mountain biking leg of the race.

As this was an "urban" adventure race, the bike route took us along streets through Portland and Falmouth, as well as open fields and wooded trails.&nbsp The urban navigational sections were typically straightforward, but the trail maps that we were provided were often deceiving in their simplicity.&nbsp At one point where the map showed a
pair of straight, parallel trails, we instead found a winding maze of paths that we were forced to search exhaustively to find two orienteering checkpoints.

By the time we started the run at 3:30pm, the temperature had climbed to 89 degrees and we were suffering from the early stages of heat exhaustion.&nbsp The run took place entirely in downtown Portland, so we were baked by the hot city streets as we tried desperately to plan a
route that kept us in the shade.&nbsp We could only summon enough energy for short bursts of jogging and spent much of our time walking.

As we stumbled down Spring Street in a clumsy jog, we passed by a dozen young revelers enjoying cold beers on a shady front porch.&nbsp As they gazed at us with confusion, trying to figure out whether to sympathize with our self-inflicted pain, I couldn't help but notice the garden hose lying on the pavement.&nbsp "Hose us down," I pleaded.
The party host sprung into action, scrambling as fast as her flip-flops could carry her.&nbsp She cranked on the water, and let out a cool blast of refreshing spray as everyone broke out in laughter.&nbsp We left with a hearty "thanks," feeling remarkably revitalized.&nbsp It was one of the best decisions we made during the entire race and it gave
us the edge we needed to speed by several of the teams that had passed us on our walk.

On any ordinary day, the steep, 150-foot hill on Walnut Street would have been an easy climb.&nbsp But today, calorie-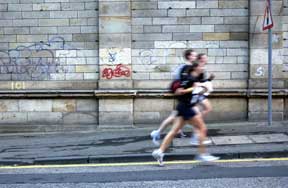 depleted and scorched by the searing sun, it took all of our remaining energy to make our way over this last obstacle to the finish at Portland's Eastern Promenade.&nbspDescending the hill, we broke into a run to make a strong finish at
four hours and 31 minutes, placing Team Wildfire third in the all-male division and ninth overall.

I'm never sure how first-time adventure racers will respond to hours of pain and days of recovery, so I was happy to learn that Tomas wasted his entire Monday searching the Web for other adventure races - a certain sign of a new addict.&nbsp As for the other 499 subscribers of the MIT Outing Club's mailing lists, I'm still not sure how to express
just how rewarding adventure racing can be.&nbsp Somehow, I don't think my trip reports are helping.

You can visit&nbspRob's website at:&nbsp&nbsp&nbsp http://www.robjagnow.com/
&copy 2005 Gay Outdoors All Rights Reserved.