learn
Gay Expedition Ready To Climb Highest Mountain In Western Hemisphere
By Mike Boisvert.
Six hearty souls from GayOutdoors.org are readying to scale Argentina's Mt. Aconcagua. At an elevation of 22,840 feet, it is the highest mountain in North, Central and South Americas; and the highest outside of the Himalayas. The team is set to be the first gay expedition to reach this summit and break the gay climbing altitude record; currently at 20,320 feet.
Located near the Chilean/Argentinian border, the ascent to the summit offers stunning views of the Andes mountain range. The "stone sentinel" rises approximately 4,000 feet above its neighboring peaks and truly dominates the rugged Andean landscape. A non-technical climb, it involves using the Vacas Valley route to establish base camp at Plaza Argentina (13,800 feet). From base camp the expedition will establish four camps; the highest at White Rocks (20,600 feet) to launch their summit bid. The hardest part of the summit climb is climbing up the Canaleta, an 800 foot rock scree described by some as a veritable nightmare.
This will be the second time a gay expedition has attempted to reach the summit.
The team, consisting of six men, will leave for the expedition on January 8, 2005 and return February 1st. They are prepared with a well organized itinerary for each
day of the climb. The expedition leader, Mike Boisvert, from Campton, NH, has climbed mountains all over the world, his highest being 20,320-ft. Island Peak in the Mt. Everest region. The entire expedition was organized by GayOutdoors.org, that is a central place on the Internet to meet and share trips, ideas, experiences, stories, photos and knowledge about gay outdoor recreation. Other team members include Jeff Weekley, Rob Jagnow, Jonny Rosenfield, Bruce Galipeau and Mark Street.
Bruce Galipeau, from Chepachet, Rhode Island, is the most experienced member of the team. He has reached the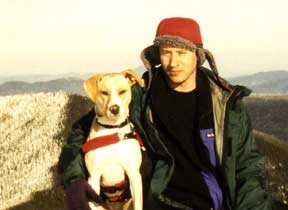 summit of Mt. Aconcagua once before, attempted to climb Mt. McKinley (Denali) twice and reached the summit of Mt. Rainier five times.
Many family members and friends are concerned about the expedition members as they attempt to climb this mountain. The team feels it's a safe adventure. Most people that get hurt or die climbing a big peak, are people who climbed during dangerous weather conditions or who attempted to climb high too fast and did not allow their bodies time to adjust to thin air.
Bruce Galipeau says that the main risk is, "mother nature. She holds the key to our success. But time can also be on our side."
To prepare their bodies for this challenge, the team has been in the gym working out on exercise machines, running and lifting weights on a daily basis. On weekends, they have been climbing neighboring peaks.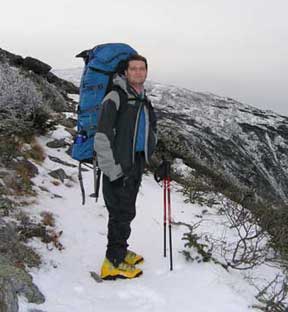 " I have been running the past 9 months, generally about 20-25 miles per week," Mark Street from San Francisco, CA, said. "I ran two half-marathons in the past six months. I have been doing a weight training program with a trainer, swimming, and boxing/muay thai."





Rob Jagnow of Los Alamos, NM says that being with this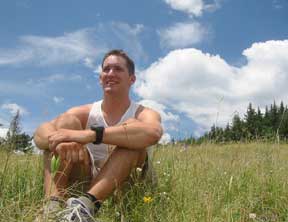 particular group is more important then being the first gay team to reach Aconcagua. "It's fun to be able to claim a first, but I'm mostly pleased by how nice a group has been assembled for this adventure.'
Agreeing with Boisvert that most of the route is safe, Jeff Weekley from Monterey, CA said the main risk is altitude. "The most dangerous part of this climb is related to altitude. The weather is unpredictable and the atmosphere is very thin. You can push to hard to get to the summit
and risk injury or even death. It's called 'Summit Fever'
and I don't think this group of steady, reasonable mountaineers will succumb to it. I don't know if I'll summit or not, but I won't attempt it if it means risking unnecessary danger to myself or the team. I have no qualms about not summiting, afterall, the journey's the thing." The highest elevation Weekley has reached to date is 14,491-ft on Mt. Whitney in California. "But this is in another league altogether," he said.


Jonny Rosenfield from Jamaica Plain, MA said his highest was 18,200 on Kala Pattar near the Mt. Everest Base Camp in Nepal.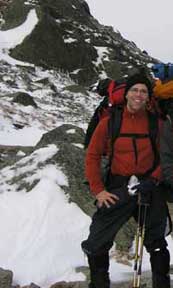 Regarding GayOutdoors.org, Rosenfield said, "GayOutdoors has let me get a window into a larger world of like-minded gay people. I've been a member of New England's Chiltern Mountain Club for years. While I've enjoyed some of Chiltern's events, it hasn't offered easy web access with a "cafeteria" approach to hiking or joining expeditions in various parts of the New England, the country and the world."
Rosenfield found a familiarity with GayOutdoors (GO) that he had been seeking. "the GO profiles can be fun to browse, when I'm in the mood to see what other nature-oriented gay men are out there. Beyond that, I enjoy some of the articles. I especially like knowing that supporting GO helps the occasional gay person break the isolation of being either out of the gay mainstream or out of the outdoors maintstream. Recently I've joined some GO hikes this fall in winter conditions that have helped expand my outdoor skills, and that have introduced me to unusual and interesting gay people that I likely would never have met otherwise."
A very real danger is coming down with pulmonary edema---a condition where fluid builds in the lungs from a lack of oxygen and the person basically drowns. Boisvert came down with the beginning stages of this at Mt. McKinley a few years ago. Boisvert said he's less worried this time around because the expedition will be taking it real slow to climb up the mountain.
Temperatures at the beginning of the trip should be around 80 degrees and gradually get colder. Galipeau said, "during my summit climb up Mt. Aconcagua it was 20 degrees below zero and it was difficult to keep warm."
During the expedition, the group will be eating a variety of food. Staples include freeze dried meals, power bars, oatmeal, cheese, pasta, nuts, dried fruit, and lots of flavored beverages.
"Everyone has an Everest," insists Mike Boisvert. "And whatever it is, everybody's Everest is going to be different. It's the ultimate challenge that you face as an individual and it's all relative to what your abilities are---and to what you limit yourself to." For the GayOutdoors team, they are ready for their ultimate challenge, their own Mt. Everest.
GayOutdoors.org (http://www.gayoutdoors.org) purpose is to promote fellowship and communication among gay and lesbian outdoor enthusiasts from around the world. They are a central place to meet and share trips, ideas, experiences, stories, photos and knowledge about gay outdoor recreation. GO is regarded as the most comprehensive gay outdoors destination online. Their website offers visitors thousands of personals, interactive features, photo journals, an Events Calendar with lots of activities, breaking news, and hundreds of award-winning stories.
© 2004 Gay Outdoors; All Rights Reserved.