learn
Adventures On Water - Planning a multi-day kayak trip
By Berne Broudy.
It's early June in New Hampshire, and black flies are sticking in my ears as I wrestle my touring kayak from the roof of my car. There are three of us on this trip and we're all new to multi-day paddling.
On this first overnight kayak adventure, we had laid out the basics, but hadn't planned for such events as nighttime paddling. The trip could have taken a different turn thanks to our inexperience.
Planning a multi-day paddling trip can be an adventure in itself. Anytime you're out for an extended period with the gear on your back, or in this case, in your boat, you're at the mercy of Mother Nature.
Anyone who can paddle a boat and enjoys camping in probably ready to try a multi-day paddling trip, even if it's just a single overnight. Thinking about some basics will help you plan the right trip for your chosen river, lake, or ocean and for your group.
Plan, plan, plan
A lack of suprises will make your paddling trip a happier one. Check the weather before you go and know what to expect at a given time of year.
The aquatic "terrain" will determine your speed and thus how long your trip will take. If you're paddling swiftwater, moving with the current or with the tide, you'll travel a lot faster than in still water or against tides and currents.
Know your group. A group is only as strong as its weakest
member. If you have a friend who is enthusiastic but out of shape or your boats are heavily loaded, downgrade your estimated speed accordingly.
Map it. U.S. Geological Survey topo maps---and specialized river maps from outdoor clubs---show features important to paddlers. You can find river access points where roads and trails intersect with the water, and locate campgrounds, dams, mill ponds, and shoals.
Be realistic. Consider what your group wants to accomplish. If you're out to enjoy the scenery and be with friends, plan an itinerary that leaves you time to hang out in camp in the afternoon and depart in a relaxed fashion the next morning.
When I'm heading off on an overnight kayak, I try to gather all my gear before I start stuffing things into sacks. I think about when I'll want each item, and try to pack it that way. Some items get strapped on the exterior of the boat and body.
My sleeping gear usually includes the basics: tent, sleeping pad, sleeping bag, and, a boating luxury, a travel pillow. Sleeping bag and pillow go into one dry bag for immediate access when I get to camp.
Personal gear (toiletries, a book, clothes, towel) go into one or more dry bags, depending on their volume and the length of my trip. Fuel canisters, stove, lantern, and pots don't need a dry bag, just a stuff sack for organization.
Pack the rest like a pro. I found on my first overnight kayaking excursion that packing a boat is an art form. There's a fine line between packing too much and too little, and fitting gear in a boat is different that fitting gear in a backpack.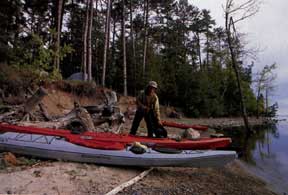 First, the cardinal rule: Don't pack your boat until you get to the put-in, or it may be too heavy to lift on and off the roof of your car.
Second, the key to packing a kayak is to use the space as efficiently as possible and keep track of where you put everything. After fitting in the tent and sleeping bags, I try to pack my dry bags next, and put food in last, in case I need to get to it in a ravenous moment.
Food should be kept in dry bags, loose, or in a stuff sack depending on whether it is naturally waterproof. Food like onions or potatoes can be loose in your boat.
Of course, be aware that foods like uncooked meat and mayonnaise can be breeding grounds for bacteria if they are unrefridgerated for too long. I plan menus so we're eating those types of ingredients on the first night.
Hit the trail
On a recent Lake Champlain trip, I put in just after sunrise while my partner slept. Shelburne Bay was quiet and sky promised a bluebird day as I powered my boat through the still water.
My kayak has taken me to some of the most rewarding, magical places I've ever been in the Northeast. Now that your boat is packed and you're ready to go, start with something manageable so your enjoyment and success is certain, and build up to bigger challenges from there.
© 2004 AMC Outdoors; All Rights Reserved.