learn
Arizona's Perfect Gay Nude Swimming Holes
By Mike Boisvert.
Sycamore Creek
Sycamore Creek is between Payson and Phoenix and is about one hour from Phoenix. It can be cruisy. You'll find clothed bathers here but nude swimmers and sunbathers are also here. The best time to go is spring and fall because the creek is often dry in summer. You'll have the place to yourself during the week and find between 15 to 20 bathers on weekends. This area has mostly men, most of which are gay. The creek has some natural pools used for nude skinnydipping.

Directions: From Phoenix, take US Highway 60 east to Mesa. Take Exit 179 and head north on State Route SR-87. When you reach the junction with Shea Boulevard near Fountain Hills, you'll have another 23 miles to go. At milepost 212, start looking for a highway bridge over Sycamore Creek. After crossing the bridge take a right onto an unmarked dirt road. You will cross over a low-water concrete bridge, then you will come to a "Y" in the road. Bear left and look for a second, larger low-water concrete bridge. Do not attempt to cross this has this bridge. Park off to the side and continue across the bridge on foot and follow an old road uphill for about 10 to 15 minutes. At the top of the hill, turn right and follow the trail for several more minutes. You will reach an overlook above Sycamore Creek, and you can see the natural pools in the creek below. Descend into the canyon.
Tanque Verde Falls

Tanque Verde Falls is a very popular place for nude sunbathing and skinnydipping. However don't expect to find water in the creek because its dry most of the time.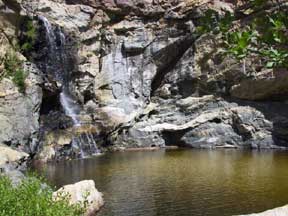 Near the beginning of the trail that goes down into the canyon you'll find a sign that has been marked by locals that indicates you're entering into a nudist area. As you walk upstream, you'll find the gay nude area.
Directions: From Interstate 10, take Exit 275 and go north on Houghton Road for 13 miles. Turn right on Tanque Verde Road, which becomes Redington Road and will turn to gravel after 6 miles. Continue another 1.5 miles beyond the end of the pavement. (The road continues winding up a mountain.) Park on the left side of the road and take the trail on the right side of the road. The trail is marked by a metal sign that says "Upper Tanque Verde Falls." After descending into the canyon, hike upstream along the very rocky creek bed past an old dam, which is the gay nude area.
Alternate Directions: From downtown Tuscon, take Exit 257 from Interstate 10 and go east on Speedway Boulevard for about 8.5 miles. Turn left onto Wilmot Road. After about 0.3 mile, bear right onto Tanque Verde Road. Continue 10 miles until the road becomes gravel and proceed as directed above. This route from Tuscon to Tanque Verde Falls is shorter from the above directions in mileage but it takes longer because you have to drive through many stoplights.
If you have any information on these areas, contact us so we can share with everyone.
This story was researched with the help of Michael Boyd's book, Naked Places, A Guide for Gay Men to Nude Recreation and Travel, who now offers this on an updated CD and can be purchased: http://www.nakedplaces.net/north_america.html
&copy 2009 Gay Outdoors All Rights Reserved.