learn
The World's Hottest Gay Beaches
By Mike Boisvert.
St. Maarten, French West Indies

This tiny pocket been jointly owned by France and the Netherlands for 350 years, and its north and south ends reflect the dominant cultures of both. With 36 beaches, casinos, and a score of hidden natural treasures, it pays to be prepared to explore. The popular—and very gay—Cupecoy Bay Beach on the Dutch tail of the island is actually a string of three white-sand beaches set against a backdrop of caves, beautiful rock formations, and cliffs that provide morning shade. Or go south to Fort Amsterdam near Phillipsburg, the capital, which has a vibrant gay scene. Only a few walls remain of the 400-year-old fort, but the view is panoramic and well worth the climb to the summit. For true privacy, visit Ilet Pinel, an uninhabited island off the northeast coast, near Orient Beach. WHERE TO EAT Beachside restaurants grill succulent Anegada lobster over blazing 50-gallon drums, along with just-snagged swordfish and tuna. AFTER DARK Most of the gay visitors drink...well, like sailors. At the beach bar of the Pink Mango at the Laguna Beach Hotel between 10 p.m. - 3 a.m. (800-333-1970; look for the rainbow flag and ring to enter) ask the bartender for a Smoothie -- no health shake, but a potent concoction of rum, fruit juice, and nutmeg served on the rocks. WHERE TO STAY The Meridien L'Habitation at Anse Marcel is gay-freindly and has has 396 simply decorated, airy rooms right on the beach (from $250).
South Beach, Florida
The epicenter of gay Miami Beach, and one of the world's preeminent gay and lesbian travel designation, the section of Miami Beach commonly referred to as South Beach, or "SoBe", comprises the southern tip of Miami Beach, from Dade Boulevard south to Government Cut. South Beach is a gay and lesbian fantasyland boasting pulsating nightlife, world-famous clubs, hip shops and restaurants, and breathtakingly beautiful Atlantic and Biscayne Bay shorelines. Twelfth Street Beach is a favorite gathering place for gay and lesbian locals and tourists. The heart and soul of South Beach, the 125-block Art Deco Historic contains the world's largest concentration of art deco architecture. Preservations tout these buildings, with their streamlined design, decorative flourishes, and pastel colors as some of the most architecturally significant structures. South Beach's strip of fine white sand and clear-blue water ranks as one of the Travel Channels' top ten beaches in the world, while The Surfrider Foundation has voted South Beach as the premier urban beach in the U.S. The unique spirit of South Beach has turned it into a favored location for films, music and television shows and backdrop for fashion shoots. Just walking by the buildings of South Beach is experiencing art; step into any one of the many galleries on the beach and you'll be given the rare Miami-flavor of local artists as well as observe major expositions. WHERE TO EAT A no-frills place, but who needs frills when you're dining outside directly across from the gay beach? The Palace Bar and Grill (305-531-9077) offers American cuisine with front row seats to the parade of boys. For American cuisine with lotsa boys on Lincoln Road try Van Dykes (305-534-3600). WHERE TO STAY The Tides is fancier, but the Kenmore (from $69-129; 305-674-1930; ) is a simple art deco hotel (part of a larger complex) located in the heart of SoBe with a pool that serves as a magnet for boy beauties; includes a new lobby bar.
Rehoboth Beach, Delaware


Rehoboth Beach was founded in the 1870's as the sight of a religious camp and, following the development of a railroad and boardwalk in the 1900's, Rehoboth Beach evolved into an active resort town. Today it stands as a year-round gay resort with more than 200 gay-owned restaurants and night spots. Still famous for its beaches, eclectic shops, amusements and sporting activities, today's Rehoboth Beach is also becoming well-known as one of the mid-Atlantic coast's most popular gay and lesbian getaways. Thought of as this region's answer to Key West or Provincetown, it's a short two-and-a-half hours from D.C. and Baltimore, and just four from Philadelphia or New York City. The Rehoboth Beach community is a friendly place filled with guest houses, bed & breakfasts, hotels, restaurants and nightspots - all of which welcome gay and lesbian tourists. Embracing the northernmost part of the Delaware shore, Rehoboth Beach boasts two popular gay beaches. One is Poodle Beach, located at the south end of the boardwalk. The other is Gordon's Pond, located at the south end of Cape Henlopen State Park, though accessible through North Shores, just north of Rehoboth Beach. (Carpenter's Beach - below S end of Boardwalk at foot of Queen St; Poodle Beach - S of boardwalk and most popular gay beach), and on nearby Route 1 you'll find a haven for outlet shopping. Fun year-round, look for special Rehoboth Beach discounts offered during the off-peak season. WHERE TO EAT Grab a table at Cloud Nine (302)226-1999), and don't even think about passing up the pan seared Chilean sea bass. AFTER DARK Start with sunset drinks and T-dance at The Blue Moon (302-227-6515), then check out Cloud Nine (302) 226-1999) WHERE TO STAY Collapse at the Cabana Gardens (302-227-5429), is centrally located in Rehoboth Beach, and refresh with a morning dip in their heated in ground swimming pool. Then wake up over breakfast at the most popular breakfast spot on the beach, Crystal Restaurant on Rehoboth Avenue next to the Double L bar.
Jomtien Beach, Thailand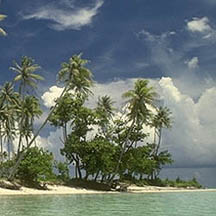 Located on on the eastern shore of the Gulf of Thailand, with six miles of beaches, Pattaya has some of the finest resources for an enjoyable visit or long term stay. In addition to walking into the water and enjoying the pleasure of the company of some of the young Thai men who are almost constantly in the water, and willing to engage in games in the water, the foreigner may well choose to rent one of the various pieces of sporting equipment available at most times on the beach. Sail boats, windsurfing boards, and water scooters (jet skis or similar) are generally available; riding in a "banana boat" towed by a speed boat in which the occupants almost invariably try to make sure everyone gets dumped overboard somewhere along in the ride -- usually many times (all riders wearing safety jackets) are very popular. A ride in a parasail, where a speed boat pulls you up into the air floating with the aid of a kite-like structure, gives you a "bird's eye view" of the beach area. Pattaya's most popular beach, Jomtien Beach, is about 4 or 5 km. from downtown Pattaya. Walk from the point at which the road from Pattaya meets the sea, and take a sharp curve to the left (southward), where the sub-district station of the Pattaya police is situated at the main entrance to the main Jomtien Beach. Walk down the brick sidewalk, along a row of buildings, and occasional fences, and then, after a fairly lengthy patch of open fence on the right hand side of the sidewalk (away from the sea), and continue about a total of 100 to 150 meters from the entranceway to the main Jomtien Beach area. Suddenly, virtually all the lounge chairs at the water's edge are occupied by -- guys, guys and more guys! WHERE TO EAT Bavarian Blue (038-30-30-53) wins big with german, western and thai food - and the cute all gay staff; and Old Vienna's (038-30-31-83) gets raves for its Thai food - and very cute, friendly and often funny ladyboys for service. WHERE TO STAY Rabbit Resort(from $60; 038-251-730 to 2; http://www.rabbitresort.com/ is an outstanding resort with luxurious accomodations.
Laguna Beach, California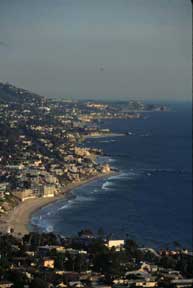 Located about midway between San Diego and Los Angeles it is nicknamed SoHo-by-the-Sea, the area began attracting artists around the turn of the 20th century. Chic Laguna Beach, the jewel of the so-called California Riviera, has long been a favorite of gay men. West Street Beach is definitely the main gay beach and not handicapped-accessible. It is a beautiful, expansive beach by California standards, great for swimming, but without enough surf for surfing. There are no facilities other than Porta-Johns and -Janes, so bring a picnic and an umbrella. There are multiple pathways down. The easiest spot is the paved steps down the south side of the Laguna Royale condo complex at 31423 South Coast Highway. A smaller, more convenient set of steps is adjacent to the private residence at 31351 South Coast Highway. Hit the sand and head north towards the sea of buff, tan bodies. You can't miss it in the summer. Women gather towards the northern end of the beach. Parking can be difficult, so get there early, and be careful swimming as the ground slopes sharply under water, and folks who aren't alert can be slammed pretty hard. Pick-up volleyball games are popular in the summer. WHERE TO EAT Mark's (949-494-6711) is extremely popular, serving dinner daily and Sunday brunch. Half-price Mondays are very popular. Be sure to order the chocolate souffle when you arrive (as it takes 20 minutes to prepare). AFTER DARK Main Street bar is only half open as the city forces them to rip out walls with a daily threat of being closed down. The owner is doing everything he can to keep it open. The city is trying to close it down because it doesn't fit in to its Right Wing Conservatism culture.

North Bondi Beach, Australia
The idea of gay Australians wanting to get away from it all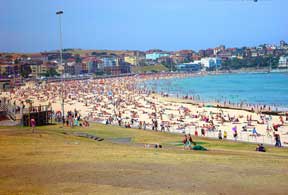 may seem entirely redundant, but ask any Aussie from Perth to Tasmania where he'd like to go on vacation -- or indeed, where he'd like to live -- and a noisy majority will tell you Bondi Beach. The buzz at Bondi, outside of Sydney, it its wide golden sands, ragged sandstone headlands and reliably fine rollers. Activity kicks off at dawn, with joggers on the promenade, muscled bodies by the shore and die-hard surfers catching a few waves before work. An easily accessible nude beach in Sydney is the famous gay icon
beach, "Lady Jane", right on the harbour and a 10 minute walk from the end of the of bus lines 324 or 325. Ride to the end of those bus lines and ask anyone directions to South Head (a national park). On your walk to South Head you can't miss the park sign for "Lady Bay". The
sign also says "Nudity permitted only on beach". Hardly hidden away and not hard to find. You can see naked men from the sidewalk...so you really don't need orienteering skills. Whoever you are, you'll appreciate the paved walkway offering beautiful views during the ten-minute walk from the fairly gay southern end to Tamarama Beach, nicknamed "Glamorama," as the buffed and beautiful (known as "Barbies" by the locals) come here to see and be seen. Little Congwong Beach is a nude beach in Botany Bay (you'll need to ask a local for directions). Obelisk Beach is a cruisy beach next to the Naval Station on the North side of Sydney Harbor. WHERE TO EAT Be sure to try some of the local seafood, a real standout on most menus. Most of the gay restaurants around Oxford Street are gay popular, but not particularly memorable for their food. Kings Cross eateries are a bit less gay, but better dining. Pazzo (+2-9319-4387) features modern Australian cuisine with a hint of Italian flavoring. The garden courtyard is very popular in the warmer months. AFTER DARK Members of Syndey's gay culture converge to the Stonewall Hotel (+2-9360-1963) with entertainment most evenings. A good venue to meet locals, the Stonewall opens onto Oxford Street during the day. The first floor cocktail bar is good after 11pm. The crowd is young and friendly. Upstairs there's dancing. WHERE TO STAY Swiss-Grand Hotel (800-44-UTELL) is a deluxe hotel, located a short cab ride from Oxford Street.
Ipanema Beach, Brazil
The gay spot at Ipanema Beach near Rio de Janeiro is a little to the East of Rua Farme de Amoedo. This is the best place to make friends with locals in a relaxed atmosphere, away from the bars and club scene. While bears and trannies prefer to meet in Copacabana's Bolsa, Gay Farme is Barbie Land. Before you ask, Barbie is how locals call
muscled South Side gay men. Waxing is optional... You don't have to be in top shape to join the fun, though. Farme is so traditional with the gay community, that even beach vendors display the rainbow flag. All Brazilian and foreign gay visitors to Rio know about Farme Beach. It's very international and friendly. If you've never been to a gay beach and you're curious, you're welcome to stop by. The gay beach is half a block from a beach soccer field, less than 10 minutes from Cap Ferrat. WHERE TO EAT On Rua Farme de Amoedo there's Bofetada, a bar and cafe. You may stand, or take a table on the sidewalk, and enjoy a draft chilled to perfection as you watch the girls and boys of Ipanema go by. This is a more mixed area, also popular with students of nearby universities and intellectuals. It's much more relaxed, and if you don't feel like dressing up you may go in bermudas and flip-flops, and nobody will give it a second thought (unless they come together with a pair of white socks pulled up all the way to your knees). AFTER DARK Gayest night spot is on the beach block of Rua Teixeira de Melo. This street is next to Farme. A combination of professionals, intellectuals, actors, fashion victims, gym bunnies, artists, models, fag hags, lesbians, and others keep things eclectic and fun. Circulate between Restô, Galeria Cafe and Spin. Dama de Ferro, on Rua Vinicius de Morais corner of Lagoa, caters to the same crowd. These clubs with have theme parties with live DJ's. Dress to kill. WHERE TO STAY The Caesar Park Hotel (+55-21-525-2525) is in front of Ipanema Beach and a few blocks from the gay area.
© 2004 Gay Outdoors; All Rights Reserved.