learn
Samurai Beach is located in New South Wales (NSW) about 2 1/2 hours drive north of Sydney in the lovely Port Stephens area near Nelson Bay. It has legal nude status and is about one mile long. You may drive your 4WD onto the beach via the sand dunes or take the walk via the dunes.
Each November the Free Beach Association of NSW, in conjunction with River Island Nature Retreat, sponsors a nude beach carnival. This year marks the seventh year for this event.
The carnival is a mix of fun and games and the crowning of Mr. and Miss Samurai. During the day a wide variety of games are played, volleyball, sand races, tug of war, holey bucket races, swimming races and many other events.
With most of southwestern Australia in drought, the odds of a wet day for annual Samurai Beach carnival were pretty rare. But nature has its own way of saying hello and it did with a cool overcast morning greeting the organizers and the early arrivals.
As always, Colin Sell, from River Island, was there with his trailer full of equipment and with his eager volunteers, it didn't take long to set up the stage and surronding games area.
At 10 a.m. Bob Reed, the tireless president of the NSW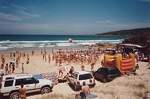 Free Beach Association, declared the carnival open and thanked the sponsors for coming along and helping promote what is turning out to be one of Australia's great nude beach carnivals. We have heard Samurai Beach is now rated as the No. 4 beach in the world, due to the carnival each year.
Probably the most humorous event of the day was the neck ball. It involved putting an orange under your chin and passing it to the next in line without being touched by hands.
There was a caber tossing event, won by last year's Miss Samurai (Lee), who had a great day again this year.
The fun run was held with a nice long 2-kilometer run along the beach.
The sand flag race competed directly with the lifeguards, and it was good to see some of them having a go; but in both men's and women's flag race the nudists won out over their more experienced competitors.
Being a cooler day, the guys from the Lions' Club were doing a roaring trade with steak sandwiches and coffee.
As always, there was a tug of war. The men's winning team went up against the men from Bare Tracks, and the result was the Bare Tracks team retained their form and won it too years in a row.
The rugby balls appeared, and all were invited to kick for goals; the winner was crowned Mister and Ms. Samurai.
Special thanks for a successful day must go to River Island Nature Retreat, Samurai Clothing Company, Australian Sun and Health, Free Beach Association, and all the other sponsors who helped make this such a great day.
Thanks also to the volunteers from State Emergency service, Birubi lifeguards, who also give their time, and also the National Parks and Wildlife Service, and the Native Animal Trust, who sold raffle tickets.
There were some great prizes this year, assuring some people a wonderful holiday season.
All in all, even though the weather was dismal, and the numbers fewer than last year, those who turned up had a great day, and most enjoyed themselves.
Don't forget to put it in your calendar for next year in November, and come on down!