learn
Great Gay Escapes
By Mike Boisvert.
Barbados

Most visitors to this Caribbean island stay on the west coast, with its calm waters and kaleidoscopic sunsets. They can have it. The real action is on the rugged eastern shore, where the pounding Atlantic has created 40-foot cliffs, powdery white sand, and awesome waves to play in. Kelly Slater has attacked the Soup Bowl, a powerful right reef break in Bathsheba (rent boards at Bajan Surf Bungalow 246-433-9920). Windsurfers ride the consistent breeze at Silver Sands beach (get lessons from Brian Talma irieman-talma.com). The staff at the gay-owned Hogarth House from $50 246/432-6402 or http://www.hogarth-house.com/), a two-floor Colonial wooden structure accented with wrought iron, and with a garden, can point you to stunning, secluded beaches.&nbsp On weekend nights head to the Fish Fry, a street party in the south coast town of Oistins, before raging all night in the string of nightclubs at St. Lawrence Gap. HOW TO GET HERE Air Jamaica's nonstop from New York (airjamaica.com) arrives before lunch for maximum sunshine.
Jamaica

On this island, where roads can be rough but the scenery close to divine, a bike is ideal transportation. High above Negril's hedonistic Seven Mile Beach, the mountains are carpeted in foliage and full of sharp limestone. Rusty Jones (876-957-0155 or mountainbikejamaica.com), an expat from Cleveland, will lead you down unblemished lengths of red-dirt singletrack past shacks selling reggae tapes, jerk chicken, and Red Stripe and to a beachside flat that was once an airstrip for drug smugglers. Rinse off at the gay-friendly Mocking Bird Hill&nbsp(from $180 876-993-7297 or http://www.hotelmockingbirdhill.com/), a secluded hotel within striking distance of the beach and the nightclubs. HOW TO GET HERE Air Jamaica flies nonstop from 12 U.S. cities to Montego Bay, 50 minutes by car.

Florida Keys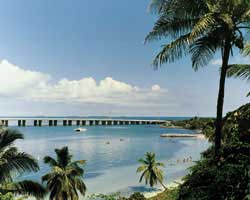 Bahia Honda is a Keys anomaly: an island with gorgeous beaches that hardly anybody knows about. Less than an hour from the Key West airport and nearly hidden from the road, its 524 acres enclose fine sand, exotic forests, and jungly shores perfect for prowling with a kayak. Rent snorkels and masks from the state park concession (305-872-3210), which also runs trips to the spectacular reef at Looe Key, ten miles offshore. Tarpons are biting right now, and the fishing is fiercely scenic from beneath the Old Bahia Honda Bridge, whose pilings are also prime spots for bagging lobsters (get permits and gear from any local bait shop). At night, dive into seafood&nbspSeven Fish (dinner for two, $34 305-296-2777), in one of&nbspKey West's hippiest eateries.&nbspStay in the gay sexually charged&nbsp Lighthouse Court (from $60 305-294-9588 or http://www.lighthousecourt.com/), the lodging place of choice for many of Miami's muscle boys.&nbspHOW TO GET HERE Fly either into Key West or into Miami, 130 miles north.&nbsp
Oahu

Honolulu is just five hours from California, but ditch Waikiki for the other Oahu, where coastal roads pass dozens of empty beaches and solitary trails lead to jaw-dropping ocean vistas. Bike Hawaii (877-682-7433 or bikehawaii.com) will bring you to Kaaawa Valley, a pedaler's paradise where miles of singletrack wander along dizzying cliffs. Follow that with a jungle hike to a 200-foot waterfall in lush Manoa Valley. Or summit 4,040-foot Mount Kaala, an all-day climb that ends in a forest preserve high above the coast. What next? Oh, yeah: surfing. The challenging breaks at Banzai Pipeline and Sunset Beach attract top pros mere mortals get wet at Chun's Reef (rent boards at Surf n Sea 800-899-7873 or surfnsea.com). Hang up your trunks at the gay-owned&nbspCabana at Waikiki (from $99 808-929-5555 or http://www.cabana-waikiki.com/ every room has a view of the ocean and the Mokulua Islands.&nbspHOW TO GET HERE United (united.com) and Hawaiian (hawaiianair.com) have the most nonstops from the coast.


Honduras
You're handed a tropical drink when you arrive at the&nbspgay-friendly&nbspLodge at Pico Bonito (from $180 011-504-440-0388 or picobonito.com), but don't plan on relaxing - yet. There's plenty of action at this 21-cabin retreat near La Ceiba. Start with a horseback ride on the beach, fording streams that spill into the Caribbean. Then tackle the Class III and IV rapids of the Rio Cangrejal. Or take a boat tour of the nearby wildlife refuge, where howler monkeys hang in the treetops and Jesus Christ lizards skip along the water's surface. Leave a day or more to dive among parrotfish and brain coral in the Bay Islands, a 20-minute flight away. On your last day do the steep, hourlong rain forest hike, detouring for a dip in the Rio Corinto, then head back to the lodge for one last tropical drink and decide if your weariness is physical exhaustion or just utter contentment. HOW TO GET HERE Fly to San Pedro Sula from Miami or Houston, then to La Ceiba on TACA (grupotaca.com).&nbsp
Brazil

Ilha Grandemay be the ultimate hangover cure: a 75-square-mile island of green-swathed hills ringed by 106 near-perfect beaches. No cars, crowds, or crappy resorts - just you in a hammock.&nbspWhy the headache? The long weekend you just spent in Rio de Janeiro, four hours from here. After the beachside parties in&nbspIpanema and all-night dancing at Incontru's and Le Boy Bar (55-21-521-0367), your head and liver need a rest. So it's off to this island refuge with good surfing, better diving, and an insouciant vibe. A room with a view at the gay-friendly Sankay Pousada (from $67 55-24-3365-4065 or pousadasankay.com.br) should help you recover. HOW TO GET HERE From Rio catch the Costa Verde bus to Angra dos Reis ($15), then the boat to Ilha Grande ($10).&nbsp
Moorea

Tahiti has traffic jams, and Bora Bora honeymooners, but the island of Moorea seems little changed since Melville and Gauguin spent time in French Polynesia. The only high-rises are the chiseled, jungle-covered peaks visible from the Belvédère Lookout 720 feet above the island's crater center. Nearby, hike the Opunohu Valley, where you might stumble upon ancient stone sites of worship. The reefs just off Moorea's twin northern bays have been here for centuries the Sofitel Ia Ora Moorea (from $335 689-86-66-66 or sofitel.com) runs snorkel trips. Or take a boat out to the left-hand break near Haapiti (buy used boards from Friends of Surf, 689-56-34-98) and catch a view of the island as Captain Cook may have seen it. HOW TO GET HERE Air Tahiti Nui (airtahitinui-usa.com) makes the 81Ú2-hour trip from Los Angeles to Tahiti from there catch a 30-minute ferry.&nbsp
Les Saintes

It's a cardinal rule: The more flights it takes to get to your island, the more unspoiled it is. Les Saintes - a five-square-mile Eden in the French West Indies that looks as if it were faxed over from the Côte d'Azur - requires three. Most visitors come by yacht but set sail after lunch, leaving the dozen beaches all to you. If the charming gay-friendly Auberge les Petits Saints (from $138 590-590-99-50-99 or petitssaints.com) isn't secluded enough, hop a ferry to Marie-Galante, Les Saintes's even quieter neighbor. HOW TO GET HERE American (aa.com) flies to Guadeloupe via San Juan take Air Cara•bes (aircaraibes.com) to Les Saintes.&nbsp
Zanzibar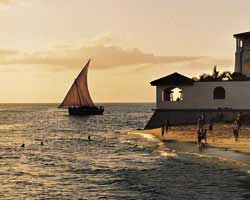 Many travelers tack Zanzibar onto the end of a Tanzanian safari. But adjusting to the rhythm of the Spice Islands takes time. You'll need a few days just to explore the capital, Stone Town, whose elaborate architecture reflects Zanzibar's wealthy past and its location at the cultural crossroads of Africa, Arabia, and Persia. A 40-minute boat ride away lies milelong gay-friendly&nbspChumbe Island ($200 per person including meals and activities 255-4747-413582 or
chumbeisland.com
), whose seven eco-bungalows face the beach and a reef containing 400 kinds of fish. Even farther out is Pemba Island and gay-freindly&nbspFundu Lagoon ($300 per person including meals and activities 255-24-22-32-926 or
fundulagoon.com
), where 20 luxury tents on stilts overlook a deserted beach. Divers will encounter everything from manta rays to hawksbill turtles visibility is usually 100 feet this time of year. After gorging on local fish and lobster, fall asleep to the crash-gurgle-wash cycle of the Indian Ocean's endless waves. HOW TO GET HERE Fly British Airways (ba.com) via London to Nairobi, Kenya, then take the short hop to Zanzibar (kenya-airways.com).
Bali

Bali inspires deep loyalty among its visitors, so it's no surprise that travelers are coming back, lured by the island's unbowed hospitality - and great bargains (ask your hotel about discounted rates). Kuta, site of the October 2002 bombings, is still a lively beach town, and the Bali Agung Village (from $50 62-361-730-367) has a convenient location to the gay scene.&nbspBut insiders are discovering other regions. Laid-back Seminyak, just north of Kuta, has an increasingly hip scene for surfing and clubbing stay at&nbspBali Imperial Hotel (from $140 62-361-751- or downtownbali.com). Funky Ubud, an hour and a world away from the beach, has plenty of adventures. For $135 you can ride an elephant, mountain-bike past rice fields and Hindu shrines, and end up shooting rapids on the Ayung River (62-361-721-480 or baliadventuretours.com). Stay at the luxurious Four Seasons Resort at Sayan (from $375 800-332-3442 or www.fourseasons.com/sayan). HOW TO GET HERE Malaysia Airlines (http://www.flymas.com/) flies from Newark - a 30-hour slog - or Los Angeles, slightly less.
Australia

The Great Barrier Reef is best savored one tiny island at a time, without the aid of a jet ski or sunset party boat. Gay-friendly Haggerstone Island (from $500, including meals 61-74060-3413 or haggerstoneisland.com) is so far off the grid it eludes even mapmakers the owner, a former crocodile hunter, shows a maximum of eight guests where to comb for World War II artifacts, pluck fresh oysters, and dive with centenarian turtles. At&nbspthe gay-owned Sportsmen's Hotel in Brisbane (from $45 800-225-9849 or wilsonisland.com), is near the city's gay nightlife,&nbspand iw close to the beaches and tourist amenities of the Gold Coast and the Sunshine Coast.&nbspHOW TO GET THERE Access to Haggerstone is through&nbspCairns may flights fly to Brisbane.&nbsp
Micronesia

Finding a piece of paradise is hardly a challenge in Micronesia, a collection of more than 600 islands sprinkled over a million square miles of the Pacific. The problem is figuring out where to start. These tiny specks of coral and sand - swollen with rugged volcanic terrain, waterfalls, and rain forests - are the paradigm of South Seas perfection. Just pick one to visit first - Pohnpei is known for its hiking and for Nan Madol, a partially sunken stone city from the 13th century Chuuk for incredible wreck diving Yap for its giant stone money and Kosrae for its supreme remoteness - and take it from there. Continental sells an island-hopper ticket (see below), but to enhance the geographic isolation, go by sea. The Micro Glory (for information e-mail pohnpeivb@mail.fm) travels around Pohnpei, for instance, primarily carrying administrators, doctors, and goods - and you, in a $25 cabin - to the barely inhabited outer atolls, where you can snorkel, explore, and share sakau (kava) with the locals. HOW TO GET HERE Continental's Circle Micronesia Fare from Los Angeles allows several island stopovers (from $1,700 continental.com).&nbsp
&copy 2003 Gay Outdoors All Rights Reserved.