learn
Dubai: Hot and Gay
By Mike Boisvert.
Booze flows freely here, but only in hotels; the Nad Al-Sheba track hosts the world's richest horse race, sans betting; and many of the women are covered from head to toe.
Their culture allows men to hold hands in public, and it's considered normal for men to have sex with other men before and during marriage. They don't believe there is anything gay about their actions but don't get caught since sexual activity between men is referred to by lawmakers as an "unnatural offense" and is punished up to fourteen years imprisonment. Remember when the U.S. had such laws not that long ago?
Nonstop flights from New York on Emirates airlines is enticing ever more gay Americans to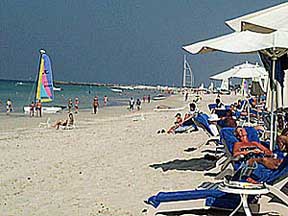 join in the fun: jet-skiing on the gulf's superheated waters, sand-surfing in the desert, and meeting sheiks, swank Euros, and GIs on leave from Iraq in bars.
Arab and foreign gays socialize together in Dubai's "scene," which consists of gay-frequented nightclubs, single-sex beaches, and male-only hotel saunas -- none officially gay. Hot spots include the iBO at the Millennium Aiport Hotel where you'll even spot men dancing together (Millennium Hotels-Dubai - the website does not mention iBO but it does exist; says a blogger: "iBO is a space dedicated to world club culture - bringing the most talented DJ's, VJ's, musicians and performers to a little slice of hot heaven in Dubai"), Cin-Cin and the Peppermint Club at the Fairmont Dubai hotel, and Buddha Bar at the ultrachic Grosvenor House Hotel. Men cruise each other in the malls and at public all-male beaches (in particular Jumeirah Open Beach 1 near Dubai Marine).
Things to Do
--Dubai Museum
--Water taxi: for a boat ride along the creek
--Gold Souk: largest market in Arabia

-- Jumeira Beach Corniche. The beach was really nice and the water was clear.
--Burj Al Arab (The Arabian Tower); tallest hotel in the world
--Wild Wadi water park
--Heritage and Diving village
--Deira City Center Shopping
For a great trip report but from a straight person's point of view, visit http://www.gardkarlsen.com/dubai.htm.
Diving and snorkeling opportunities are great in the spectacular UAE waters. Encountering different types of marine and coral life, including moray eels, small sharks, barracudas, stingrays, and smaller exotic fish is common. Shipwrecks are fascinating sites, with great sight-seeking opportunities. The MV Dara is one of the most historic shipwrecks of the West Coast wrecks. It accounted for the greatest loss of life at sea during peace since the Titanic. The death toll was 238 when it sunk in 1961. In the last 40 years, bountiful marine life has developed around the ship.
Visitors to Dubai cannot have the full desert experience without going on a mystical Desert Safari. There are a variety of tours offered by several tour operators, so
choosing one that accommodates personal tastes and time is simple.
The Overnight Safari is a trip that starts at around 15:00 with a drive through sand dunes. Upon arrival at a Bedouin style campsite, dining, then spending the evening under the desert night sky is enchanting. After breakfast take in views of the desert and camel farms on the way to the mountains. The mountainous region has some dry riverbeds which are perfect for swimming. A fresh buffet is served before returning to Dubai.
© 2007 Gay Outdoors; All Rights Reserved.