learn
Where The Wild Sea Kayakers Go
By Sam Moulton.
DREAM PICK
Little St. George Island, Florida
THE PITCH >> After a long day of paddling, coast to an uninhabited island and toss your tent beneath palm trees on a stretch of white sand licked by water the color of lapis lazuli. If it's hard to imagine this is North Florida, that's because this thin, nine-mile-long barrier island separating Apalachicola Bay from the Gulf of Mexico is an anomaly—one of the only island wilderness preserves on the Gulf Coast on which you can camp. Cast for speckled trout and redfish in the bay before breakfast. After lunch, explore the dunes and try spotting some of the island's 200-plus species of birds. As the sun sets, grab a bottle of merlot and hike the southern shore to the recently renovated 1850s St. George Lighthouse.

BETA >> Put in at the marina on St. George Island, 80 miles southwest of Tallahassee. Paddle west along the island's north shore for eight miles. Cross Sikes Cut and continue another nine miles to the western tip of Little St. George. Check in with Apalachicola National Estuarine Research Reserve (ANERR) at 850-653-8063 for camping information. No fees or permits required.

PRIME TIME >> April, October

RESOURCES >> For general info: ANERR. For guided trips: Journeys of St. George Island, 850-927-3259, www.sgislandjourneys.com
PLAN B
Resurrection Bay, Alaska
THE PITCH >> You'd think that Thumb Cove—a protected pebble-and-sand beach ringed by three hanging glaciers and offering rugged hiking, primo salmon fishing, and two state-owned log cabins for rent—would be hard to get to. It isn't. From Seward, a port town on the Kenai Peninsula, 128 miles south of Anchorage, it's a challenging nine-mile paddle across Resurrection Bay from your put-in at Lowell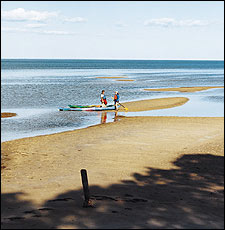 Point. Glide past waterfalls and mussel-noshing otters near Tonsina Creek before setting up camp at Caines Head State Recreation Area. Now stretch your legs with the mile hike up to Fort McGilvery, an abandoned WWII-era fortress carved into the hill.

RESOURCES >> For info: Department of Natural Resources at Morgan's Landing, 907-262-5581, www.dnr.state.ak.us. For boat rentals and guided trips: Sunny Cove Sea Kayaking Company, 800-770-9119, www.sunnycove.com
OR TRY
Isle au Haut, Maine
THE PITCH >> Most folks still get to rural Isle au Haut by mail boat, but kayaking is the more admirable way to reach this seven-square-mile island, 60 percent of which is part of Acadia National Park. Paddle due south four and a half miles from Stonington, Maine, hugging the islands of Merchant Row for protection as you cross Penobscot Bay. Aim for Duck Harbor, which offers shelter in the form of five sturdy lean-tos. Once you've established your Camp au Haut, take your pick of activities: Hike the four miles to Robinson Lighthouse, scale the island's six gentle mountains, or explore dozens of surrounding islands, like York, whose only inhabitants are sheep.

RESOURCES >> For info: Acadia National Park, 207-288-3338 (call well in advance; permits go quickly), www.nps.gov/acad. For guided trips: Granite Island Guide Service, 207-348-2668, www.graniteislandguide.com.
© 2003 OutsideOnline.com; All Rights Reserved.