learn
The Ultimate GayOutdoors Playground
By Paul Kvinta.
This month, as the nautical world converges on Auckland for the America's Cup, New Zealand will be defined by the sport of sailing. But make no mistake --- if ever there were a multisport heaven on earth, a place where adrenaline and the gay outdoors intersect, the South Pacific nation is it. We're talking, after all, about the country that produced both Sir Edmund Hillary and bungee jumping. Credit goes to a landscape more diverse than anywhere else in the world, with tropical coastlines, craggy volcanoes, snow-capped alps, rugged fjords, and rain forests in an area the size of Colorado.
And if much of the scenery looks familiar, it's because director Peter Jackson filmed The Lord of the Rings here. Between that and its perceived safeness (an Al Queda hotbed it's not), New Zealand's popularity with international travelers has, remarkably, increased over the past year. In two weeks, you can cover a good amount of ground, checking out Auckland's sailing scene, fly-fishing New Zealand's biggest lake, hut-to-hut hiking its best long trail, and sea kayaking its fjords.
With a million sea-loving souls and 80,000 privately owned sailboats, Auckland understandably went bananas when the Kiwis liberated America's Cup from the San Diego Yacht Club in 1995 and successfully defended it in 2000. This month's action will be on the Hauraki Gulf, northeast of town, where thousands of spectator boats will convene. Whichever vessel you choose to watch from (your options range from the FL ferry boat, $92 per person per day, or the ARC, a 15-passenger schooner that charters for $2,500 a day), ask your captain to maneuver close to "the box," the critical prestart area where the dueling yachts dodge, circle, and nearly ram one another five minutes before the race begins.
When you've had your fill of the yachting scene, rent a car and head south. In the North Island's volcano-studded center, a four-hour drive from Auckland, dozens of rushing rivers and streams spill from the mountains to feed Lake Taupo, New Zealand's largest body of fresh water. When the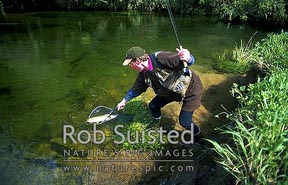 cicadas start singing, in February, this may be the world's finest place to cast dry flies for trout. (Rainbows average four pounds).
Stay a couple of days in the quaint burg of Taupo, on the lake's northeast corner, and hire a guide to drive you to the Tongaria River, where white pumice cliffs rise high above the gurgle and monster fish linger in gin-clear water. Offer them a cicada or a green-beetle imitation and watch your rod go rubbery.
From Taupo, grab a flight south to Queenstown, where your first stop is Bob's Peak, via the Skyline Gondola. You'll pass descending paragliders and street lugers, and if that's not evidence enough that this South Island town is the epicenter of adventure sports, behold the view of the Lord of the Rings territory from the top --- the jagged, 8,000-foot Remarkables Range soars to the east; Walter Peak towers to the south; and Lake Wakatipu shimmers below like a cut sapphire.
All nine of New Zealand's "Great Walks" have dazzling views and remarkably diverse ecosystems, but the Routeburn Track, a moderate three-day hike in the Queenstown region, may well be the greatest. The Routeburn is relatively crowd-free, and as it threads for 15 miles along the Ailsa Range and swings east through the Routeburn Valley, it links three radically different and spectacular landscapes: dense temperate rain forests, high-alpine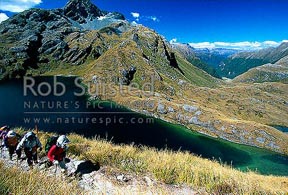 meadows, and sweeping river valleys. Hike the route unguided or with outfitter Routeburn Walk, which has its own lodges (and guides who whip up steak dinners).
On the first day of hiking, pray for rain. With about 27 shades of green among the rain forest's mosses, lichens, ferns, and beech trees, a steady, glistening drizzle glorifies each hue and transforms the schist walking path into a collection of turquoise- and periwinkle-colored stones. Rain also fuels dozens of waterfalls here, especially the thunderous 260-foot plunge at Earland Falls. You'll pop above tree line on the second day, right above Lake MacKenzie, and as you edge along Hollyford Face, be prepared for a possible snowstorm, even in summer. Be prepared, too, for chest-swelling views of 9,000-foot Mount Tutoko, in the Darran Range, and, when it's clear, the distant Tasman Sea. From there, the trek is leisurely, ending with a series of suspension bridges over gorges.
After an evening's recovery in Queenstown, rent another car an motor southwest two hours to Te Auna, the entryway to Fiordland National Park, New Zealand's largest and most remote wilderness. Fourteen snaking fjords --- historically misnamed "sounds" --- give this three-million-acre park at the bottom of South Island its name. Forgo Milford Sound, targeted by most Fiordland tourists, and instead do a multiday sea-kayaking trip on Doubtful Sound, accessed by an 18-mile boat ride and a 15 mile ride.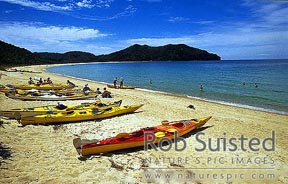 Two miles up Doubtful, keep an eye peeled for Fiordland crested penguins popping out of the beech forest on Rolla Island: They'll dive in the mud, shimmy, and flap their teeny wings. Farther on is fairy-tale-like Hall Arm, where 4,000-foot vertical walls rise from the water, snowmelt cascades from the cliffs, and penguins, kiwis, wekas, and other cuddly-looking flightless birds root in the ferns and fuchsia.
If you're lucky, you'll have inclement weather on the final day of paddling. When 25-knot gusts funnel in off the Tasman Sea, your guide will distribute spinnakers and you'll lash your boat to someone else's. Hoist your sail, and presto --- kayak transforms into saiboat, and, in true kiwi multisport fashion, you're cruising home.
GAY TRAVEL PLANNER

Travel
Air New Zealand flies from LA to Auckland for $2,000 (800-262-1234 or airnewzealand.com.) Rent a midsize car there for $80 per day (budget.com). From Taupo, fly Air New Zealand for $100 one way to Queenstown, where Budget's midsize cars are $60 per day.
Lodging
Rooms at the Deveroux Boutique Hotel in Auckland start at $82 (64-9-524-5044 or devereux.co.nz). In Taupo, the lakeside Caboose (64-7-376-0116 or taupo.caboose.co.nz) has rooms for $100. At the luxurious Evergreen Lodge in Queenstown, they're $239 (64-3-442-6636 or evergreen.co.nz)
Outfitters
Chris Jolly Outdoors (64-7-378-0623 or chrisjolly.co.nz) charges $300 for full-day fishing trips. Three-day hikes with Routeburn Walk Ltd. (64-3-442-8200 or routeburn.co.nz) cost $525. Two-day paddles in Doubtful Sound with Fiordland Wilderness Experiences (64-3-249-7700 or fiordlandseakayak.co.nz) run $140.
© 2003 MensJournal; All Rights Reserved.