learn
GayOutdoors Climbers Become The First All-Gay Team To Summit Nepal's Island Peak [20,305']
By Mike Boisvert.
[June 30, 2002] After a decade of involvement with Chiltern Mountain Club, a Boston-based gay and lesbian outdoor recreation club, Mike Boisvert decided to start a nationwide gay adventure club. Three years ago he launched GayOutdoors.org, to assist gay/bisexual men and women [we are now a mens only club] nationwide to go outdoors and make new friends in a safe, comfortable atmosphere. Boisvert, 47, a Manchester, N.H., native and resident, leads hiking, backpacking, and mountaineering trips through GayOutdoors, in New Hampshire's White Mountains. With mountains in Alaska and Argentina under his belt, he was ready to tackle Nepal.
"I wanted to climb a mountain, not just walk up something," Boisvert, a bank auditor, said of his decision to target Island Peak, a classic climb in the Himalayas that is often paired with a trip to Mount Everest Base Camp.
He posted the trip on GayOutdoors and invited its 1,600 members to join him. As a result, in May, Boisvert, and his partner Jon Normand, 41, of Goffstown, N.H., and five other men and women went on their 3 1/2 - week journey. The other climbers were guide Angela Hawse, 39, from Seattle, WA; Holly Keith, 42, of Northhampton, MA.; Navah Levine, 38, and Cathy Savino, 40 both of Somerville, MA; and Doug Dye, 39, from Fort Lauderdale, FL (who's now hiking half the Appalachian Trail). The trip cost about $3,350 each, plus $1,400 for air fare. Hawse was needed for her technical skills and Everest experience. To prepare, team members worked out in gyms, took a glacier travel workshop, and climbed area mountains.
Boisvert said he wanted an all-gay group because "there's a lack of awareness that gay people do major mountaineering expeditions so I guess I wanted to raise the conciousness of the general public."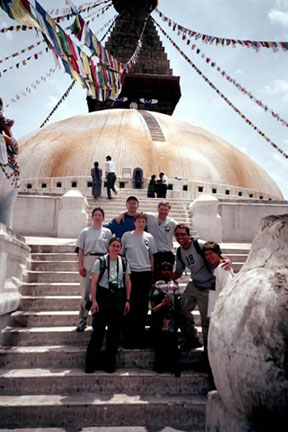 As with most Himalayan adventures, the team's journey started in Kathmandu. They visited the historical districts, temples and other points of interest.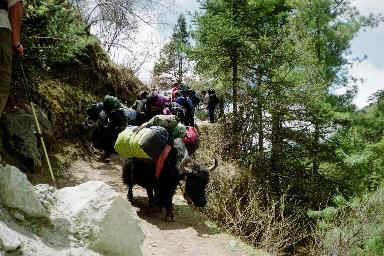 They flew to Lukla, at about 9,000 feet, to start the trek and meet their entourage of four yaks, seven porters, a cook, two guides, and "a guy who waited on us. I guess we were supporting the local economy," he said.

To acclimatize, they went to Everest Base Camp and climbed Kala Pattar (18,300 feet), where they had clear views of the world's highest mountains. "It's the closest you can get to Everest without climbing on it," Boisvert said. We could see the route we took (looking back), along with glaciers, crevasses, and white-cap peaks everywhere you looked." Boisvert skipped Everest Base Camp because he felt sick for almost two days.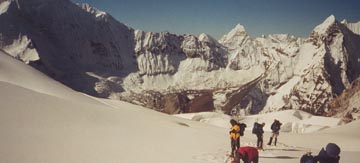 "The only time we were nervous was the day before Island Peak," he said. (We had two consecutive days of bad weather and we were concerned not only of the climb itself, but the weather we might have to contend with). On May 12, 2002 at about 2 a.m., they started out from Island Peak base camp. They scrambled up a rock gully and hiked along a rock ridge. They reached the glacier by mid-morning and roped together as a team. The sky was clear and sunny.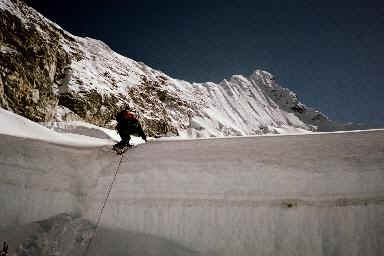 "At the base of the headwall, I was the only one having trouble breathing," Boisvert said. "I had to have the group slow to a crawl just so I could keep going, but I was OK after a while." (Even in the best of shape, his physiology does not acclimate well...and the other members of the group didn't mind slowing the pace down at this altitude).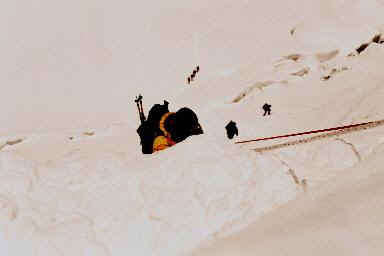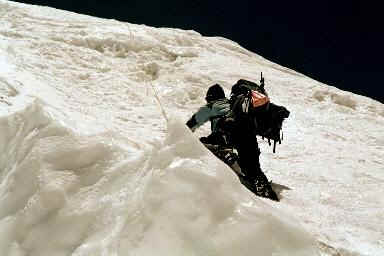 The headwall of ice and snow was about 500 feet high and extremely steep.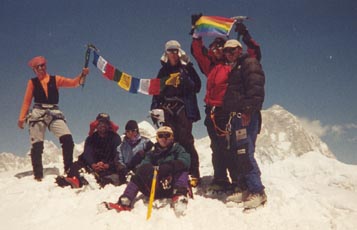 "It was intimidating to all of us since it was such a vertical climb, something most members hadn't expected and had never done." Even Hawse, the guide, was surprised. They wore crampons, and used ropes and ice axes to slowly work their way up. At the top - 20,305 feet - they waved the rainbow flag, left a strand of prayer flags, and read a poem written by a mountain porter (that will now be published as part of the International Year of the Mountain Celebration).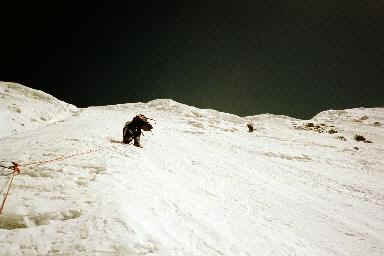 "Everyone was really nervous about rappelling down; they didn't expect a rappel of that magnitude," Boisvert said.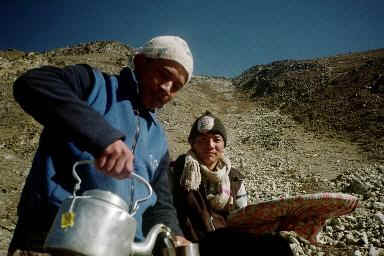 Sherpas met them on the way down with hot tea and biscuits. "That lifted our spirits. They offered to take my pack, and I didn't argue." (They returned back to Island Peak base camp at 9PM, making the ascent up and back a total of 19 hours).

In summary, Boisvert said, "I would love to see an all-gay Everest team. I think it would be a good, positive thing for the entire gay community."
© 2012 GayOutdoors; All Rights Reserved.