learn
Our Favorite Cross-Country Ski Trails
By Mike Boisvert.
Backcountry skiing ~ off groomed tracks and away from ski centers ~ has a lot to recommend it. Almost always it is a quiet refuge from crowds, and there is no ticket to buy or operating hours to schedule around. Perhaps the best thing about backcountry skiing is the sense of discovery. Each venture out is an exploration of landscapes that are changing with the season, the snowpack documenting the recent weather as it piles up, condenses, refreezes, changes to corn, gets cut through with streams, and becomes buried again under a soft new snowfall.
There is no more beautiful setting than to go cross-country skiing! The snow covered woods and trails are breathtaking. While the peaceful serenity is what we love about cross-country skiing, we don't want to keep it to ourselves so we are going to share with you our favorite places with you so that you can breathe in the beauty of the snow covered pines, listen to the quiet trickling of winter streams and reflect on the magnificence of nature in these very special places.
Atwood Pond
Waterville Valley, New Hampshire
I pull into the parking lot at Smarts Brook, ease the nose of the truck against the snowbank, and yank on the parking brake. The windshield wipers smear away the fat flakes spinning out of the dusky sky. The cold seeps through the windows. The doors stay shut.
"Where to?" mutters Jon, bent to the task of pulling on his own boots. "Yellow Jacket or Atwood Pond? Yellow Jacket is probably tracked. It'll be easier."
"That's too easy. Let's go to Atwood Pond."

"Oh right, why ski breakable when we can break trail and ski powder?"

Eight winters, many ski days, and every single one has started like this one, with the morning, bullshit-talk that refreshes.

"I love that downhill run we can take down Sandwich Notch Road."

"Yeah, that is so much fun."

"And we'll have the woods all to ourselves."

I zip my layers, pull up my hood, and take a last slug of coffee. The lap ahead unspools my mind - the silent kicking/gliding with an occasional comment, below zero temperatures, snow piled up high on evergreen branches, leapfrogging each other breaking trail, the runs downhill - whooping, slashing, and laughing. No need to stop, no need to talk. Our synchronous flow on the trail makes me as happy as the kicking/gliding we do. We'll be doing this together, I hope, until we are 80.

I turn to him to say so. He's dabbing chapstick on his lips.

"Done with your lipstick yet, bro?"

"Want some?"

"Sure."

He pushes open the door. Cold floods into the truck, and we are both sucked outside into the wintry air.
Note: Our other favorite loop in the Smarts Brook area is the Tri-Town and Yellow Jacket loop.
10th Mountain Ski Club
Fort Kent, Maine
This nonprofit in northern Maine offers world-class facilities for everyone from the first-time skier to the Olympian-in-training. And it's free. Beginning, intermediate, and expert trails are groomed daily, with a variety of loops ranging from 1 to 7 kilometers. There's a special trail for skiers with dogs, and another is lit for night skiing. The challenging 5.6-kilometer Voyager Loop, which is used for major competitions, climbs an Alpine ski area and provides views into Canada.
Distance: 1 to 7 kilometers
Info: 10th Mountain Ski Club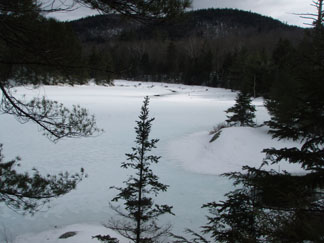 Dartmouth Cross Country Ski Center
Hanover, N.H.
The Dartmouth Cross Country Ski Center operates two facilities just outside of downtown Hanover, N.H. Beginners can head out from the ski center on Occom Pond where easy to moderate loops circle the golf course and Garipay Field. For a bigger challenge, moderate to difficult trails create a 5K loop of Storrs Pond and a 10K loop on and around nearby Oak Hill. A fee is required for full access to the trails, but portions of the golf course are ungroomed and open for free.
Distance: up to 10 kilometers
Info: Dartmouth Cross Country Ski Center
Myles Standish State Forest
Plymouth and Carver, Mass.
The 14,000-acre Myles Standish State Forest contains miles of trails around kettle ponds and through one of the region's largest pitch pine and scrub oak forests. In winter, the forest's bike paths are designated for skiing and stretch for several miles from the parking area at East Head Reservoir. The forest's many hiking trails, fire roads, and wide-open fields provide additional ungroomed options for anyone seeking more variety. Visitors should be aware that some trails are open to snowmobiles.
Distance: Varied
Info: Massachusetts Department of Conservation and Recreation
Wachusett Reservoir
West Boylston, Mass.
Wachusett Reservoir, once the world's largest artificial reservoir, is now better known as an important wildlife habitat and recreation destination. Four thousand acres of forest surround the shoreline and contain trails of varying difficulty. Gate 28, just beyond the northern end of the Route 12 bridge, provides access to the trails along the northwestern edge of the reservoir. Connect to the nearby Mass Central Rail Trail in West Boylston, just across the water, for 11 additional miles of easy terrain.
Distance: Varied
Info: Massachusetts Department of Conservation and Recreation;wachusettgreenways.org
Staten Island Greenbelt
Staten Island, N.Y.
This network of conserved land contains 35 miles of trails, all just a few miles south of Manhattan. The trails, located in the heart of the island, connect a series of green spaces including New York City's largest remaining forest preserve. LaTourette Golf Course, at the center of the greenbelt, is the most popular spot for skiers, offering an open, ungroomed expanse of fairways. This is also a good starting point for the more adventuresome to connect to the greenbelt's longer hiking trails, which are also popular with snowshoers.
Distance: Varied

Wissahickon Valley Park
Philadelphia, Pa.
A 57-mile trail network cuts up and down and along the deep gorge over Wissahickon Creek. It's the sort of dramatic setting you expect to encounter in the wilderness, not within city limits. Beginning skiers can stay on the forgiving undulations of Forbidden Drive, a road (closed to traffic) that parallels the creek. More advanced skiers can head out onto Walnut Lane Golf Course, or, if the snow cover is good, explore some of the park's single-track, where they may get to break trail.
Distance: Varied
Info: Friends of the Wissahickon
Woodstock Equestrian Park
Beallsville, Md.
Woodstock Equestrian Park is best known for its riding facilities. But once the snow falls, the property welcomes skiers of all abilities. The 1.8-mile Field's Edge Loop offers easy terrain and views of the surrounding foothills. The remainder of the trail network—including the 2.5-mile Greenberg Challenge Trail in the center of the property—winds through forests and around the fields of several farms. The Woodstock name comes from a farm once owned by George Washington.
Distance: Up to 15 miles
Info: Woodstock Equestrian Park
Hayes Copp
Pinkham Notch, NH
Hayes Copp is one of the four trails in this popular 8-mile ski circuit, and its
name is generally used for the whole system. Two big loops, one at higher elevation than the other, lie across the flank of Mount Madison, parelling the wide, boulder-choked Peabody River as it tumbles down from Pinkham Notch. These trails can be combined in a variety of ways to take the best advantage of the snow conditions, weather, and the amount of time skiers have to explore this slope of one of the most dramatic landscapes in the Northeast.
Info: White Mountain National Forest, 603-466-2713
Rangeley Lakes Heritage Trust Lands

Rangeley, Maine
In a land of expansive woods, big mountains, and large lakes, several small gems of preserved land in the Rangeley Lakes Region offer gentle trails for a more intimate exploration of woods and shorelines. Within walking distance of Rangeley Village, Hatchery Brook Preserve's two loop trails sweep over 50 acres alongside City Cove in a 1.2-mile circuit. A little farther west, Hunter Cove Wildlife Sanctuary's 1.6-mile loop crosses wetlands before reaching benches along the edge of this narrow inlet. Bonney Point Trail's 1.3-mile lollipop loop leads through thick forest to the edge of Smith Cove, which opens south to the wide reach of Rangeley Lake. Mugs of hot chocolate and the warm shops of Rangeley Village are never far from any of these lovely little treks into the big woods.
Info: Rangeley Lakes Heritage Trust, 207-864-7311
Eastern Trail
Saco, Old Orchard Beach, and Scarborough, Maine

The Eastern Trail is a 65-mile non-motorized greenway that connects South Portland and Kittery, but it is also a portion of the East Coast Greenway, which will stretch all the way to Key West, Fla. Some sections of the trail follow public roads, but 21 miles are off-road. Strap on your skis and check out Maine's largest salt marsh by heading out along the 8.4-mile stretch between Scarborough and Saco. At this section's northern end, the trail crosses onto the Scarborough Marsh, a broad expanse of grasses and water, open skies, and mud flats. Five tidal rivers meet the ocean here and support a broad diversity of wildlife, including many endangered and threatened birds.

Info: Eastern Trail Alliance, 207-284-926

Bear Brook State Park
Allenstown, N.H.

New Hampshire's largest developed state park boasts 10,000 acres of woods, hills, marshes, ponds, and streams just a stone's throw from the state capital. This much land can accommodate separate trail networks for various user groups, and backcountry skiers make out well, with an interesting 5-mile loop past Smith Pond and wetlands where wildlife sightings are common. From the cross-country skier parking lot off Podunk Road, follow Pitch Pine, Broken Boulder, Bobcat, and Salt Lick trails over rolling terrain through mixed woods. A lean-to at Smith Pond provides shelter for a lunch break, and Little Bear Trail offers a more challenging alternative to Salt Lick for the last leg.
Info: Bear Brook State Park, 603-485-2034


Catamount Trail
Vermont
A winter counterpart to Vermont's famed Long Trail, the more recently established Catamount Trail parallels the north-south hiking trail but generally keeps to lower elevations. Extending 300 miles from Canada to Massachusetts, the Catamount Trail has sections to please every kind of backcountry skier. For a friendly, not-too-rugged stretch of the long-distance cross-country ski trail, try Section 26 from Garfield Road to Eden Mountain Road. Blue trail markers with a catamount footprint lead skiers across classic rural Vermont terrain—fields and woods with gorgeous, wide-open northern Green Mountain vistas. This 7-plus-mile stretch follows the edge of the lovely, remote Green River Reservoir and later takes advantage of the wide corridor of a former snowmobile trail, now used only for people-powered recreation. Another option is Wiessner Woods in Stowe, part of Section 23, where the Catamount Trail follows one edge of a circuit of gently rolling trails through beautiful forests, with a bench lookout over the highest ridge of the Green Mountains.
Info: Catamount Trail Association, 802-864-5794

Robert Frost Interpretive Trail
Ripton, Vt.
Near Middlebury College's Breadloaf Campus, where Robert Frost taught for decades, a 1-mile loop through alder swamp, woods, and fields honors the Pulitzer Prize-winning poet with a simple display of his poems along the trail. The highest point of the trail (only 30 feet above the trailhead) is a junction connecting to the more challenging, ungroomed ski trails in the Water Tower Trail system. Although short, the loop pleases in so many ways: with intimate woods and streams, with open fields that afford views of the big peaks in the Breadloaf Wilderness, and with the clever wisdom of an old New Englander who appreciated this hardscrabble landscape.

Info: Green Mountain National Forest, 802-388-4362

Ashuwillticook Rail Trail
Lanesboro, Cheshire, and Adams, Mass.

Railroad engineers must have fought to drive this gorgeous route through the Berkshire Mountains before this section of track was converted to a non-motorized recreational path. For 11.2 scenic miles, Ashuwillticook Rail Trail edges along lakes, wetlands, and the Hoosic River and passes beneath Massachusetts' highest peak, Mount Greylock. The wide path allows for congenial side-by-side travel, and novice skiers will appreciate that there is very little elevation change along the entire route. Multiple trailside parking areas make it easy to customize the length of a ski trip. End points are conveniently at the Berkshire Visitor Center in Adams and the Berkshire Mall in Lanesboro.

Info: MassParks, 413-442-8928

Grafton Lakes State Park
Grafton, N.Y.

A short distance northeast of Albany, the Grafton Lakes spread across the rolling, forested Rensselaer Plateau, providing a lovely backdrop to 12 miles of ski and snowshoe trails within this state park. (Snowmobiles use separate trails.) Try the 2-mile Shaver Pond Loop, heading south through the woods before circling around the western side of the pond and returning to the winter parking area on Hicks Beltway. From there, Long Pond points a chilly finger to the northeast. If there is at least a foot of snow to cover the rocky trail, head out on the 3-mile loop along its forested shores. From another plowed winter parking lot at Mill Pond, a 1.8-mile loop along Spruce Bog and Mill Pond trails gives a taste of little hills as well as access to the longer, more challenging 4.5-mile loop to the fire tower. Grafton Lakes State Park's gated entrance opens at 8 a.m. and closes at dusk (4:30ish in January). There is no entrance fee in winter.

Info: Grafton Lakes State Park, 518-279-1155
© 2014 Gay Outdoors ; All Rights Reserved.