learn
Italian Dolomites Alta Via 2 Trek
By Mike Boisvert.
Short Version: After putting in over 8 hours of editing, our documentary of our 114 mile trek on the Alta Via 2 trek in the Italian Dolomites is finished! The montage is pretty incredible and can I say "WOW"! While pictures don't do the trip justice, they do manage to convey the majesty of the Alta Via 2.

>>Click Here To View Slide Show

Long Version:

Jon, Tom, Mark and I spent the first two weeks in September 2013 hiking the Alta Via 2 in the Italian Dolomites. Our ten day trek that would take us through some of the most stunning scenery the Dolomites has to offer, including the Plose, Puez-Odle, Sella, Pale di San Martino and Alpi Feltrine mountain groups.

Alta Via 2 is a 114-mile long Italian mountain trail that crosses the Dolomites. The trail is almost entirely in the alpine zone, between 5,900 ft. and 9,800 ft. most of the time, with about 30,000 feet ascent and descent in total. Our backpacks weighed about 23 pounds. It travels from the primarily German speaking north to the Venetian plains where Italian is predominantly spoken.

The first part of the trip is primarily on rock and views of distant mountain ranges, and I would describe the mountains here as stunning, unlike anything we've seen. It also had the most trekkers and day trippers. The second half of the trip has spectacular meadows and on trails that seemed like they were carved in the side of the mountain. Moreover, the 2nd half of the trip has far fewer trekkers and day trippers.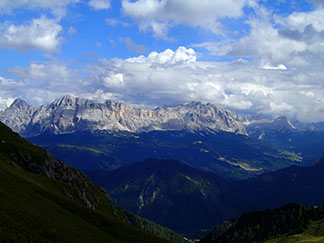 The Dolomites were part of the Austro-Hungarian Empire before WWI. So as we began, we had lots of German food and as we trekked further south it transitioned to Italian. German food included Knödel [bread dumplings in different sauces], Goulash [shredded beef in a brown sauce], Wiener Schnitzel [pounded veal in bread crumbs]...we even had charbroiled Swine oxen at Rheingold Messner's family farm/restaurant! Italian food included Polenta, Spiz [pan fried cheese with cream], Pasta, Spaghetti, Carpaccio [rare meat sliced] that could be served as a appetizer or with another dish, and Canderdelli [bread dumplings in a broth]. The food was delicious and we found the wine at the Refugio's were inexpensive compared to ordering it in a village.

The towns at the start had both German and Italian names. German seemed to the predominant language at the start and then transitioned to Italian further south...I would say around Malga Ciapela. There also is a language called Ladin that is still spoken although we did not run into anyone who spoke it. That said, our Via Ferrate guide told us he could speak it and the region Ladin begins on the trek is at Passo Gardena and ends at Passo Pordoi. He indicated that in order for this region to keep its culture/language the kids spend a half day in school speaking in Ladin and the other half in Italian. Some of the people working in the Refugio's spoke both Italian and German so sometimes we had to find a translator or use sign language to get our thoughts across...Refugio Boe and Refugio Boz come to mind. At Refugio Boz they asked me if I spoke French and since I did, we were good to go! Tom spoke fluent German so he was very helpful. I bought an small Italian phrasebook but really did not need it. We really tried to use common greetings and phrases with everyone so they would at least feel we were at least attempting to communicate in their own language. Everyone we met was very friendly and helpful. Most of the trekkers we met were either from Austria, Germany and Italy; from the U.S. we only met one couple who came from California.

We spent our nights in the mountain huts, called "Refugio's" in Italian. They all offered lodging, hot meals, wine/beer and showers; most offered private rooms as well as the traditional bunk rooms arrangements. We always chose the half pension and usually there were about 3 choices for dinner. Breakfast was always simple with a variety of bread rolls with butter, jam, nutella and hot coffee. This is luxurious compared to the Appalachian Mountain Huts and much less expensive; an average of $60 per night for lodging, dinner and breakfast!There were a couple that did not have drinkable water so we had to purchase bottled water that they had for sale. We relied on Refugio's for lunch except for our last three days where the trail was much wilder and remote. Each Refugio had its own unique stamp. For each Refugio we visited, we stamped our books with the intention of turning them at the end in Feltre to collect our AV2 pin.


The Refugio's that we stayed in beside the road were really inns so they offered private rooms, private showers and much better breakfast/dinner choices. I would say our favorite 'roadside' lodging was Hotel Tyrolia at Malga Ciapela. It was the same price of mountain Refugio that included a private room/showers with a balcony view, swimming pool, and the best breakfast/dinner we had from a 'roadside' Refugio. The 'mountain' Refugio's were all very good; each with its own character. Our favorite has to be the last, Refugio Boz. It was an old stone farmhouse with a wood stove that was managed by Daniel and his wife. Since there were only 4 trekkers spending the night [including Jon and myself], we received personal service. The food for dinner was all from local farms and it was outstanding!

Using a guidebook, a series of maps I ordered and research off the Internet, I had a good working knowledge of the trek such as trails, Refugio's, and access points. The maps were particularly helpful with understanding the route described in the guidebook. As we did our trek, I obtained a better working knowledge each day. I reserved a guide to meet us at Passo Gardena and take up us to climb the Via Ferrate Tridentina. I emailed all the huts ahead of time and was able to secure reservations without making a down payment; there was only one hut [Puez] I was not able to reserve and of course, it was full when we got there. We went from one hut to the next for ten days and did not have much flexibility if we were to encounter bad weather. It would have been a hassle to contact all the other Rifugios to change our reservations if we had to hold back due to bad weather.

The trek basically went up into the mountains from a valley/road/pass. We went down to a valley/road almost every day. There were a lot of skiing areas in the first half that had either a gondola or cable car operating. Accordingly three times we used either a gondola or cable car to help us with some of the ascents and descents. It did feel like cheating to use them as some other Alta Via 2 trekkers we met refused to use them; however we certainly were not the only ones using them! We were able to cover more miles and saved time.

The guidebook and signs listed times versus kilometers. We found that we rarely made the book/sign time. We did take a lot breaks to take pictures and enjoyed long lunches at the Refugio's. I would add 15 minutes for every hour.

>>Click Here To View Slide Show

Trip Log
We did the trek in 10 days and that was pushing it since we did not have any bad weather or rest days planned. Weather can be a serious issue, since some sections in the guidebook indicate they are dangerous in wet weather…and they are not kidding after hiking its entire length. We were so lucky to have great weather throughout and did not have to take a day off. We had sunny skies 8 of our 10 days with New England fall like temperatures. The other two days we were hiking in swirling clouds but were still able to get views. Be careful with the sections having fixed cables!

All in all, we loved our time in the Dolomites on the Alta Via 2. Each day we marveled at the dramatic mountains and stunning panoramas - we hope our pictures can convey some of this beauty. We loved it so much we are thinking of returning in two years and trek the Alta Via 1!

Day 1: We took the gondola from Plose ski area to Valcroce to start our trek. When we reached Rifugio Citta di Bressanone we had coffee took in the views from its deck. Off in the distance we could see the Impressive needles of Odle di Eores...which we would ascend up one of the passes after lunch. We had lunch at Rheinold Messner's family farm/restaurant ordering charbroiled Swinehoxen and beer. We then entered the Puez-Odle park climbing up relentlessly up a broken rock and cascading water until we reached Forcella di Putia [7,700'] with its crucifix and gorgeous view! We spent the night at Rifugio Genova at 7,534'. Nine miles with a 1,900' elevation gain since we used the gondola.

Day 2:
We did a fatiguing climb up to Forcella della Roa at 8,583'. We descended into a chaotic amphitheater, climbed back up to Forcella di Sielles using fixed wire-cables reaching grassy slopes with views to the Civetta, Pelmo, Antelao and the Tofane. We unfortunately saw someone have a heart attack. I tried CPR and could not revive him…he was airlifted by a helicopter. We had lunch at Rifugio Puez at 8,118' and could not stop thinking about we had just witnessed. We then meandered across the wonderful and unworldly Puez plateau! We reached Passo Crespeina [8,293'] and its artistic crucifix with a decent view of Sassolungo. We descended to Passo Gardena [7,009'] and spent the night at Rifugio Berghaus Frara. Mileage was 9.5 with 1,250-elevation gain.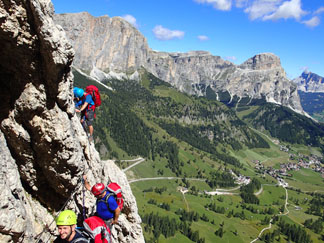 Day 3: Next day we met our guide and climbed up the Via Ferrate Tridentina! It was made more difficult and scary since we had our backpacks. We did it!!! We had a celebratory lunch at Rifugio Pisciadu at 8,485'. We then enjoyed hiking the terraces of the majestic Sella and its vast lunar upland! Today we reached the highest point on the AV2, Antersass at 9,514 feet!!! We spent the night at Rifugio Boe at 9,423'. Seven miles with a 2,414' elevation gain.

Day 4: This was an awesome day, which covered incredibly varied landscapes! We started hiking in the stark Stella. After making a short visit to Rifugio Forcella Pordoi, we climbed up to Sass Pordoi and took the cable car down to Passo Pordoi. We then hiked the lush flowered slopes of volcanic origin at the historic Viel del Pan with the magnificent glaciated Marmolada coming into view. We then descended to Lago di Fedaia. We checked in for the night at Hotel Tyrolia at Malga Ciapela, 4,539'. Then took the cable car to the top of the Marmolada at 10,964'. Eight miles with 1,550' elevation gain.

Day 5: The morning was spent ascending 3,280 feet on a 1915-1918 military track for mules and reaching Forca Rossa at 8,162' with a vast panorama of Cime dell' Auta with the San Martino and jagged Focobon peaks beyond. We encountered horses at the immaculate meadows at the foot of the scree basin below Passo delle Cirelle. We were able to get our pictures taken next to them. We then reached Passo delle Cirelle at 6,500', followed a road dotted with a string of hay barns and chalets. At Albergo Miralago we stopped for lunch. At Passo San Pellegrino we took a cable car up. We hiked through the ski area to Passo Valles where we spent the night at Rifugio Passo Valles at 6,661'. Mileage was 11.4 with 3,214' elevation gain.

Day 6: The next morning a St. Bernard dog followed us from Passo Valles until mid-morning. Today we entered the realm of the awesome Pale di San Martino. This section was an exciting roller coaster of sights and paths! We had Lunch at Rifugio Mulaz at 8,435'. We then did a short traverse and dizzy aided climb to Passo delle Farangole at 9,229'. We then had stunning views on the traverse of the 'Sentiero delle Farangole' high over Val delle Comelle. We spent the night at Rifugio Rosetta at 8,465'. Tom & Mark decided to leave the trek due to a number of factors…the most important being they stopped having fun. Nine miles with 2,568' elevation gain.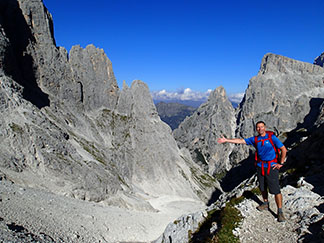 Day 7: We then zig zagged down multiple switchbacks on a former mule track reaching a long cable aided stretch, which was exciting but pretty exposed; not everyone's cup of tea! There was a sign to clip in before we started the long cable aided stretch. Many AV2 hikers carried Via Ferrate gear with them but we never had a problem using the cables without the gear. We went over Passo del Ball and recall meeting two elderly women who were telling us they had climbed the peaks on each side using Via Ferrate gear a couple days earlier. We descended to Refugio Pradidali for lunch at 7473'. After the refugio came another dfficult, but shorter, passage leading up Passo delle Lede, then a never-ending winding descent to Refugio Treviso at 5,351' where we spent the night. Mileage was 8.7 with 2,690' elevation gain.

Day 8: Today we bid farewell to the spectacular Pale di San Martino to reach Forcella d'Oltro. On the other side we traversed on the equivalent of a partly exposed goat's path skirting crumbling gullies and steep slopes. Bizarre stone pinnacles were sticking out of the mountainsides. Swirling clouds kept us company throughout the day and we briefly had a shower lasting about 5 minutes. This was a short day as we reached Rifugio Cereda [4461'] at 2pm. We were the only ones at the rifugio that night except for Alveera from Germany, who was thinking about getting off the AV2 because she was having an ankle problem. Mileage was 5.6 miles with 3,605' gain.

Day 9: The next day as we woke up there was a huge thunderstorm and the guidebook recommended not doing the next section in wet weather. Jon and I discussed options at breakfast. We met Alveera at breakfast that was still thinking about leaving the AV2. We spoke about the weather forecast to the woman who ran the rifugio. She ran off to the other side of the rifugio and told us the sun was coming out! It was a GO after all so we ordered sandwiches because there was not anywhere to stop. Today we were entering the rugged Cimonega mountain range. The ascent to Forcella Comedon is the most challenging stretch on the whole AV2! We were happy to have reached Forcella Comedon at 6,779'. We were even happier to see Alveera catching up with us. She decided to finish so we hiked together the rest of the day. On the other side we traversed the breathtaking valley on the flanks of Sass de Mura. We then hiked through the Troi dei Caserini, the 'way of the shepherds'. We spent our last night at Rifugio Boz at 5,635' whom we met Paolo from Italy who was also finishing the AV2 tomorrow. Mileage was 8.7 miles with 3,477' gain.


Day 10: Our last day was spent hiking with Paola and Alveera. We had our hotel shuttle bus scheduled to pick us up at 3PM at Croce d'Aune to bring us to Feltre. This was going to be a 13-mile day [elevation gain of only 1,121'] so we ask the rifugio managers if they could serve us breakfast at 7am. They were happy to oblige. Today we would traverse the wildly beautiful Vette Feltrine! We passed by Cima del Diavolo...'devil's square'...a favorite haunt of witches and evil doers! Jon and I basically kept moving the whole day not stopping for lunch so we would not miss the shuttle bus at Croce d'Aune. We spent the day in the mist and clouds that helped us focus on our task. We were happy to reach Croce d'Aune but our shuttle bus was late…figures! Paolo had to call the hotel to remind them…? Once we reached Feltre Jon and I celebrated by having pizza and beer for dinner followed by turning in our stamps at the tourist office to collect our AV2 pins. WE DID IT!!!
© 2013 Gay Outdoors ; All Rights Reserved.