learn
GayOutdoors Community Service Project: Trail Maintenance In New Hampshire's White Mountains May 24th
Join us on our annual trail maintenance weekend where we work on our adopted trail. Free logding and food all weekend!
Jon and I will be hosting our annual trail maintenance day to GayOutdoors' adopted trail, Mt. Osceola. We meetup on Saturday morning at our house for 8AM and perform trail maintenance for much of the day. You don't have to spend the weekend with us to participate...even if you can join us for just the day, we could really use the help!
We are hopeful that GayOutdoors has enough energetic, ambitious members to keep our trail in top condition. The work itself, cleaning out waterbars, clearing small to medium blowdowns, clipping brush and painting blazes, is fairly easy. We are fortunate to be part of a club of gay men that have the opportunity to go hiking regularly in various places to take in the beauty of the White Mountains. We often oooh and awwwwe at some of the things we see. Now we have the opportunity to be a part of doing something to give back to the hiking community, while working on something we love...hiking trails...and helping make them a place where both ourselves and others can enjoy. We are looking forward to fun, hard work, comaraderie, new skills and friendships!
We will be splitting up into two groups. One group will work from the Tripoli Road while the other group from the Kancamagus Highway side. We plan to reunite on the trail and have lunch together.
The Mt. Osceola trail from Tripoli Road to Mt. Osceola is extremely popular in summer due to its gradual ascent to the highest peak in Waterville Valley and vast panorama from its ledges! It is also popular being on the NH four thousand footer list at 4,340-feet.
The Mt. Osceola trail from the Kancamagus Highway is popular because it leads to East Peak and is on the NH four thousand footer list at 4,156'. East Peak summit views is about as lacking as they come but there is an outlook before the summit once we reach the ridge.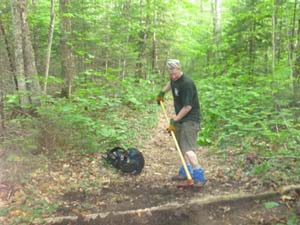 What can we do? We need members to do all sorts of trail maintenance, from cleaning out waterbars, clearing small to medium blowdowns, clipping brush and painting blazes. You don't have to be an expert to help and we can easily train you. All tools are provided. We'll let you in on one of the best kept secrets in the mountains: trail work is fun! Check out last year's pictures. A trail that you have worked on belongs to you in a way that it's difficult to put into words.
This is a rain or shine event, so watch the sky, and bring appropriate clothing. Bring work gloves. If you have loppers and 'large' hedge clippers, please bring them. Please dress for all weather conditions. Bring plenty of water, daypack, and lunch. Hiking boots are recommended.
Let's show everyone that GayOutdoors is serious about giving back to the hiking community, and let's show them what gay men can do! Will you come help us on this day? Feel free to come for the day, or the whole weekend, we are not picky about it, the more hands the better!
We meet at our house at 8AM on Saturday for introductions, choosing tools, and then carpool to the trailhead. It's a full day and we expect to finish around 4pm. Water and snack breaks are taken throughout the day. Lunch will be on either on the trail [bring your own] and we will eventually reach the summit. Keep in mind that trail maintenance involves hiking a few miles, climbing up a 4,000 footer mountain and lots of bending up/down to clip brush. If it becomes too much for you, you can turn around on your own and perform a 'second trail maintenance sweep' on the way down. That's OK. You can wait for us back at the cars.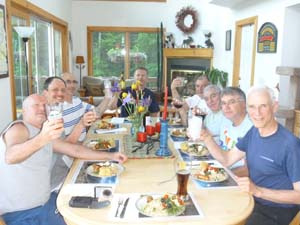 To say THANK YOU for your efforts you are invited back at our house for the FREE kickin' Hungry Hiker BBQ Feast we put on. And we are not talking about a wimpy dinner. It's the sort of meal you'd expect to be fed to a hungry logger. This Hungry Hiker BBQ Feast is the sort of meal you'd expect to get from a high end restaurant and includes salad, entree and one of Jon's famous desserts! Everyone is invited. Please come back and enjoy this feast with your trail maintenance buddies. We hope your plans will allow you to join us for this feast IN YOUR HONOR! You'll also be eligible for a free White Mountain National Forest parking pass after 16 hours of work [we take care of the recordkeeping].
When you arrive at the house after trail maintenance, we take turns taking showers [towels are provided; bring a change of clothing] and then hang out on the outdoor deck having cold beers, wine and appetizers while enjoying views of Sandwich Mountain!
Everyone is invited to spend a FREE weekend at our house Friday and/or Saturday night with a basic breakfast each morning. We only have 8 bunks so the first 8 guys that contact us to reserve will get one; and let us know if its both nights or one of the nights. If we run out of room, you can tent outside; please also let us know if you'll be tenting.
As part of GayOutdoors' philosophy, we believe in doing our part to give back to the community. We are really excited about seeing many members sign up for this trail maintenance event. It's great to see friends coming together and willing to give of their time/efforts to make a difference. I'm sure that you'd agree how very proud we are of GO and it's members for taking the initiative. Hats off to each of you. As a team, we can get a lot accomplished. Let's do it!
>> Sign Up For Mt. Osceola Trail Maintenance May 24th
Namaste and Happy Trails!
Jon and Mike
© 2014 Gay Outdoors ; All Rights Reserved.