learn
Gay Riviera Maya, Mexico
By Mike Boisvert.
The Riviera Maya, also known as the Mayan Riviera, lies just to the south of Cancun but feels worlds away. The stunning Playa del Carmen has all the brilliance of its neighbor up north, but without the hoards of tourists. In fact, try flying into Cozumel and then taking the ferry over – less crowded and a far cooler experience!

The 1.3 million-acre Sian Ka'an Biosphere Reserve and the secluded villages of Majahaul and Xcalak are as far away from Cancun as you can get on Mexico's Caribbean coast, and not just in miles.
This 75 mile chunk of the Yucatan Peninsula is often lauded as the most beautiful part of Mexico, and with perfect weather, soft white sand beaches, and sparkling clear water, it's easy to get lost in this Mexican paradise. And easier to swim: the island of Cozumel blocks much of the pounding Gulf surf, calming things down nicely
Set against the deep turquoise sea, Costa Maya is comprised of three grand pavilions, artisan and costamaya shopping areas, a beach club, saltwater pools, fine restaurants and bars, and all the resources necessary to explore the surrounding jungle and coral reefs.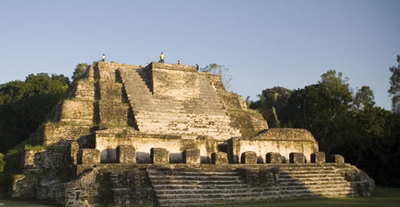 The Riviera Maya starts 10 miles south of Cancun and includes the beach town of Playa del Carmen, Puerto Aventuras, Akumal and Tulum. Tulum was an original resort town for Mayan kings, where they rested and seriously worshipped the sun. The town is dotted with Mayan ruins, many right on the beach, which provides a unique contrast from the ruins further inland.

Instead of mega-hotels and Senor Frog's, you'll find thatched-roof palapas and virgin mangrove swamps.
Most visitors rent a car in Cancun if they are planning to do much exploration of the peninsula. It costs $40 for the 45-minute ride from Cancun to Playa, and if you can decipher the public bus system then it's cheaper and worth the adventure! Towns like Tulum and Playa are small, so it's much easier to walk than drive. The mean temperature is around 75 º F, although the rainy season might dampen your beach plans from May through November. Tropical storms rarely make landfall here, but are known to form off the coast.

Costa Maya is a created-for-cruise-ships port. Visitors disembark their ships to hang out in the various restaurants, pools, and other tourist facilities that were built specifically for visitors staying for the day. For visitors who wish to venture out of the area, there are some ancient Mayan ruins nearby, including Chacchoben, which are somewhat more eroded than Tulum but are nonetheless historically important.
Many gays have started seeing Playa del Carmen as a sophisticated alternative to super-gay Puerto Vallarta or tourist-filled Cancun. Only a one-hour ferry ride from Cozumel, the town used to be seen as a stop along the way back to Cancun. It has now grown up and come into its own as a worthy destination.

A trek into the steamy jungle reveals Mayan pyramids and crystal-clear freshwater sinkholes known as cenotes.
Since there are mostly European travelers here, the vibe is much different than Cancun. Most beaches are clothing-optional, and English is not the only other language you will hear. The main drag in Playa de Carmen is Quinta Avenida, which is a colorful, mostly pedestrian zone that fills every evening with people patronizing the many venues that line the avenue. Playa 69 Gay Club is the spot to be for gay travelers, as they have been proud proponents of the burgeoning local scene.

Costa Maya is similar to "private islands" like Great Stirrup Cay, Coco Cay, etc., which are owned by the cruise ship companies. With these small cays (pronounced "keys"), you get beach, some palm trees, a hut serving lunch—and lots and lots of water all around. Snorkeling is usually at a novice level but it's also free except for equipment rental, so that can't be beat. These private cays are relaxing and beautiful.
Beyond Playa, there are four eco-parks which are widely loved. Similar to State Parks in the US, these are private concessions granted by the Mexican government – but maintain the incredible beauty of the surrounding environment through sustainable tourism. These parks are less crowded and cleaner than public beaches, and offer snorkeling, tubing, and general exploring in a more intimate environment. Xcaret focuses on Mayan ruins; Xel-Ha is an all-inclusive natural aquarium with diving and more; Xplor has a number of neat limestone caves and grottos; the Aviaro is a bird aviary; and the Tres Rios Nature Park is spread over a stunning, uncultivated 326 acres of lowland jungle and mangroves.

You'll definitely want to explore this area by car, but while tourists are the lifeblood of the region's subsistence economy, certain local customs are not exactly gringo-friendly. Impromptu police checkpoints are common, with "fines" levied on the spot for infractions such as not wearing seat belts. For the most part, though, locals are very hospitable, and seeking out authentic Yucatecan cuisine, from grilled to whole fish to small plates of cured pork served free in small-town cantinas, is a must.
There is a lot to do in the Riviera Maya, so plant yourself among the other traveling gays in Playa and then venture out from there!
© 2012 Gay Outdoors ; All Rights Reserved.