learn
Climb The Grand Teton, Wyoming
By Mike Boisvert.
Lording over the surrounding Greater Yellowstone Ecosystem at 13,770 feet (4,197 meters), the elegant Grand Teton demands to be summited. Lucky there are countless routes up the iconic peak for climbers of all abilities. In fact, it's the ideal technical peak for everyone from alpinists looking for new challenges to average folks who just want to be guided to the top.
A singular sawtooth of golden granite and black ice couloirs, the Grand Teton is hwere generations of America's top alpine climbers have honed their skills. It's climber's mountain: shapely, jagged, and requiring just enough technical skill to be challenging. In 1931, Glenn Exum pioneered the best route up and the climbing school he founded has employed elite mountaineers from Willie Unsoeld to Rolando Garibotti. With so much experience at your disposal, climbing the Exum Ridge with an Exum guide is like learning to drive from Mario Andretti.
But don't expect them to drag you up to the Grand. It's a huge part of Exum's heritage that clients are not just short-roped up like they are in Europe. Exum requires every new client to spend two days learning the ropes with its guides before the climb, which means that almost any fit hiker is a candidate for this trip.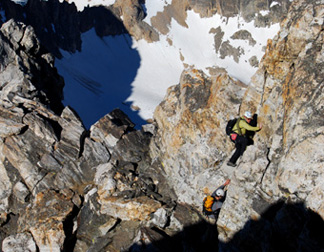 The most popular route, the Exum Ridge, is an absolute beauty, consisting of incredibly exposed 5.4 climbing that is easy enough for someone with very little experience or a first alpine climb, yet it's so beautiful that it keeps even hardened rock dogs coming back for more. Those who want more of a challenge can climb the entire Direct Exum Ridge, which begins lower down and requires more difficult 5.7 climbing. For even more seasoned climbers, the North Ridge is a dream trip, encompassing 5.8 climbing on another exposed route. But no matter your experience level or how many times you have stood on top, the view is one of the best in the West, surveying three states, with the other peaks of the Tetons at your feet, and stretching north across the massive caldera of Yellowstone National Park.
People should realize this is an aerobic climb much more than a technical one. To prepare for the climb, hike uphill for an hour, at least twice a week for two months. Flatlanders can substitute stair climbing or running several days a week.
Exum will teach complete newbies all the knots and skills they need to climb the Grand, but a few sessions on a climbing wall will make you more comfortable with donning a harness, tying a figure-eight, and moving in the vertical world.
Exum Mountain Guides charges from $855 for their four-day Classic Grand Teton package that includes the mandatory pre climb instruction. Jackson Hole Airport lies within the boundaries of Grand Teton National Park which is a 15-minute drive from the trailhead. Frontier will fly you there for around $400 round-trip, through hubs such as Salt Lake City or Denver.
© 2011 Gay Outdoors ; All Rights Reserved.