learn
Natural Waterslides
By Mike Boisvert.
One trip down a tree-lined 30-foot drop in spring-fed whitewater, and you'll never go back to blue fiberglass again.
Bridal Veil Falls
Where: Tallulah Gorge State Park, GA [95 miles northeast of Atlanta]
Dams have tamed the river once called the Niagara of the South, but the sprawling falls at the end of the gorge is still one of the best rides in Dixie: a steady drop down a humpbacked rock face 30 feet long, that is smooth and round like an ice cream scoop and finishes with a 17-foot drop into a seemingly bottomless pool.
Hike down into the gorge to the Gorge Floor/Sliding Rock Trail. The sliding rock is lots of fun for all and a great way to cool off on a hot summer day. The trail is rated difficult with approx. 600 metal steps leading to the floor, 2.5m round trip.
The trails to the bottom are pretty strenuous, so take your time, and don't break an ankle on the rock slide—we know it's exciting to finally get there, but take it easy. Be sure to start out early in the day since the park only dishes out 100 free permits a day. Parking will cost you $5, and you'll be free to wander around between 8 am and dusk.
Click Here For More Information
Meadow Run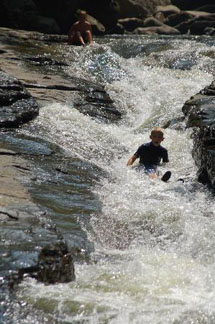 Where: Ohiopyle State Park, PA [70 miles southeast of Pittsburgh]
This slide is colossal: a long, fast chute that twists and drops through slabs of bedrock where Meadow Run dumps into the Youghiogheny River in the rolling Laurel Highlands [approximately, only a few miles from Frank Lloyd Wright's masterpiece Fallingwater]. The stream gets pushy after heavy rains, making for a freakishly fast ride, but even on an average day the flume will hustle you 200 feet or so, in a spray of whitewater, into one of many shallow pools. Pack some wine for the hike ~ and to dull the pain of jamming an ankle in a scour pocket, where boulders have ground out the rock.
Starting with the 35-foot Cucumber Falls at the trailhead, this 4.2-mile loop hike in Ohiopyle State Park near Pittsburgh provides a day full of water, including a 100-foot-long waterslide carved by the Youghiogheny River. Eastern hemlock, beech, maple, and mountain laurel shade the dirt path as it weaves between moss-draped boulders and a leafy smattering of rhododendrons. At mile 2.8, you'll arrive at the Meadow Run waterslide with its long corkscrewing waterway; it terminates with a dunk into a three-foot-deep pool. Wear cutoff jeans to protect your rump and shorts against the skin-scouring sandstone creek bed. Close the loop in the spray of Cucumber Falls.

From Pittsburgh: Take I-376 West for 12 miles to I-76 East. Take exit 75 for US 119/PA 66 North, and exit onto US 119 South toward Connellsville. Turn left onto PA 711 North for 14 miles and merge onto PA 381. In 8.8 miles, turn left at SR 2017, then turn right onto Hall Rd., left at King Rd., and right onto Rock Springs Road and drive to the park entrance.

Click Here For More Information

Sliding Rock
Where: Pisgah National Forest, NC [30 miles south of Asheville]
Some of the country's best natural waterslides are hidden in the thickets of the Blue Ridge Mountains, where millenia of rainstorms have carved smooth slides over great sheets of rock. The most popular is Sliding Rock, but if it's packed, head 40 miles south to the area's best-kept secret: Nantahala National Forest's Turtleback Falls, where a cold rush of water pushes riders over a slick granite dome and off a 20-foot ledge into a swimming hole. Warning: A few hundred yards downriver is the 200-foot Rainbow Falls, which you shouldn't go over without a death wish.
Sliding Rock is a naturally occurring 60-foot waterslide with a seven-foot deep pool that has been developed by the US Forest Service into a recreation area. Sliding Rock is extremely popular on hot summer weekends. There are those willing to slide even on cool fall weekends. You can either slide yourself or watch others do it from an observation deck opposite the slide.
There is a small fee to enter the recreation area. The recreation area is open year-round, but the bathrooms and changing rooms are only open from Memorial Day to Labor Day. Lifeguards are on duty during that time as well.
Click Here For More Information
Tate Creek Slide
Where: Rogue River ~ Siskiyou National Forest, OR [150 miles south of Eugene]
The Rogue River Trail is one of Oregon's unique hiking experiences. The trail was originally built by miners and homesteaders in the early 1900s as a way in and out of the gorge without the dangers of floating. The scenic trail was literally blasted into the rock cliffs in places, rewarding all who brave the entire 40-mile trail with breathtaking views daily.
It's a nine-mile hike along the scenic Rogue River, winding through Douglas firs on an old mule trail, to get to the mouth of Tate Creek. From there it's a quarter-mile scramble upstream, over boulders and logs, to a shady glade and a nearly vertical 20-foot chute. Haul yourself up with a tattered ladder patched together from about 20 different lengths of rope and hold on to your stomach: You'll hurtle down and then shoot off a lip at the bottom, plunging into a mossy pool.
Click Here For More Information
University Falls
Where: Blodgett Forest, CA [60 miles northeast of Sacramento]
Like treasure hunts? Then head for the hills near Auburn and have an adventure that could be straight from a sequel to The Goonies. A 2.5-mile, unmarked hike with twists, turns, and the eerie remains of a truck wreck takes treasure-seekers to watery riches: a series of three natural rock waterslides, separated by giant pools of cool mountain water. Known as University Falls, this whoop-and-holler triple wonder would thrill even the likes of "Mikey," "Mouth," "Data," and "Chunk. Muster the courage to speed down the first slide. Then catch your breath and hit the next two while you listen for your own squeal. Hidden trails. Old car wrecks. Natural waterslides. And you… Join the adventure.
Tiered like a wedding cake, the slide spills over a series of broad granite shelves, each 10-to-15 feet high, into deep, bucolic pools. The fourth, final pool is reachable via the steepest stretch, where the river rushes over a precarious 30-foot drop. The slide is legendary among locals but unpopular with the folks at UC-Berkeley, who own the land, though they tend to turn a blind eye to adventure seekers.
Arrive early (before 10 a.m.) or late (after 3 p.m.) to avoid the boom box-and-cooler crowd. As with all swimming holes, swim at your own risk; there are no lifeguards at University Falls and there have been accidents. University Falls is 30 miles (50 minutes) from Auburn. Head to Auburn on I-80, then take Hwy 49 south to the town of Cool. Go east on Hwy 193 to Georgetown. Go left onto Main St. (at the Napa store); this is Wentworth Springs Rd. Take this about 12 miles. Just after passing through the town of Quintette, find parking on the left. From here, allow 90 minutes to walk in. Walk past the bright yellow gate; 200 feet past the gate, continue straight on the fire road. Go left at the next fork (sign "12N67B"). Go right at "the bend" (look for blue arrows on the rocks). Follow this trail down and make a hairpin right onto the trail that follows the Pilot Creek water canal; continue about .5 mile. Look for the obvious side trail that descends to the left and take it. After 100 feet, go right at the first fork (look for blue paint on the tree). This descends to the falls. Dog-friendly!

© 2011 Gay Outdoors ; All Rights Reserved.