learn
Tour de France
By Mike Boisvert.
Ride all of the Pyrenean cols and stage endings of the 2011 Tour de France and cheer the professionals by the roadside at the Plateau de Beille.
The Tour de France may be celebrating 100 years of the Galibier over in the Alps, but the real competition is going to be the first of the proper mountain stages the week before in the Pyrenees. There are with 3 mountain stages (12, 13 and 14) taking in most of the classic cols including the Aubisque, Tourmalet, Portet d'Aspet and the stage endings of Luz Ardiden and the Plateau de Beille.

Marmot Tours uses their intimate knowledge of the area to have 'knitted' together the ultimate week of cycling on a route that takes in sections of Stage 12 and 13, and the whole of Stage 14, giving you the opportunity to ride all of this years Pyrenean Tour de France climbs, in the same direction as the professionals, but at a slightly more leisurely pace! If this is not enough to make a great holiday, their trip highlight is

to see the Tour de France live from the roadside

on the Plateau de Beille and at then again at the stage start in Limoux.

If this has whet your appetite then check out their website.

The Plateau de Beille stage finish.
"It's very nasty. I think they should take it out. It's a violation of our human rights. I love it." was how Lance Armstrong described the Plateau de Beille in back in 2004.
This year the riders will have already done 5 cols and 3300m of ascent before they reach the base of the 1250m climb of the Plateau de Beille,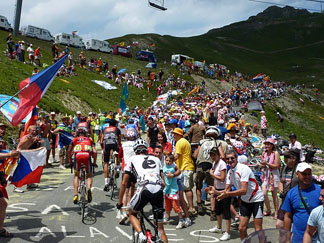 making it the hardest stage in this years Tour, so yet again it is bound to stir things up a bit!
Marmot tours is particularly attached to the Plateau de Beille.
With this proximity they can guarantee that their 'hospitality suite' will be in the best spot on the mountain, not only for views of the upcoming riders, but also an amazing mountain vista while you enjoy your barbeque lunch!

This week is aimed at Tour de France enthusiasts who want to have a memorable and thoroughly enjoyable week cycling and spectating in a stunning part of France. It is not intended to be a competition and the daily rides can be done at your own pace.
© 2010 Gay Outdoors ; All Rights Reserved.