learn
Gay Belize
By Mike Boisvert.
Back in 1998, when the Cayman Islands suddenly and famously refused entry of an Atlantis Events cruise to its ports, the ship moved on to nearby Belize. Despite a smattering of religious protest, the all-gay cruise liner was welcomed to Belize City, if with a fair amount of curiosity: Locals were reportedly so unfamiliar with homosexuals that they were surprised to find them actually "dressed as men."
Often overshadowed by its bigger neighbors to the north (Mexico) and west (Guatemala), petite Belize is best known to savvy travelers for its gorgeous east, where a lush Caribbean coast is seasoned with hundreds of offshore islands, making it a paradise for nature lovers, eco-tourists, and divers.
Despite a dearth of rainbow flags, Belize has much to dazzle the visitor, from one-of-a-kind jungle wildlife to fantastic Mayan ruins to the Belize Barrier Reef, the world's second longest, stretching for nearly 240 miles. It features everything from luxe lodges to rugged beach camps. The vibe feels more Rasta than Mayan, and the activities ~ from scuba diving and kiteboarding to cocktail sipping and hammock swinging ~ are endless. These spots offer the full gamut, while specializing in one activity.
Though it's not exactly known for being gay-friendly (homosexuality is still illegal), Belize is a beautiful and somewhat under-discovered country whose residents are some of the most diverse in Central America. Though LGBT travelers should be discreet, the country's ethnic and religiously diverse population emanates a general live-and-let live attitude; also, with one of the world's lowest population densities, it's not too hard to find a quiet corner where you'll go unnoticed and unbothered. Belize is the only country in Central America whose official language is English (it was a British colony up until 1981), and Spanish, Kriol, and Mayan languages are widely spoken. There are sizeable Indian, Asian and German Mennonite populations throughout the country as well, and racial tension is surprisingly rare. Gay bars are essentially unheard of, so don't visit expecting great nightlife. However, Belize is the perfect place to go if you're looking to commune with nature and interact with more animals than people.
Temptation Island was filmed on Ambergris, 36 miles north of Belize City, and the cay is the country's liveliest, with open-air bars and restaurants spilling into the white sand in the main town, San Pedro. If you are looking for gay owned or gay friendly places to stay, Purple Roofs has various options.
Though it's not an especially gay destination, Belize is largely a friendly country to all its tourists. There are a few lodges that are known to be especially gay-friendly. On Ambergris Caye in the city of San Pedro is the Changes in Latitude Bed and Breakfast a tiny resort right on the Caribbean Sea that is reportedly gay-owned. In the San Ignacio area, try the Kumquat Cottage or the Macaw Bank Jungle Lodge. Belize Lodge and Excursions owns four lodges in mainland Southern Belize and on an island.
Dive the Barrier Reef
Off the coast in the Caribbean Sea lie about 450 small islands, many sparsely populated or completely deserted. The largest island, Ambergris Caye, is 25 miles long and has long served as a hub for Belize's ecotourism industry: Some of the country's best marine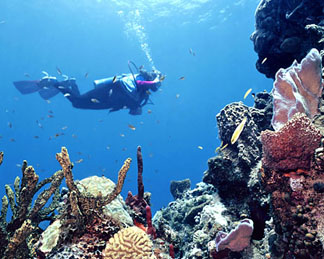 wildlife sightings are at the adjacent Hol Chan Marine Reserve, and the Great Blue Hole at Lighthouse Reef (a pleasant three-hour boat ride away). Cari'Bean Tour Belize organizes plenty of wildlife-focused tours along the island.
Getting to Ambergris Caye is easy, the island is serviced by hourly scheduled flights. A short twenty minute flight from the international airport brings one to the San Pedro airport, which is walking distance to town. Ferry service is also available. San Pedro's warm friendly casual atmosphere insures a perfect holiday. A familiar sign in town states, "Welcome to San Pedro where you won't be a stranger for long."
With the barrier reef 15 minutes offshore and dozens of reputable dive shops nearby, Ambergris Caye has some of the best scuba diving in the Caribbean. You can do two dives before lunch. You can see everything: walls of live coral, parrot fish, sharks, rays, turtles. Serious divers will want to venture farther out to Lighthouse Reef and the Blue Hole, a 1,000-footwide, 400-foot-deep limestone sinkhole made famous by Jacques Cousteau. Undersea Expeditions, is sponsoring a gay dive trip in July 2011. It's a package deal including accomodations on a boat for 7 nights with 5 dives daily including night dives; all meals, snacks and beverages [alcoholic and non-alcoholic], and transfers on days of arrival/departure:
http://www.underseax.com/gay-scuba-trips/belize.html
Mayan Ruins In Belize
Belize's original inhabitants were the Mopan Maya, who inhabited the area from around 1500 B.C. They are still the predominant ethnic group in many regions, and ruins from their ancient cities are popular tourist attractions. In the Toledo District (the southernmost region of Belize), don't miss Lubaantun ("the place of fallen stone"), supposedly where the famous crystal skull was discovered in the 1920s. Lubaantun itself was first discovered in the early 1900s when the Irish Dr. Thomas Gann blew it up with dynamite, destroying much of the rock but leaving many large structures, including ancient ball courts, intact. Just a few miles away is Lim Ni Punit ("big hat"), a site populated by ball courts, shrines and tombs excavated in the 1990s.
Island-Hop by Kayak
Thanks to the warm water, mellow tides, and few open-water crossings, paddling around the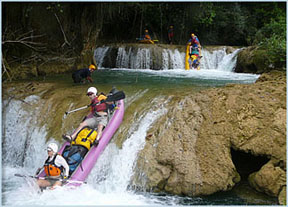 islands, atolls, and reefs off the southern coast of Dangriga is beginner-friendly. They are very relaxed. You can pop out of your boat, tie it to your ankle, and snorkel around for a bit...then stop at a small resort's beachside palapa for a rum drink, or buy some fresh conch from a local fisherman for a snack. One outfitter, Island Expeditions will take care of all the legwork, renting kayaks, directing you to the choice campsites and lodges around Tobacco and South Water Cayes [six to eight miles offshore], arranging boat shuttles, and providing airline-banned items such as white gas for camp stoves. It also leads guided trips with boat shuttles to Glover's Reef, an 82-square-mile lagoon 36 miles offshore that has more than 700 patch reefs. The outfitter has a small base camp there, complete with platform tents, divemaster, and marine biologist.
Belize Best Beaches
Belize is home to an infinite number of beaches. With a coastline of over 386 km, and its location in the Caribbean finding a wide variety of gorgeous beaches should be quite easy in Belize. However, it is not so easy to find beach properties in Belize because the Belize barrier reef blocks most of the mineral deposits that is needed to create the sandy beaches that the Caribbean is known for. Furthermore, the Belize coasts are surrounded by swamps of mangroves. With all that being said, Belize still has a few impressive, sandy beaches for its visitors to enjoy.
Belize Mainland Beaches
The best beaches in Belize can be found along the Placencia Peninsula stretch. The 11 mile strip of the Placencia Peninsula is sandwiched between the Lagoon and Caribbean
Sea and features gorgeous white sandy beaches. The beaches also have cool clean waters and high surfs due to its distance from the reef. These beaches on the mainland are perfect for diving, swimming, fishing, snorkeling and many other water sports activities.
Belize Caye Beaches
You will also find great beaches on the many Belize Cayes. The beaches on the small islands offer a very laid back atmosphere. The magnificent blue water that surrounds each Caye is an attraction to its self and is one of the main reasons that the Cayes receive most of the visitors to Belize.
On the largest and most popular island of Ambergris Caye, there are many sections of breath taking beaches, particularly in front of the resorts. The north section of Ambergris Caye also features some beautiful beaches that have been naturally cleared. These beaches also provide a bit more privacy and aren't too close to the resorts.
On Caye Caulker, there are several sections of beach. These beaches on Caye Caulker are small and the surrounding areas are mostly undeveloped and unspoiled. Caye Caulker beaches are ideal for sea kayaking, sport fishing, windsurfing or sailing.
Despite not having lots of beautiful sandy beaches that the Caribbean is known for, the beaches of Belize are still a wonderful and exciting way for you to enjoy the marvels of a fantastic tropical vacation in Belize.
© 2010 Gay Outdoors ; All Rights Reserved.