learn
Hike-In Swimming Holes
By Mike Boisvert.
Forget the fake logs and abundant chlorine of the water parks. There are never lines at backcountry pools ~ and summer rarely gets sweeter than when you're hurtling headlong into a naturally engineered pool of pure, cool agua. These three spots work best on one of those dog-day afternoons that unfold over an eternity.
Bubbie Hole, West Virginia
The Splashdown
Fayetteville is a nexus for pursuits like climbing, rafting, even base jumping. But more leisurely pastimes unfold here, too. A short drive up a country road and an amble along a former rail grade takes you to an authentic Opie-and-Andy swimmin' hole in the Meadow River, a tributary of the well-pad-died Gauley. Dubbed for a notable local who all but grew up in these waters, Bubbie comes complete with a lazy current, sand beach, a rock island, and, naturally, a rope swing on the opposite bank. It is also traditionally clothing optional. Leave some time on the hike back to test out two other belly-flop-worthy spots. On a hot day, the 3.5-mile round-trip is, well, almost heaven.
Pre-Dip
Run by a former whitewater guide, the Cathedral Cafe sells books and serves up a mean plate of eggs.
The Way
From north on RT 19, take the first left after the Meadow River Bridge. Immediately after turning take your first left. Drive down the road a short distance and you'll see a few paths so park here. Take one of these paths that all join into one. You will hike down on a steep and rocky trail down to the Meadow River. Follow the river upstream using an ATV trail and hike under the RT 19 highway bridge. There are three swimming holes afterwards, with Bubbie Hole being the last one. It is known to be clothing-optional. It's about 1.75 miles from your vehicle.
Fossil Springs, Arizona
The Splashdown
It's hot down there in summer, but at least Arizonans have this oasis, which gushes roughly a million gallons per hour of mineral-charged, 72 degree water. The 3.3-mile descent is a lesson in Southwest hydrology: As you hike, watch the surrounding vegetation transform from hardscrabble pinon pine to thick chaparral, then finally to alders, cottonwoods, and other assorted lush creekside flora. Launch from [or laze on]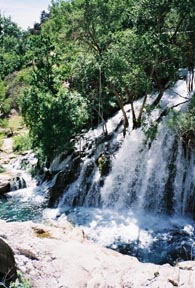 the abundant supply of rocks that ring the wide, deep hole of so-clear-it-could-be-Poland-Spring agua. Leave time to check out the less-frequented pools downstream ~ they're constantly reshaped by the spring's travertine deposits.
Post-Dip
Carry in your camping gear and sleep under the sweep of desert sky at one of the undeveloped dispersed camping sites nearby.
The Way
From Phoenix you take the I-17 north, then take the 260 toward Payson. You then take a right on Fossil Creek Road, which is 15 miles of washboard dirt road. The road was extremely bumpy and seemed unsafe. I highly recommend taking a truck or SUV on this drive but a car can make it. Once you make it to the area, there are many different parking areas and creek accesses to the different swimming holes. You will come to a fork in the road about 12 miles down, and if you are looking to go to the waterfall, go left. Keep going until you come to the final parking lot before the road closed signs.
Chilnualna Creek, California
The Splashdown
A mile up Yosemite National Park's Chilnualna Falls Trail, where the path veers to the left away from the drainage, swimrats who know better hang a right. Less than a quarter-mile upstream you'll find Sierra granite fashioned into perfectly smooth basins and widly
contoured ledges, as if the whole thing were designed by a giant, overcaffeinated Henry Moore. The shelves are perfect for cannonballs, providing a 20-foot drop with which to churn up an all-world splash. Locals refer to this swimming hole as The Ledge, for obvious reasons. This is not an easy swimming hole to reach and requires a third class scramble to reach it. Honeymooners is a clothing optional tub which is positioned just above "The Ledge". It can only be accessed by ascending a very steep small path on the east side of the creek (right side looking at the rocks). It ascends between the rocks. A trail then runs along the top of the cliff and descends down to a dangerous ledge which you must "tip toe" across to reach the tubs. These tubs are clothing optional and can not be easily viewed from below. However, from the tubs the entire creek is visible.
[Back on the Chilnualna Falls Trail, it's another 3 miles or so to the falls proper, another mini water park, and stellar views of Wawona Dome, an exposed granite face to the south.]
Pre-Dip
Cognoscenti head to the park's Ahwahnee dining room, where the apple crepe with raspberry syrup is sublime fuel for swimming.
The Way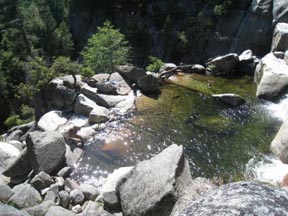 Enter the park near the south side on RT 41 and go to Wawona Hotel and General Store. They're five miles (8 km) north of the south entrance and 21 miles (34 km) south of Yosemite Valley on Highway 41. Go past the Wawoma with the Golf Course on the left. Drive north across the South Fork of the Merced River bridge crossing and then turn right in about 0.5 miles on Chilnualna Falls Road. It'll be the first right after the bridge. It is a sharp right and easy to miss. The road continues for just over 1.5 miles as it weaves its way through a series of homes, school, and town homes to the trailhead parking lot, which will be on your right. [If you reach a bridge going over Chilnualna Creek you have gone too far.] There are outhouses here. After you park, walk back up to Chilnualna Falls Road and hike another .25 mile to reach the actual trailhead.
© 2010 Gay Outdoors ; All Rights Reserved.