learn
Gray skies, sub-zero temps, and a down jacket that hasn't seen any closet time—man, winter can be a drag. Especially if you live in Vermont and all these epic winter storms keep hitting NYC. Screw that. It's time escape the mid-winter doldrums and replenish your Vitamin-D in the Caribbean.
St. John in the US Virgin Islands provides just the cure for escaping the freezer. This tiny island on the northern edge of the Caribbean boasts pristine beaches, great snorkeling, and countless miles of trails. And if you're a US citizen, you don't even need a passport to get there.
Overview
While neighboring St. Thomas sold its soul to the cruise ships, St. John remains a gem of untouched beauty. In the '50s, the Rockefellers bought up most of the island and donated it to the National Park Service. Virgin Islands National Park now covers over 7,000 acres of this tiny 20-square-mile island.
CAVEAT: while it is relatively undeveloped, St. John does not provide a wilderness experience. You have to come expecting other tourists and developed campsites. Don't stress though—it's so beautiful and tranquil you won't care at all.
On St. John, it's all about hiking and snorkeling. It's such a small island, you can feasibly hike from one end of the island to the other in a day. You could even make it back again, but we recommend relaxing with a rum drink and hitching a ride back instead.
With trails going from sea level to over 1000 feet, there is a surprising amount of vert to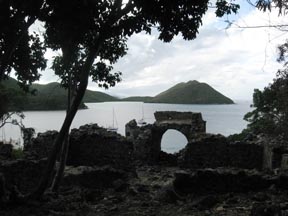 be had. Bring your hiking shoes, and you'll be able to cover a lot of ground—but hike in the morning so you can relax on the beach during the heat of the day.
There's also a surprising amount of history with archeological sites and plantation ruins dotting the island. Take some time to explore.
Essential Gear
The climate is hot and humid, so nothing really dries. Merino works well because it'll keep the funk at bay – now if only they'd start making merino towels.
The trails of St. John are well maintained, so they provide a perfect platform for hiking shoes. Plus shoes won't take up as much room in your pack as those clunky boots.
If you snorkel, you'll definitely want a rash guard to protect your winter hide. It's a small investment to save yourself the pain of sunburn.
Bug Spray & Sunscreen ~ You'll be in the tropics. Do we really need to elaborate?
Travel Sheet – No sleeping bag required. It won't get below about 75 degrees at night.
Logistics
Maps
National Geographic Trails Illustrated #236 – Virgin Islands National Park
National Park Service Virgin Island National Park Map
Getting To The USVI
Many major US airlines fly to St.Thomas. Check your favorite travel site like Kayak or Orbitz.
Getting To St. John
Once you arrive in St. Thomas, hop in one of the extended van cabs—all fares are regulated so don't worry about getting ripped off. It'll cost about $20 with tip and baggage fees to get to Red Hook, where you'll catch a ferry to Cruz Bay, St. John. The ferry runs every hour and costs around $8. Expect it to take a little over an hour from airport to Cruz Bay.
Camping / Lodging
If you have the time, we recommend finding a hotel in Cruz Bay the first night so you can do some grocery shopping and just relax and enjoy the warm air. This is a tourist town, so expect to pay at least $150/night for basic accommodation. But if you have enough rum, you won't care.
When it comes time to explore the island, you could rub elbows with Brangelina at the mega-posh Caneel Bay Resort or find a bare site at one of a couple developed
campgrounds. The most well known campground, Cinnamon Bay is one of the only places you can legally pitch a tent, so reserve your baresite well in advance. Sites are $30/night.
If Cinnamon Bay doesn't have any baresites left, you can stay in one of their well-equipped canvas tents, which sleeps four and comes with a stove, utensils, and an icebox. Botanical Villas down the road has spots for tents as well as basic bed platforms and eco-tents, which are enclosed rooms with screens over-looking the ocean. For an even more rustic feel, swing by Vie's Snack Shack on the other end of the island, where you can pitch a tent behind the restaurant and catch your own dinner.
Getting Around
If you have time, hike and hitch. From Cinnamon Bay on the north shore, you can hike up to the road that splits the island (takes about 1.5 hours) and then flag down a ride or pay $1 for the bus. Otherwise, you have to take taxis—which operate on a flat fare based on where you're going. Expect to pay on average about $9 each way per person.
Gear Considerations
Cinnamon Bay Campground has stoves, pots, and pans for rent. Don't try to bring your own stove unless you want to donate it to the TSA. We recommend bringing a well-ventilated tent, plush Therm-a-Rests, and your own cookware to cut down on costs. You can rent a stove and everything else you need from the campground.
Pick up your snorkel gear in Cruz Bay. Better yet, buy your own mask and snorkel, and then just rent fins—around $4/day or $20/week.
Food
St. John isn't really known for its cuisine, so stock up on groceries in Cruz Bay and fend for yourself. When you're in town, swing by Woody's between 3-6pm for $1 beers and ridiculously good fish sandwiches, or head down to Joe's near the post office for some tangy BBQ.
Further Reading
[Gay Info: Little Magens Beach is the most popular gay beach on St. Thomas, and the majority of [and sometimes all] visitors are gay men. Nudity is well established at Little Magens and seems to occur with little local inteference, but be advised that nude bathing is not officially allowed anywhere in the Virgin Islands and local sentiment is generally opposed to nude bathing. Assess the clothing habits of other beachgoers before you bare all. To get there, drive to the clothing-required Magens Bay Beach, directly north of Charlotte Amalie, located at the end of Route 35 on the north shore of the island. At the beach turn right facing the water and follow a rocky shoreline to when the sand ends. Shortly you will reach a much smaller sandy beach, which is Little Magens.]