learn
Ordinarily, I wouldn't flinch at the prospect of a 30-mile bike ride. Yet, considering I haven't been on my bike in, oh, nine months, I'm a little hesitant—and a little out of shape. But sore muscles, be damned: My itch to ride from Oxford to St. Michaels, one of six trails outlined in the new Talbot County Bicycle Map, wins out. So, after stuffing myself into my padded shorts, I free my road bike off its hook on the laundry room wall and toss it and a backpack filled with toilet paper, sunscreen, and a banana into my Jeep.
The map, which came out late last spring, outlines a half-dozen routes, including a 28-mile "School Days" trail that takes bikers past a circa-1890 Little Red Schoolhouse; the 28-mile "Cemetery Quest" trail, which leads to nine historical cemeteries; and a longer Chesapeake Views trail that highlights sweeping waterfront vistas. The map outlines the road routes of each trail and includes places of interest (scenic places to take photos, restrooms, and parking) along the way.
The map suggests starting the Oxford/St. Michaels circuit in St. Mikes, so my biking
buddy and I meet at 7:30 a.m. at the Chesapeake Bay Maritime Museum's parking lot. The town is still sleepy and quaint and downright charming in the cool morning air.

We only pedal two blocks along Talbot Street when my nose is assaulted by the sweet, buttery aroma wafting out of Sugar Buns Bake Shop, purveyor of coffee, pastries (including 23 types of Smith Island cakes), and gourmet lunch offerings. I signal for Kirsten to pull over, and we ditch our bikes in the shop's garden. We're greeted by the owner who hooks us up with two cappuccinos, a bagel (shipped in weekly from New York), and a sugar bun, her signature pastry (think sticky bun coated with a gooey, vanilla glaze). "A lot of bikers stop here," Leonard mentions. "I started carrying Propel Fitness Water and Vitaminwater at their request. And they tend to like the healthier grains, which is why I also make sandwiches out of high-protein breads."
After fueling up in the garden, we hop back on our bikes and pedal north. Although the map directs us toward Easton, we decide to detour to Royal Oak. After a short trip along
tree-lined Bellevue Road, we arrive in the tiny village, home to Bella Luna restaurant and Oak Creek Sales Antiques. It's too early for a roasted fig and cheese panini at Bella Luna—but never for shopping. We dismount to inspect Oak Creek Sales' voluminous inventory, which spills into the parking lot and into the barn across the street. I consider a ceramic flowerpot in the form of a large sea turtle, while Kirsten studies a metal mermaid sculpture. Since neither item has a chance of fitting in my backpack, we wrap up our browsing and set our sights on the map's next destin- ation: the even tinier watermen's village of Bellevue.
I take the lead along this southern stretch of Bellevue Road, its curves long and subtle and its surroundings composed of forests and cornfields. This is primo biking territory. While there isn't a shoulder on this leg of the trip, the road is smooth and well kempt, ideal for traveling at maximum speed.
Rolling into Bellevue, we stop to check out the art at The Gallery by the River, owned by Ulrika Leander, who we catch preparing for the next week's exhibit. We persuade the Swedish-born textile artist to demonstrate how she works her 14-foot-long wooden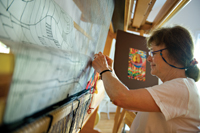 loom. As her fingers deftly manipulate the yarn, I ask her if she gets any business from bicyclers passing through. "You bet I do!" she says. "They stop in for an initial visit and then come back after the trip to take a better look."
We refill our water bottles and hustle down to the dock to catch the Oxford/Bellevue ferry. Capt. Tom Bixler waves us onboard and invites us up to the wheelhouse for a bird's-eye view of the Tred Avon River and the mega mansions that dot its shoreline. We chug along at 6 knots, passing crabbers hard at work while Bixler explains that he welcomes hundreds of bikers each year. "This is such a great place to ride," says Bixler. "What makes it one of the more unique spots to ride is that in the middle of the trail, there's a ferryboat to hack around on. That's a nice extra for people."
One of the best parts about embarking on a nearly 30-mile bike trip is the countless calories burned that need to be replaced. Once in Oxford, we follow our stomachs' cues and high-tail it to the Scottish Highland Creamery for a scoop of owner Victor Barlow's homemade ice cream.
Before gearing up for the final 20-mile push back to St. Michaels (you can backtrack and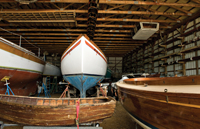 take the ferry home for a shorter trip or continue along Oxford Road via Easton), we visit the incomparable Cutts & Case Shipyard and have a picnic lunch in Oxford's waterfront park with provisions purchased from the Oxford Convenience Market.
The ride home is slow but steady, with the wind to our backs and the sun soft in the mid-afternoon sky. Even though I've driven this same route hundreds of times, I've never noticed the countless hidden lanes that lead to historic homes, the way the land dips and rises, and the powerful wind that blows off the water and across the angular cornfields. I'm grateful for this insider's view of Talbot County, best seen on two wheels, not four.
Find the bicycle map at the Talbot County Office of Tourism, 11 S. Harrison St., Easton, Md., 410-770-8000, or visit tourtalbot.org/PDFs/talbot_county_bicycle_map.pdf.