learn
Ice Canyoning / Canyoning De Glace in Quebec
By Bryen Dunn.
While most everyone around me gathers their skis and poles for one of the many downward spirals that await them at Mont Sainte-Anne (Quebec), I lace up my crampons for a downward spiral of a different sort, a much steeper one. I've decided to try ice canyoning, which I'm told is descending down the ice formations of a frozen waterfall. Sounds like a blast, let's do it.
Quebec residents are known for their sense of adventure, and for the most part they seem to be quite active all year round, even in the bitter cold of winter. Luckily for me it was a bright sunny day, and the waterfall was hidden within a forested area that provided shelter from any winds. It was a short 15-20 minute trail hike to reach Jean-Larose Falls, which provided the opportunity to do a couple of trial descents along the way.
Ice canyoning is a modified version of the regular canyoning that is offered during the other seasons by Canyoning Quebec, within the Charlevoix region. "It's actually easier to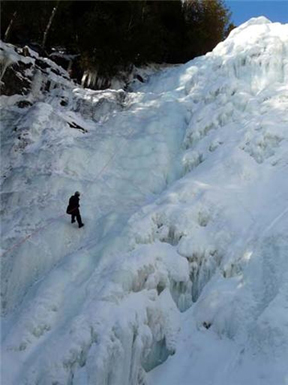 do than regular canyoning in open waters, and is more serene and Zen-like", says our instructor Marc Tremblay. It's basically a downward direction of progression that uses some of the techniques of rapelling and ice climbing. It's important to note that this is not ice climbing, but a descent on ice that still provides the vertical thrill.
I reach my final frontier, which I couldn't actually see until I had started my 40 metre descent, and by that time it was too late for second thoughts. The views of the surrounding snow covered peaks were a nice distraction from the open running river waters to the side of me. By half way down I was maneuvering quite well, and felt relaxed enough to attempt a few bigger free fall drops between steps. Overall I found it very easy to adapt to given that it was my first experience. The thrill was there, yet I felt safe and secure, and immediately wanted to do it again. The climb back up proved more difficult than the descent down, as climbing the 400 plus snow covered stairs was a workout in itself.
Apparently this is the only place in North America, and possibly the world, that offers this type of adventure. To clarify correctly, canyoning is often referred to as canyoneering in some parts of the United States, and was originally developed by cavers in France. Canyoning-Québec has been operating summer and fall excursions since 2000, and started offering ice canyoning in 2005 as the first commercial operator. "I invented it", he boasts. Around the same time there were similar developments happening in Europe, but they are more water based adventures even in winter, with ice canyoners sporting wet suits and dropping into the cold waters below.
The Charlevoix region is less than an hour from Quebec City on route 138, making this a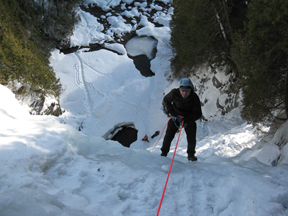 perfect day trip even when staying overnight in the city. For those preferring to stay closer to Mont Ste Anne, there is a chalet right on the property, and there are several Auberges located throughout. These properties typically provide comfortable accommodations at reasonable rates, and most have excellent dining facilities onsite. Two worth noting are Auberge La Camarine and Auberge des Peupliers.
The season is typically December to early April, depending on conditions. Individuals and groups are welcome, with rates starting at $69. Tours leave early morning and are back by lunch, minimum age is 14, no experience required, and all necessary equipment is provided.
Next time instead of hitting the snow, hit the ice!

Links: www.canyoning-quebec.com, www.bonjourquebec.com, www.charlevoixtourism.com
Be sure to check out Bryen Dunn's website at www.bryendunn.com and his GO Profile.
© 2009 Gay Outdoors ; All Rights Reserved.