learn
Westwater Canyon, River Rafting on the Colorado
By Mike Boisvert.
Westwater Canyon is the undiscovered gem of the Colorado River! Sheer sandstone walls climb over 1,500 feet above the river, and eagles soar overhead.

National Geographic labeled Westwater Canyon as "the West's Best Short White Water Rafting Trip." The 17-mile river stretch contains 11 class 3-4 rapids, plus numerous less-challenging rapids. This section of the Colorado River has been nicknamed the "Little Grand," in comparison to the famous rapids of the Grand Canyon. Westwater visitors will raft through deep canyons surrounded by towering walls of black, gold, and red. From intense whitewater, to breathtaking geological formations, this trip is incredible! Westwater Canyon is best run from April through October. Peak time is in June. Westwater Canyon begins near the Utah/Colorado border, approximately 50 miles northeast of Moab, Utah.

Side canyon stops include a delicious riverside lunch and optional, easy, exploratory hikes to hidden treasures including Indian petroglyphs, waterfalls, and historic sites such as Outlaw Cave and Miner's Cabin. Unwind . . . and enjoy the beauty and solitude of this scenic desert country!

Starting at Westwater Ranch, elevation 4,300 feet, the amazing geology of this canyon unfolds before you. The towering sandstone cliffs were displaced by the upheaval of the Colorado Plateau, exposing the oldest rock layer in the world — the hard, black Precambrian metamorphic gneiss and schist.

Now the adventure begins! The mighty Colorado River descends through a narrow river-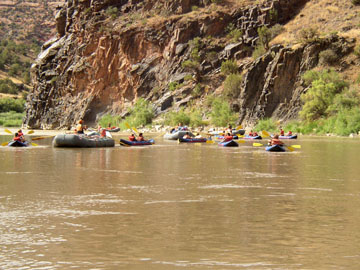 carved channel.

You'll be immersed in the thrill and challenge of running 12 of the best white water rapids in the western U.S. Colorful names and exciting stories accompany these rapids, especially "Little Dolores", "Funnel Falls", "Skull" and "Sock-it-to-Me".

Westwater Canyon on the Colorado River is ideal as a destination adventure, or as a one-day or an overnight 2-day trip on a longer vacation in western Colorado and eastern Utah. It's doable in a single day, but that leaves no time for anything but bouncing down the rollicking Class III-IV rapids. Take two days so you can explore the various side canyons' pictographs and waterfalls, and camp on the sandy banks.

Westwater Canyon Rafting Colorado River Photo Show
© 2009 Gay Outdoors ; All Rights Reserved.