learn
Bicycling in France and Provence
Bicycling is extremely popular in the Provence region. The French are avid cyclers anyway, from weekend family outings and hundreds, or maybe thousands, of cycling clubs, to the world-famous Tour de France race. Possibly because of the weather and the natural beauty, the Provence region is one of the most popular places in France for cycling.

You need lungs, though, and a good set of legs, because there is no such thing as flat ground or a level road. Everything here goes up or goes down, and very rarely is there a flat stretch between two inclines.
Road cycling has been popular here for as long as bicycles have existed.
---
Is Cycling Dangerous?
As a cyclist you know it's inherently dangerous The one big advantage of France in general, and especially this part of France, is that cycling is so popular the drivers expect to find cyclists around ever corner, and are less apt to be surprised when they do. Local cyclists usually wear very bright colored clothing, even when very brief during the summer season. There's probably some safety in numbers, as a small group is more noticeable than a single biker struggling up an incline in the shade of the road-side trees. If you're on your own, you could probably join other cyclists now and again along the way.
The main route nationales are probably the worst, because of the noise, pollution and the speed of the traffic. The smaller twisty roads are narrow, but the other cyclists will be using them as well.
---
Bicycle Rental and Repair
Most towns and large villages have bicycle shops where you can rent cycles (location velo). We've listed the Bicycle Rental (Cycling-Vélo) Shops by department: 04 Alpes-de-Haute-Provence, 05 Haute-Alpes, 06 Alpes-Maritimes, 13 Bouches-du-Rhone, 83 Var, 84 Vaucluse.
Many, but not all, of the shops handle bicycle repair as well. Even if parts are not carried for your brand, the repair shops are often creative, and solutions can be found to get you on the road again. Tires and innertubes will be French metric sizes.

---
Bicycles on the Train
Information about taking bikes on the train are included on the Travel-Rail page.
---
Where to Cycle
Cycling anywhere in the northeastern part of Beyond (Alpes-Maritimes, eastern Alpes-de-Haute-Provence, eastern Hautes-Alpes) [map] means vertical cycling; there's no flat ground. It's not that difficult, however; a large segment of French cyclists is elderly,
proving that it's not just a young-person's sport to cycle through hills and mountains. If you're in reasonable health and not out to break speed records, this is one of the most beautiful places in the world to be cycling.
Much of the Vaucluse, the Bouches-du-Rhône and the western part of the Alpes-de-Haute-Provence [map] is relatively flat, suitable for cycling by those of you not ready to take on the Alps. Some of this region has cycling trails (see following), and the flat areas around the Camargue are popular.
Some cycling trails are listed on the Village pages in Beyond (for example, Forcalquier and Clans. Many of the towns and villages with hiking trails have the cycling trails clearly marked, and some have guides or brochures about local cycling: contact the Mairie or Office de Tourisme (listed on the Village pages in Beyond).
The Luberon en Vélo cycling path runs 100 km between Cavaillon, Apt and Forcalquier, crossing through numerous small villages along the way.
---
Parking - Where Do We Park the Car?
If you come to Beyond by automobile for a cycling holiday, you'll need to leave your car somewhere sure while off on your bike. You can find a solution by contacting the Office de Tourisme in a town near your starting point. We contacted two, and got the following two solutions (other offices will no doubt have the same, similar, or alternate solutions):
Solution: when you arrive, get a list of garages (service stations) from the Office de Tourism, then ask the garage to look after your car.
Solution: local hotels have garages (boxes) they rent out, independent of being a guest at the hotel. Two examples they gave us were:
Hotel Toppin - Tel: (33) 490 71 30 42. They would charge 400 F for two weeks, but priority goes to their guests, and they probably would not have space during July-Aug.
Hotel Ibis - Tel: (33) 490 76 11 11. This hotel has 5 boxes that they rent for 30 F/day. It's best to call and reserve as soon as you know the dates.
In a small village, you can try solutions like asking the proprietor of the local café or food shop, for example, to look after your car for a couple of weeks, perhaps settling on an agreed fee. (If a hotel charges about 400 F for two weeks in a box, a suggested village fee might be 200-300 F.) You would want them to keep the dust off and the windows clean so the car doesn't look abandoned.
---
Maps for Cycling
Two "green" Michelin maps cover most of the Beyond region, with a scale of 1/100 000 (1 cm = 1 km). Map #114 French Riviera (Côte d'Azur), Var, Verdon Gorges covers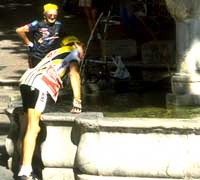 Provence, from Apt and Marseilles to Grasse. Map #115 French Riviera (Côte d'Azur) covers the Côte d'Azur, from Fréjust and Fayence to Italy, and north to Saint Etienne-de-Tinée.
All roads are shown, including forestry roads, the tiniest villages, lakes, rivers, some points of interest, the main GR trails and so on. Smaller hiking and cycling trails are not shown.
These maps show mountainous areas and hills with 3D-style shading. They also mark steep roads with > and >> symbols, but those are intended as information for car-trailers and trucks. Those long bit-more-than-gradual uphills so hard on cyclists aren't indicated.
Beyond's Michelin Maps pages has the Michelin "green" maps available via Amazon.com
---
Cycling Guidebooks
There are many VTT-Cycling guidebooks available in France. The best source for mailorder guidebooks we know of is from the Vieux Campeur in Paris. Their catalog "Instruments, Libraire, Cartotheque, Videotheque" list a number of guidebooks.
Below is a list of some of the guidebooks available for cycling in Provence and the Cote d'Azur.
Rando VTT - Les Guides Randoxygene. Free, from the Conseil General des Alpes-Maritimes (contact the Office de Toursime, Nice). This guide includes 30 circuits, in the Mercantour Park, the Maritimes Alpes and along the coast.

La France à Velo - Provence Cote d'Azur (Guide Franck Cyclo)

90 Itineraries in the Haute Alpes, Vaucluse, Alpes Maritimes, Var and Bouches du Rhône.

Atlas des Cols des Alpes du Sud

Cycle climbs for the main cols (passes), with the difficulties listed kilometer-by-kilometer.

Guide VTT (Didier Richard) - Provence Tome 17

Trails in the hills around Marseilles.

Guide VTT (Didier Richard) - Provence Tome 21

Le Massif du Ventoux, les Dentelles de Montmirail, les Monts du Vaucluse.

Le Verdon - Balades et Randonnées en Vélo (Edisud/Adri)

Itineraries are described for starting from the villages of Aups, Barjols, Beauvezer, Castellane, Comps sur Artuby, Gréoux-les-Bains, Moustiers-Ste-Marie, Rians, Riez, St. André-les-Alpes and Valensole; distances range from 26 to 135 km.

VTT Dans les Alpes d'Azur, Tome 1 (Edisud)

Itineraries: le moyen pays, vallées du Crans de la Tinée, Vésubie, Haut-Var, Haute-Verdon; with maps.

VTT Dans les Alpes d'Azur, Tome 2 (Edisud)

Itineraries: les Vallées de la Roya, Ligurie, Piémont; with maps.

VTT Dans Le Luberon (Edisud)

Luberon, collines de Durance, les Monts du Vaucluse; with maps.

VTT Dan L'Esterel et Le Pays de Grasse (François Bel)

18 itineraries: Frejus, Antibes, Grasse; descriptions include times and difficulties.

VTT Autour de Gap (Jacky Allegre)

50 itineraries around Gap and Sisteron.

VTT Entre Alpilles et Camargue

33 itineraries around Salon de Provence, l'Etang de Berre, La Camargue, Les Alpilles.

VTT Entre Ventoux et Monts du Vaucluse

31 itineraries described. Including Mont Ventoux, le Plateau du Vaucluse, les Dentelles de Montmirail, le Pays de Sault. (Chivas, Lombardi)

VTT Marseille-Toulon (Edisud)

39 Itineraries around Marseilles Calanques, Cassis, Genenos, la Sainte Baume, Signes, Garlaban; with maps.

Itineraires VTT en grand Briançonnais (Xavier BUFFET)

28 itineraries, described on plastic-coated forms. The forms are also available individually.

VTT en Haute Provence Tome 1

21 itineraries around Montagne de Cure, Le Luberon oriental, etc.; with maps.

VTT en Haute Provence Tome 2

49 itineraries around the Préalpes de Digne and Sisteron, the central Durance and the Verdon; with maps.
Cycling the Canal du Midi (via Amazon.com)
A new book (March 2009)
from the great Ciceron Press collection.
We've just ordered it ourselves.

---
Cycling Tours/Circuits
Thanks to the cycling enthusiastism of the president of the Cadenet Office de Tourisme, there are printed cycling tours available for free at the village tourist office. Six tours, varying from 46 to 83 km in length, with a vertical change from 229 m to 647 m. Each circuit is a loop, starting and ending at Cadenet, at the southern edge of the Luberon. Each small guide is clearly and colorfully presented, with the routes and distances, altitude profile, color map and a brief description (French) of the villages the circuit passes through.
Stop by the Office de Tourisme for a friendly welcome and good cycling information.
We have presented part of Cadenet Circuit-1 here, without permission, and hope to present the other 5 soon.
---
Boxing Bicycles
The best information we can give you about boxing your bicycles for transporation comes from reader's experience. In October 2005 we posted an email on our blog, requesting information about boxing bikes for a group of ten. The very useful response could benefit everybody.
Hi Betsy,

Getting boxes normally wouldn't be a problem, but with that many people you should arrange in advance. My husband and I needed two boxes for the flight back (September 2005), and got them at a bike store in Paris for 10 euro each. They asked if we needed them packed, but we did it ourselves, which I would reccommend, it's not that difficult,and will save you some money.

From our experience, most so-called bike stores in Provence are mostly motorbike stores, so I would try to find some on the internet and figure things out before you go.
Renting vans both ways may be your only option. The planes servicing Marseille would be smaller than transatlantic ones, so that much luggage would be a problem. Also, from Marseille you would most likely fly to Orly airport, and then would need to get yourself to Charles de Gaulle. Nightmare with two bikes, not to mention 10. Good luck, or "courage" as many puzzled French told us as we were trying to cram our bikes onto TGV...

Klaudia
© 2009 Gay Outdoors ; All Rights Reserved.