learn
Paddling Among Thailand's Protected Isles
It's a challenge to find a group of tropical islands that's both easy to access and ideal for sea kayaking - and even rarer to discover one that hasn't succumbed to commercialism and crowds.
But there will be nary a Club Med - or perhaps even another kayaker - in sight as you paddle through Ang Thong Marine National Park.
Only a few hours from Bangkok, it remains one of the most pristine spots on earth, thanks to fierce government protection.
Forty-two mostly deserted limestone islands stretch over 32 square miles of turquoise water in the Gulf of Thailand off the country's eastern coast.
Most are clumped within a few miles of one another, so you can hit a few per day,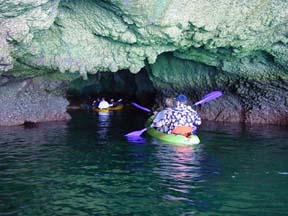 camping under eerie rock formations on rain forest-fringed beaches or staying in the rustic bungalows at park headquarters on Ko Wua Talap.
Don't miss coasting under Ko Sam Sao's mammoth rock arch or scouting for the Asian long-tailed monkeys and tortoises that inhabit the islands; take a break on Mae Ko's gorgeous beach.
Local outfitters will arrange gear, get you to the park from Ko Samui, and provide guides if you wish. Try Blue Stars or Sea Canoe.