learn
Vermont Is Perfect For Bicycle Touring
The sharp sting of reality hits on Day 1 at Mile 17.7 inside the Vermont Country Store, somewhere between the cheddar cheese samples and the lye soap display.
"Not to be personal or anything," says a retired schoolteacher, "but what do you know about chafing? You'll see these newcomers in cutoff jeans …" He shakes his head ruefully. "Or they wear undergarments with their bike shorts and you just don't do that. I guess they learn their lesson the painful way."

Indeed, a quick review of New England Adventure Bicycle Tours promotional material fails to yield insight into the particulars of chafing. But no matter. As newbies on this five-day, 219-mile jaunt through southern Vermont soon learn, cycling enthusiasts are a generous breed, as quick to produce a CO2 cartridge to inflate a fellow biker's flat tire as they are with advice on the merits of Bag Balm vs. Butt Butter.
Twenty-nine cyclists have signed on for this tour through the Vermont countryside. The setting is almost impossibly idyllic, from the grazing sheep in Grafton where the tour begins, to the signs advertising sweet corn and maple syrup along the long, gradual ascent to Killington, to the perfectly manicured village green in Woodstock. They'll bike by day, landing at country inns by night for a hot bath and a hearty meal, because when you've biked an average of 40 miles a day, you've earned it.

Consider it the ideal road trip in an era of $4-a-gallon gas.
Linking paths
With its small towns and unspoiled countryside, Vermont is a natural for inn-to-inn cycling. And nationwide, bike touring is growing in popularity. Though
there's no precise way to measure the trend all the&nbspthe anecdotal indexes are pointing up — and sometimes steeply up.&nbspIt has to do with the general interest in bicycling, the 'staycation' phenomenon and the price of gas.

Membership in the Missoula, Mont.-based Adventure Cycling Association has increased 27% in the past decade and sales of its route maps are up 42% since 2000. Membership in the National Bicycle Tour Directors Association, a group of operators who offer three-day and longer tours, has almost doubled — from 65 to 128 — in the past five years. And participation in mass events, such as the Des Moines Register-sponsored RAGBRAI (the Register's Annual Great Bicycle Ride Across Iowa) is growing. The week-long ride in July routinely sells out its 10,000 slots.
While the USA lags behind many countries in accommodating the distance cyclist, efforts are underway to create a national system of interconnected,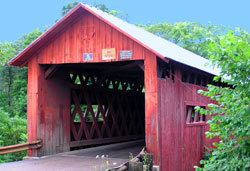 signed bikeways that would eventually be to two-wheeled travelers what the interstate highway system is to motorists.&nbsp
Meanwhile, paths — and opportunities — are opening for touring cyclists. Among recent developments:
•The nation's longest multi-purpose trail route is nearing completion, linking the C&ampO Canal Towpath to the Great Allegheny Passage in what will be a 335-mile non-motorized route from Washington, D.C., to Pittsburgh.
•In Florida, the new 260-mile St. Johns River to the Sea Loop, the longest bike loop in the state, launches Nov. 15 for the annual Bike Florida ride. It cuts through some of the state's most profuse wildflower terrain.
•Virginia is among the latest states to create a map of statewide bike routes. This one highlights seven regional trails, many of them on abandoned railroad beds, and includes information on wildlife viewing, special events and lodging along the way.
Ultimate escape
The boom in cycling tours is fueled, in part, by baby boomers.
They have the time and money, and it's a healthy thing to do. Plus, there's a social and networking aspect to these tours that's really valuable.
On the New England Adventure tour, participants range in age from their mid-30s to their early 70s, with most firmly entrenched in boomer territory. Some took up cycling when their knees no longer allowed them to jog. Others
sought to replace harmful addictions (drinking) with healthful ones (cycling). Still others regard biking as the ultimate escape.
If there's no traffic, you can lose yourself. Your legs become divorced from your body. They're just a motor.
A&nbspsupport vehicle transports the luggage from inn to inn and a second vehicle cruises the daily routes on the lookout for stragglers who might need a lift or mechanical help.
They rarely do. Not everyone in this bunch may look fabulous in spandex shorts and fitted nylon jerseys, but for the most part, they're experienced cyclists. They're undaunted by rain and thigh-popping ascents. They can maintain a running discourse on derailleurs and shift levers. They seem more intent on the perpetual motion of getting to the next place than on lingering along the way. (At Plymouth Notch, Calvin Coolidge's boyhood home, for instance, a guide laments that bike tourists rarely stop long enough to see anything.)
Follow the arrows
Still, there's a lively camaraderie en route. Outside of Ludlow ("Home of Vermont's Largest Zucchini"), rain is falling and Killington mountain looms ahead.&nbspCycling,&nbspis one of the few realms where guys get together and talk about something more than sports. It opens up trust levels.
Many of the participants are veterans of other New England Adventure tours, a small Saratoga Springs, N.Y., operator that runs four yearly outings. The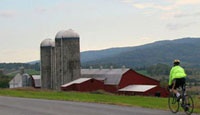 owner&nbspcharacterizes this Vermont itinerary as moderate in difficulty and so the group is relatively small. You label a trip 'easy' and people come out of the woodwork," he says.
Not even the easy trips are without hazards, however. Last year, a member of the group&nbsphis collarbone on flat terrain near Lake Champlain, N.Y., after a split second of inattention.&nbsp
Other&nbspissues are&nbspdealing with aggressive dogs and avoiding getting tripped up on railroad tracks. Other perils, like aching muscles, are more pervasive. The van transporting people to dinner on Day 3 reeks of Bengay and someone has thoughtfully placed packets of Aleve pain reliever in the hotel rooms.
On the last night, the final&nbsp"cue sheets" are&nbspdistributed&nbsp— detailed directions — for the tour's final 50 miles. He has also painted arrows on the roads as a back-up. Basically, you just get on your bike and follow the arrows till you get where you're going.
Which is back where they started. Not that anyone's complaining. After all, sometimes the pleasure lies in the journey as much it does in the destination.

View Slide Show

Courtesy of USA Today
&copy 2008 Gay Outdoors All Rights Reserved.