learn
Upgrade To Full Membership and Win Prizes
Not yet a full member of GayOutdoors? Are you a guest member interested in upgrading to the next level? March is your month!
For the entire month of March we'll have a weekly raffle to anyone who is a full member. So if you upgrade to a full member before or in the month of March, you'll be entered into the weekly raffle that our full members are eligible for.
The earlier you upgrade the more opportunities you have to win as you'll remain in each weekly raffle.
A nonprofit institution since our founding in 1999, membership dues provide vital support for our work. The website is owned and run by GayOutdoors. As with any online website and club, there are operating costs associated with hosting and running it. Your membership dues go to keep this incredible club and its website operating for gay, and gay-friendly outdoorzy guys. This includes providing trips and website improvements. For many, this alone is worth a small price of membership.
Full memberships will ensure that we remain a nationwide resource for the gay community; and that we remain a strong and viable nationwide organization.
Raffle winners will be drawn and announced each Monday for the prior week starting Monday, March 9th. The raffle prizes for each week include:
Two $25 gift card to EMS

GO hat

GO T-shirt
If you don't win anything the first week, your name is re-entered the following week.
Besides the weekly raffle, your full membership comes in addition to our full suite of exclusive and valuable membership benefits:
Membership Identification
A Full Member Badge appears in your profile that provides instant credibility and will increase your overall interaction with other members. Your profile will be rotated on our home page. A GO Sticker will be mailed to you to place on your car so that other outdoorzy guys can find you outdoors.
Access To Restricted Areas
Once you are a full member of GayOutdoors, you gain access to restricted areas:
Full access to member searches. Guest members are only allowed to view the first page of results.
Priority profile ranking on all member search results and Who's Online.
Find out which members have viewed your profile.
View member home pages.
Enlarge all the photos in a member profile.
Voice On GayOutdoors Matters
After a year of being a full member, you can join our Board of Directors and have a voice on how GayOutdoors uses membership proceeds to improve the website, promote the club and shape its future. It's "our" collective money, so we should all have a say in how we use it. >> Click here for more information on our Board of Directors
Raffles
Throughout the year, we raffle off prizes to our full members that include events, outdoor gear, GO t-shirts, and GO hats. At our Boston Holiday Party, we raffle off tickets to our full members that include gay lodging weekends, exotic pottery, outdoor gear gift cards, hiking guides, candles, maple syrup, wine, GO t-shirts/hats and more!
Discounts
NH GO Gathering
Receive a $10 discount to our annual NH GO Gathering. The largest camping gathering for GayOutdoors, GO Gathering welcomes gay outdoorzy men of all ages and abilities to New Hampshire's White Mountain National Forest at Branch Brook Campground near Waterville Valley. It's in late summer along a riverside group campsite along the Pemigewasset River where we can swim/tube right from our site! Learn More About the GO Gathering.
HE Travel provides GO Full Members a $200 discount on all of their gay adventure trips listed in their online catalog. You can apply this discount at any time however it cannot be combined with any other offers or discounts. HE Travel features small gay group tours, holidays, and vacations for all levels of physical fitness: from cultural tours that include leisurely walking, to easy-going adventures, strenuous hikes and high-adrenaline thrills. HE Travel tours are open to all travelers over the age of 18 who have a passion for exploring the local customs and flavors of every continent. Clients choose to keep coming back year after year because the tours are fun and adventurous, and HE Travel always takes care of all of your travel needs from start to finish! Whether you want adventure, culture, leisure or luxury, HE Travel has been the leader in gay travel tours and gay adventure travel for over 40 years, since running the first exclusively gay adventure tour down the Grand Canyon in 1973.
You will receive a 25% discount on purchases at Backcountry.com. The discount is now working on the Patagonia brand...so take advantage. Due to vendor agreements not all brands can be discounted
and includes The North Face, Merrell, Black Diamond, Mountain Hardware, Arc'teryx, Marmot, Norrona, Houdini, PEAK, GoPro, Contour, and Burton. As well, the discount code does not apply to hard goods such as bikes, skis, snowboards, and kayak equipment. But if you know good outerwear, especially top European mountaineering brands, such as Canada Goose, Rab, Mammut, Montane, Eider, STOIC [Backcountry.com brand], Smith, Spyder, Dakine, Giro, DC and K2, you'll recognize they are equal to if not better than American brands. However you can still purchase brands such as Cloudveil, Columbia, Gregory, Jetboil, KEEN, MSR, Petzl, Sierra Designs, Therm-a-Rest, Kahtoola and Grivel. With nearly 50,000 products, Backcountry.com offers a wide array of the absolute best made gear - all at competitive prices. And free shipping is given for all orders over $50.
You will also receive $150 on all trips at OUT-adventures.com; and cannot be combined with any other offers. Choosing OUT Adventures means choosing eco-friendly, gay travel at affordable prices. There is no "gay premium" attached to their trips. That means going beyond supporting the gay community and supporting the communities we visit. By choosing OUT Adventures, you'll stay at locally owned hotels, travel with local guides, support local craftsmen and eat at local restaurants.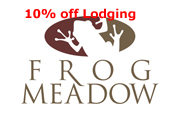 And the supremely cool, Frog Meadow Farm Bed & Breakfast and Massage Oasis for Men in Newfane (southeastern), Vermont, will provide you a 10% discount on lodging. Note that this offer cannot be combined with other lodging offers, packages or specials. Frog Meadow is a welcoming, non-judgmental place for men of all colors and backgrounds to unwind and shed the trappings of busy modern life. Frog Meadow gets a big recommendation from GO. Big thumbs up. Situated on 63 acres with mountain views, extensive gardens, and a wood fired hot tub. Frog Meadow Farm is 30 minutes from the Appalachian Trail, Mount Snow or Stratton Mountain ski resorts and only 4 miles from the popular Rock River swimming hole. Swim in the pond, soak in our wood-fired hot tub, or enjoy our hiking & cross-country ski/snowshoe trails.


The Inn At Mount Snow in southern [West Dover] Vermont, provides GO Full Members a 25% discount on lodging. Note that this offer does not apply on holiday weeks such as Christmas week, Martin Luther King weekend or President's week. Chris, the owner, is a GO member and has frequently joined us in our GetFit and GetWinter hiking series. He has a warm personality and will ensure you will enjoy your stay. The Inn's 14 recently renovated guest rooms, complimentary hot country breakfast and WiFi access, along with convenient location to the Mount Snow Resort and superior customer service, are just the beginning to an amazing visit to the Mount Snow region. The inn is located at the base of Mount Snow on a 10 acre lake and only 18 miles away from Stratton Mountain.
© 2015 Gay Outdoors ; All Rights Reserved.