Mount Livermore and Cotton Loop Hike
Half Day Hike DATE: 05/01/2022 - 05/01/2022
Trip/Event Location: Holderness, NH
US
Trip Leader(s): tdefauw , jkelaghan
Max # People: 12
Trip Guiding / Event Fee: No, I will not be asking participants for money
Difficulty Level: Moderate
Join us for a loop hike over Mount Cotton and Livermore in the Squam Range, with beautiful views of Squam Lake, where On Golden Pond was filmed. This is a 5 mile loop hike with about 1000
...
Driving directions to the location and spot to meet at:
On the GPS, you can put "Cotton Mountain trailhead" to get to the trailhead. From the intersection of Rt 175 and Rt 3 in Holderness, take Rt 3 south fo 1.1 mile, turn left onto Rt 113, and the trailhead will be on the left in 1.1 mile.
Trip Report/Photos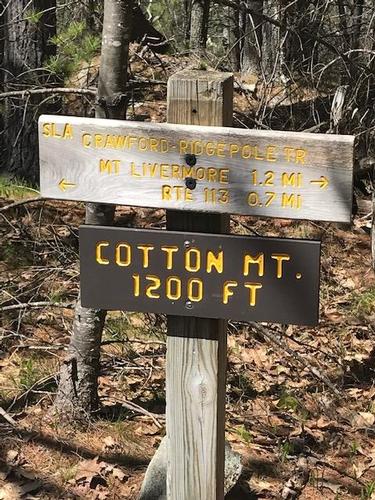 but beware ticks...there were many.
There are 20 photos in Album (Note: Move mouse pointer over larger pic and click on NEXT for better viewing)
What Members Are Saying About This Trip/Event
Beautiful day for a hike with a great crew of guys! Could not believe how nice the weather was!!! After so many cool windy days, it was a pleasure to have a warm sunny day. Thanks so much for organizing the hike fellas! - GpD
Members That Participated
tdefauw
Outdoor Fitness Level: Moderate to Strenuous
Plymouth, NH
United States
Online Status: OFFLINE
Last Login: 05/05/2022 05:24 PM
Member Since: 10/30/2001
jkelaghan
Outdoor Fitness Level: Moderate
Plymouth, NH
United States
Online Status: OFFLINE
Last Login: 05/19/2022 06:58 PM
Member Since: 10/02/2002
guest member
Mark S
Outdoor Fitness Level: Moderate
Manchester, NH
United States
Online Status: OFFLINE
Last Login: 05/19/2022 07:18 AM
Member Since: 04/10/2017
jfriedman
Outdoor Fitness Level: Moderate
Warren, VT
United States
Online Status: OFFLINE
Last Login: 05/19/2022 12:18 PM
Member Since: 09/09/2021
guest member
GpD
Outdoor Fitness Level: Moderate
Manchester, NH
United States
Online Status: OFFLINE
Last Login: 05/18/2022 12:22 PM
Member Since: 11/02/2008
<