South Uncanoonuc Mt.
LGBTQ Hike DATE: 04/02/2022 - 04/02/2022
Trip/Event Location: Goffstown, NH

Trip Leader(s): Mark S
Max # People: 12
Trip Guiding / Event Fee: No, I will not be asking participants for money
Difficulty Level: Easy
Let's plan to walk all the trails (Bickford, Summit, Walker and Incline [a well-named trail for a beginner]). That will require a little bit of duplicate walking. One of the links below is a map
...
Driving directions to the location and spot to meet at:
Trailhead is at the end of Mountain Base Road in Goffstown, NH. Take Wallace Road from a traffic circle on Rt. 114, 0.6 miles east of the southern junction of Rt. 13 and Rt. 144 and 3.2 miles west of Rt. 114A. Drive 1.5 miles down Wallace Road and turn right onto Mountain Base Road. Follow it 0.9 miles to its end at the lake and park at the small dirt parking area near the kiosk. We can all meet at the kiosk. Carpooling might be a good idea. A good spot for that is Market Basket 539 Donald Street in Bedford, where you can but last minute items before the hike. "Mountain Base Road" will work on Waze.


Trip Report/Photos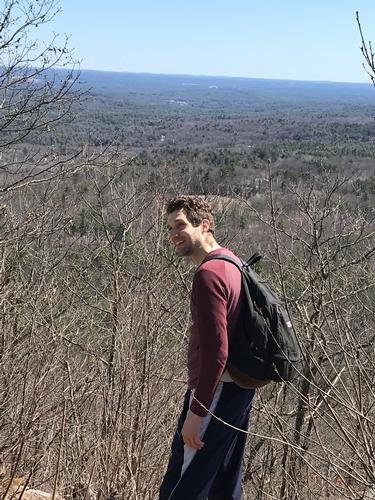 While I was trying to destroy my sunglasses today, Graz was trying to destroy his smartphone. Fortunately, neither of us was successful.
There are 30 photos in Album (Note: Move mouse pointer over larger pic and click on NEXT for better viewing)
What Members Are Saying About This Trip/Event
Members That Participated
guest member
Mark S
Outdoor Fitness Level: Moderate
Manchester, NH
United States
Online Status: OFFLINE
Last Login: 05/19/2022 07:18 AM
Member Since: 04/10/2017
guest member
GpD
Outdoor Fitness Level: Moderate
Manchester, NH
United States
Online Status: OFFLINE
Last Login: 05/23/2022 04:38 PM
Member Since: 11/02/2008
guest member
wxdude
Outdoor Fitness Level: Easy
Boston, MA
United States
Online Status: OFFLINE
Last Login: 04/01/2022 08:55 AM
Member Since: 01/26/2010
chkhuber
Outdoor Fitness Level: Moderate
Hampton Falls, NH
United States
Online Status: OFFLINE
Last Login: 05/20/2022 03:02 PM
Member Since: 06/20/2009
phoenix
Outdoor Fitness Level: Moderate
Somersworth, NH
United States
Online Status: ONLINE
Last Login: 05/23/2022 08:34 PM
Member Since: 02/24/2013
H2Odialog
Outdoor Fitness Level: Moderate to Strenuous
Milton, MA
United States
Online Status: OFFLINE
Last Login: 05/23/2022 09:33 AM
Member Since: 08/17/2005
<