AT Hike - Chestnut Ridge TH to VA 610
Full Day Hike DATE: 09/12/2021 - 09/12/2021
Trip/Event Location: Marion, VA
US
Trip Leader(s): dnaturist
Max # People: 8
Trip Guiding / Event Fee: No, I will not be asking participants for money
Difficulty Level: Moderate
This one-way 9.4 mile hike will require an auto shuttle between the trailheads. The hike will begin at VA 625, Poor Valley, at an elevation of 2300 feet and head south. It is called Poor Valley
...
Driving directions to the location and spot to meet at:
We will be meeting at the Hardee's restaurant in Marion, Virginia. The address of the restaurant is 347 N. Main Street. Zip code 24354. The phone number for the restaurant is (276) 783-6441.
We will be leaving the restaurant at 8:00 AM sharp for the trailheads. Please plan on arriving eariler for breakfast and instructions.
Trip Report/Photos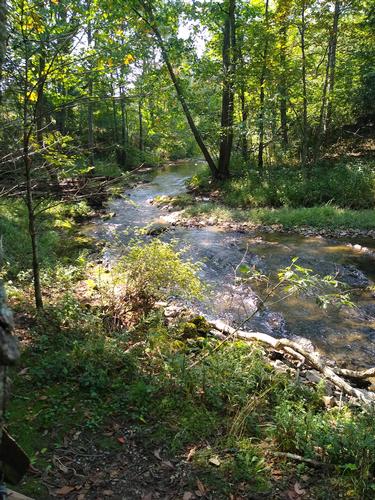 This was a ridge running hike of numerous ascents and descents. This was a well shaded hike at the top of the forest.
We took a nice rest at Knot Maul Branch Shelter.
The last two miles of the hike were through farms of intermittent pasture and woodland. While on the farm land we followed the Hoston North Fork River for a while and crossed it near a farm house. Several ladders, over fencing, were climbed as well as gates at pasture lands.
At hikes end we crossed pasture on the way to the car.
There are 5 photos in Album (Note: Move mouse pointer over larger pic and click on NEXT for better viewing)
What Members Are Saying About This Trip/Event
I enjoyed this hike but I was tired and ready for food and drink by the end :) - edfarthing
Members That Participated
sustaining member
dnaturist
Outdoor Fitness Level: Moderate to Strenuous
Jacksonville, FL
United States
Online Status: OFFLINE
Last Login: 10/17/2021 05:05 PM
Member Since: 11/12/2013
<