8.3 mile AT Hike - Fox Creek to Dickey Gap
Full Day Hike DATE: 07/14/2021 - 07/14/2021
Trip/Event Location: Marion, VA

Trip Leader(s): dnaturist
Max # People: 8
Trip Guiding / Event Fee: No, I will not be asking participants for money
Difficulty Level: Moderate
This will be a one-way hike on th Appalachian Trail and will require an auto shuttle. We shall drive to the trailhead at Dickey Gap and leave a car there. From there we shall drive to the start of our
...
Driving directions to the location and spot to meet at:
We shall meet in the morning at the Hardee's restaurant in Marion. The address for the Hardee's is 347 N. Main St. Zip code 24354. The phone number for the Hardees is (276) 783-6441.
We will be leaving the Hardee's for the trailheads at 9:00 AM sharp. Please plan on arriving eariler for instructions and breakfast.
Trip Report/Photos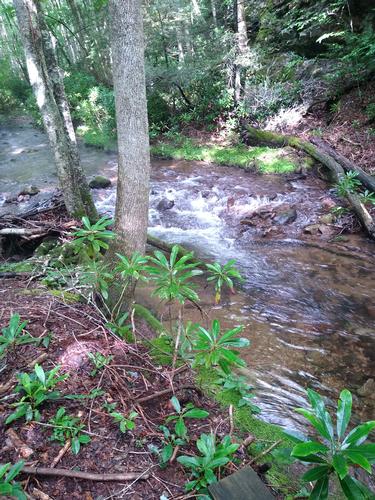 There were four of us on this nice hike.
The hike began by crossing Fox Creek on a footbridge and continued with a moderate climb of two miles to the creat of Iron Mountain. On the descent we crossed the Iron Mountain Trail. At about 3.2 miles we cam upon Hurricane Mountain Shelter we stopped for a short rest and a snack.
Most of the trail was downhill or flat once we crested at Iron Mountain which made for a pleasant hike. We saw a doe with one fawn taht quickly moved away from us once she saw us.
Near the end of the hike we came to Comers Creek, where the swimming hole was located. It was not much of a swimming hole though. The bridge over the creek had washed out, but the creek was easily passable. It provided some nice photo opportunities.
There are 2 photos in Album (Note: Move mouse pointer over larger pic and click on NEXT for better viewing)

Members That Participated
guest member
dnaturist
Outdoor Fitness Level: Moderate to Strenuous
Jacksonville, FL
United States
Online Status: OFFLINE
Last Login: 12/27/2021 07:09 PM
Member Since: 11/12/2013
guest member
edfarthing
Outdoor Fitness Level: Moderate
Hickory, NC
United States
Online Status: OFFLINE
Last Login: 11/10/2021 10:49 PM
Member Since: 10/20/2015
<