Mount Livermore and Cotton Loop Hike
Half Day Hike DATE: 04/12/2020 - 04/12/2020
Trip/Event Location: Holderness, NH

Trip Leader(s): tdefauw , jkelaghan
Max # People: 5
Trip Guiding / Event Fee: No, I will not be asking participants for money
Difficulty Level: Moderate
Join us for a loop hike over Mount Cotton and Livermore in the Squam Range, with beautiful views of Squam Lake, where On Golden Pond was filmed. This is a 5 mile loop hike with about 1... Driving directions to the location and spot to meet at:
On the GPS, you can put "Cotton Mountain trailhead" to get to the trailhead. From the intersection of Rt 175 and Rt 3, take Rt 3 south fo 1.1 mile, turn left onto Rt 113, and the trailhead will be on the left in 1.1 mile.
Trip Report/Photos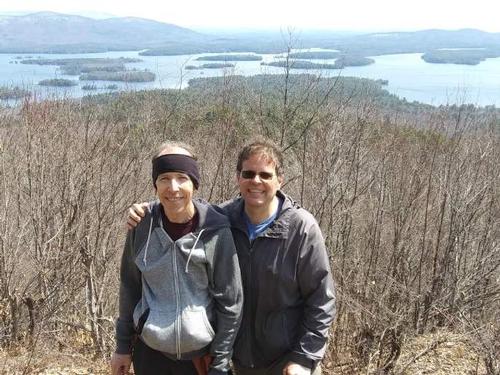 Thanks to Mo for joining Joe and I for this hike on a beautiful Sunday with highs in the upper 50s and lots of sunshine! In the midst of all the horribleness in the world right now, I find that being out in nature is the best way for me to take my mind off of everything and remind me that there is still beauty in the world. We passed a few people on the trail, but everyone was very respectful, and either we would step out of the way to give us the 6+ feet of space, or they would. We practised social distancing, but were still able to talk. We took our time on the hike as we realized that this was probably the highlight of our social calendar for the week, so nobody really wanted the hike to end. It was also a nice easy to moderate hike where you could walk without constantly looking down to see if you're going to trip over a boulder. After a short 30 minutes to the top of Mount Cotton, where we admired views of Squam Lake, we continued down and then back up to the summit of Mount Livermore, where there was plenty of space to stretch out for lunch. We decided to deviate slightly on the way down in that we went forward on Crawford-Ridgepole trail to Old Mountain Rd then to Old Highway back to Rt-113, instead of backtracking to Prescott Trail and then Old Highway.
There are 7 photos in Album (Note: Move mouse pointer over larger pic and click on NEXT for better viewing)
Members That Participated
sustaining member
tdefauw
Outdoor Fitness Level: Moderate to Strenuous
Plymouth, NH
United States
Online Status: OFFLINE
Last Login: 06/01/2020 06:56 PM
Member Since: 10/30/2001
sustaining member
jkelaghan
Outdoor Fitness Level: Moderate
Plymouth, NH
United States
Online Status: OFFLINE
Last Login: 05/22/2020 06:51 PM
Member Since: 10/02/2002
sustaining member
MO
Outdoor Fitness Level: Moderate to Strenuous
Scarborough, ME
United States
Online Status: OFFLINE
Last Login: 06/01/2020 08:30 AM
Member Since: 12/06/2016
<