Lonesome Lake Snowshoe
Hiking/Walk DATE: 03/02/2019 - 03/02/2019
Trip/Event Location: Franconia, NH
US
Trip Leader(s): tdefauw , jkelaghan
Max # People: 15
Trip Guiding / Event Fee: No, I will not be asking participants for money
Difficulty Level: Moderate
Join us for this winter snowshoe hike to Lonesome Lake Hut. The whole hike is just over 6 miles with about 1200 feet of elevation gain. We will hike up the Bas... Driving directions to the location and spot to meet at:
We will start out at the Basin parking lot at 10. Note this will be the side of the parking lot you would be on if you exit from Franconia Notch Parkway (I-93) coming from the south (going northbound on I-93), and it would be the lower level of the parking lot. If you're coming from the north (going southbound on I-93), just cross under the tunnel to the other side of the parking lot.
Trip Report/Photos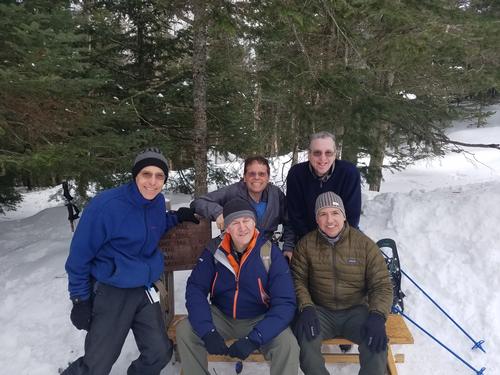 Thanks to Dave, Wayne, and Neil for joining us on our annual winter snowshoe hike of Lonesome Lake. It was the perfect day and lots of powder snow. No snowshoes were lost on any stream crossings. There were several boy scout troops at the hut, and all were having a great time.
There are 10 photos in Album (Note: Move mouse pointer over larger pic and click on NEXT for better viewing)
Members That Participated
tdefauw
Outdoor Fitness Level: Moderate to Strenuous
Plymouth, NH
United States
Online Status: OFFLINE
Last Login: 04/23/2019 03:44 PM
Member Since: 10/30/2001
jkelaghan
Outdoor Fitness Level: Moderate
Plymouth, NH
United States
Online Status: OFFLINE
Last Login: 04/08/2019 07:32 AM
Member Since: 10/02/2002
benj58
Outdoor Fitness Level: Easy to Moderate
Waltham, MA
United States
Online Status: OFFLINE
Last Login: 05/10/2019 07:02 AM
Member Since: 10/30/2001
WMcAuliffe
Outdoor Fitness Level: Moderate
North Grafton, MA
United States
Online Status: OFFLINE
Last Login: 02/10/2019 09:06 AM
Member Since: 02/04/2018
dnowell
Outdoor Fitness Level: Moderate
worcester, MA
United States
Online Status: OFFLINE
Last Login: 03/25/2019 08:54 PM
Member Since: 10/30/2001
Driving My Own Car


(Willing to give guys a ride)

Comment: Looking forward to this
<