Squam Range Traverse
Hiking/Walk DATE: 11/04/2018 - 11/04/2018
Trip/Event Location: Holderness, NH
US
Trip Leader(s): Robert.L
Max # People: 8
Trip Guiding / Event Fee: No, I will not be asking participants for money
Difficulty Level: Moderate to Strenuous
Squam Range in Holderness, NH has become a go to favorite of mine. On a clear day it lends you magnificent views of Squam Lake and smaller peaks just south. Join me on this 12 mile trav... Driving directions to the location and spot to meet at:
From Route 93 (North or South), Take Exit 24 and follow Route 3 (Daniel-Webster Highway) east to the junction of routes 3 and 113 in Holderness, NH. Turn onto 113 and follow until you reach the left turn for Dinsmore Pond Road. Dinsmore crosses a four way intersection (Smithville Road) to end at Diamond Ledge Road – you can only go left or right here and you will go LEFT. Follow Diamond Ledge Road. You will come to a fork where we will meet and the lower parking area resides. As always – Google map to visualize the trajectory.
Trip Report/Photos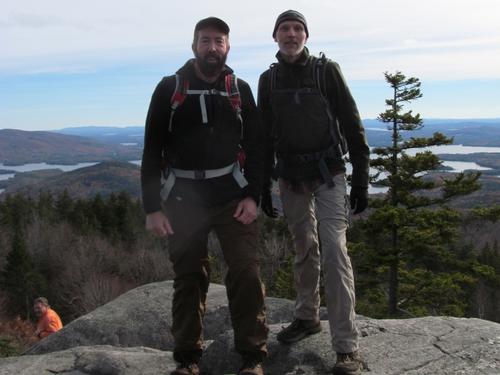 What a sweet day – Thank you Stephen for joining me and making this traverse a reality. I enjoy all hiking but nothing beats the art of slicing through the wilderness to finish somewhere other than where you started – and – I'm always happy when we emerge where we parked the car, lol!!
This past weekend was a milestone weekend for me…. I turned 50. To say it out loud really drives home I'm a half century young – amazing. Growing up birthdays were simple affairs celebrated with my siblings and parents, a cake and ice cream, and a present or two, usually something I had "wished" for sometime leading up to the day. As an adult birthdays carry the same low-key note but the gifts are more about engaging in what makes me happy and for the better part of the last five years – that has become being out in nature. Sunday was no exception – blue skies, moderate temps and a great hiking bud joining me for the journey – keeping it simple is the best.
Sunday was the pick of the week and so I dashed northward to meet up with Stephen at the trailhead for the Crawford Ridgepole trail where we spotted a car and drove back to the trailhead for Cotton Mountain where the hike began. Early skies were mixed but cleared up as we meandered our way up to Cotton, then Livermore and all the while guessing where Webster might be. I had forgotten my map so we were trekking from memory but the trail was also well blazed despite being masked by all the fallen leaves. We soon reached Morgan where we enjoyed lunch – and thanks to Stephen – champagne to toast my 50th – thanks mate!!
Atop Morgan the landscape shifts from deciduous bare naked trees to evergreens lush from summer's growth ready to accept winters gift of snow. From this point onward the trail undulates, never descending too deeply nor requiring us to ascend with any great effort all the while giving us great views of Squam Lake. The landscape is beautiful and unspoiled as the trail from Percival to Sandwich Notch Road is not heavily traveled. Mosses, lichens, ferns all grow in abundance with a worn foot path more often no wider than 12 inches leaving the flora intact. We tagged Percival, Squam and Doublehead before making the final 1,000 descent down to Sandwich Notch Road. We started at 8:45am and finished by 3:30pm. We achieved roughly 3,000 cumulative feet of elevation gain and traversed 13.1 miles (sorry, miscalculated in my trip posting – sheepish grin).
After the hike we picked up my car then had an early dinner at Walter's Basin. To our delight they had $5 burgers so we indulged.
THANK YOU Stephen for making this day just awesome and for the champagne – a total surprise and sweet treat. Cheers mate!!
There are 30 photos in Album (Note: Move mouse pointer over larger pic and click on NEXT for better viewing)
Members That Participated
sustaining member
Robert.L
Outdoor Fitness Level: Strenuous
Spencer, MA
United States
Online Status: OFFLINE
Last Login: 03/21/2019 09:42 PM
Member Since: 09/07/2014
sustaining member
shep5
Outdoor Fitness Level: Very Strenuous
Jaffrey, NH
United States
Online Status: OFFLINE
Last Login: 03/15/2019 09:41 AM
Member Since: 10/30/2001
rocketmandan
Nov 5, 2018 at 8:59 PM
Nice job! 13 miles is about double my day trip mileage is right now. I love the views from those two peaks. Actually Joey & I have it in our wills to have some of our ashes deposited on top Mt Morgan. Happy 50th!
shep5
Nov 5, 2018 at 11:51 AM
Thanks Robert for organizing this spectacular traverse of the seven peaks of the Squam Range. It was a perfect fall hike with a good challenge and spectacular views through the day!
<