4180' Old Speck
Hiking/Walk DATE: 10/14/2018 - 10/14/2018
Trip/Event Location: Grafton Notch/Newry, ME
US
Trip Leader(s): Homesteadman
Max # People: 8
Trip Guiding / Event Fee: No, I will not be asking participants for money
Difficulty Level: Moderate to Strenuous
Pleasant, basically moderate fall hike from Grafton Notch to the flat wooded summit of Old Speck Mt, Maine's 3rd highest peak, where there is a viewing platform, converted from an old fire tower. Exc...
Driving directions to the location and spot to meet at:
Take Me RT26 north out of Newry, Maine. A well signed parking lot is on the left at the height-of-land (that's what the guidebooks always say) in Grafton Notch. This is also the AT crossing and is 2.7 miles beyond Screw Auger Falls. Trails start on the north side of the parking lot. I have a Nissan frontier 4X4.
Trip Report/Photos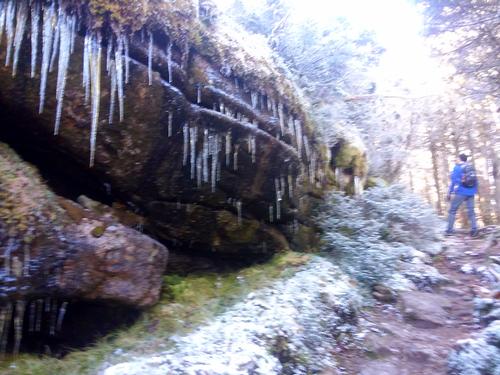 I could see the top of Old Speck as I drove rt26 into Grafton Notch covered in what I thought was hoar frost, but Jeff could see the high peaks of the Whites from his home and mentioned they were snow covered. Cool start with the trail covered w/the leaves from a just beyond peak season. Took the Eyebrow Trail option as the first 1.1 miles which was steep, dramatic w/cables as handholds up rock slabs, iron rungs as foot stabilizers across seeping granite, maybe not always for the faint of heart. Jeff assured us that though we were much impressed by his stories of a winter hike of this trail, it was actually easier w/ crampons across packed snow and ice. Temps dropped as we ascended and we were well clothed and could add layers. Quite a few hikers, however, started in shorts and stayed in shorts. I did not believe a single rationalization for the comfort and reasoning of such a choice that any of these folks told me. A really high spirited group of guys from the Bucksport soccer team w/coach were doing the climb as part of a breast cancer fund raiser. They had each secured pledges and were proudly wearing pink t-shirts and socks. The approach closer to the summit was icy in spots, none of us took a fall, and the extraordinary beauty of snow covered trees. Lunch at the summit. I chose to climb the viewing platform up a vertical metal runged ladder. Incredably windy but 360° views. My promised thermos of hot chocolate was only mildly warm chocolate, but I meant well. Saw the trail maintainer on the way down as well as a late season AT northbounder who said in Rangeley he was heading to Katahdin to come south. He was excited. A beautiful hike marked w/easy conversation and continually beautiful trail. Thanks to Jeff and Paul.
There are 12 photos in Album (Note: Move mouse pointer over larger pic and click on NEXT for better viewing)
Members That Participated
sustaining member
Homesteadman
Outdoor Fitness Level: Moderate to Strenuous
Caratunk, ME
United States
Online Status: OFFLINE
Last Login: 03/25/2019 08:26 AM
Member Since: 07/23/2018
sustaining member
mecyclingrunner
Outdoor Fitness Level: Moderate to Strenuous
LEWISTON, ME
United States
Online Status: OFFLINE
Last Login: 03/25/2019 04:25 PM
Member Since: 07/22/2018
<