No. 5 Mtn + ponds & waterfalls - Jackman
06/29/2021
Trip Report/Photos from BillyB1976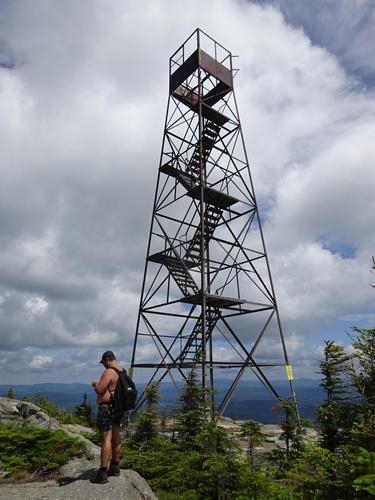 My friend Brian (btmitch on GO) from Boston had a room in Jackman for the week. I figured this would be a perfect time to meet him and go for a hike.
Number 5 Mtn has been on my list for years, and this was the mountain we hiked.
Tuesday, June 29 was the day to hike Number 5 Mtn. Before going to the mountain, we took a side road to Spencer Rips on the Moose River. We also stopped at the site of a former World War 2 POW camp. Several hundred prisoners were housed here and worked in the woods. Number 5 Mtn is in a fairly remote area 17 miles west of Rt. 201. The trail to the summit is 2.6 miles, going up about 1,150 ft. and is relatively easy. The elevation is around 3,156 ft. The hike up took 1 hr. 20 min. The summit is open with some small trees. There is an old fire tower at the summit with the bottom flight of stairs removed and a sign saying not to climb it. Well we climbed it anyway! :)
The views from the summit are excellent. We spent 1 hour at the summit before heading back down. We met a couple with their dog on the hike back down, and that was it for any other people on this hike.
After the hike we went for a swim at a secluded beach on Spencer Lake. The land around the lake is owned by billionaire John Malone. I don't think he really likes people going there, but there were no signs saying we couldn't. In fact the sign on the gate said hikers welcome. It was a 1-mile hike on a somewhat overgrown road to the beach. We spent about 2 hours at the beach enjoying the sand, water, and remoteness. There are camps within sight of the beach and there was a boat there. There didn't seem to be anybody around, but after being there almost 2 hours the boat left the camps and headed our way. It was two men and a dog. I do believe they were caretakers for the land. We thought they might ask us to leave, but they only wanted to be sure we weren't camping there. I got a somewhat bad sunburn while at the beach.
Spencer Lake is part of the Northern Forest Canoe Trail, which stretches from Old Forge, NY to Fort Kent, ME.
It was a very warm and humid day, but the breeze helped a lot, especially on top of the mountain. It was the best day of the week with plenty of sunshine with some clouds.
After the hike we headed back to Jackman.
Wed. June 30 was a day to go check out waterfalls, check out some ponds, and explore some of the woods roads. The only hike to a waterfall was Slidedown Falls. Most of that was a road walk of 0.7 miles, with a 0.3 mile trail to the falls. The other two waterfalls were short trails from a road. We didn't meet any other people at the waterfalls. After driving several miles on woods roads we came to a spot on the Moose River that has some rapids where two bridges cross. One bridge for vehicles, the other for ATV's and snowmobiles. Wed. was a fairly warm and humid day, and mostly cloudy.
Thurs. July 1 was basically a relaxation day.
We left Jackman on Fri. July 2. On the way home we stopped at Wyman Lake and dam in Moscow. From there we parted ways, with Brian heading south to spend the weekend in Portland and I heading east and eventually north to go back home.
There are 143 photos in Album (Note: Move mouse pointer over larger pic and click on NEXT for better viewing)
BillyB1976
Posted Jul 4, 2021 at 8:05 PM
We stayed at the Mountain View Resort in Jackman. They have cabins and suites.
sedonahikerman
Posted Jul 4, 2021 at 12:46 PM
Love these photos. Just the kind of place I would have enjoyed exploring. The cabin in Jackman looked like a great place to stay. What's the name of it? Can it be reserved?
btmitch
Posted Jul 3, 2021 at 9:45 PM
Thanks for posting and being Cruise Director for the week. I had a great time.