Chandler Brook Trail
11/05/2020
Trip Report/Photos from phoenix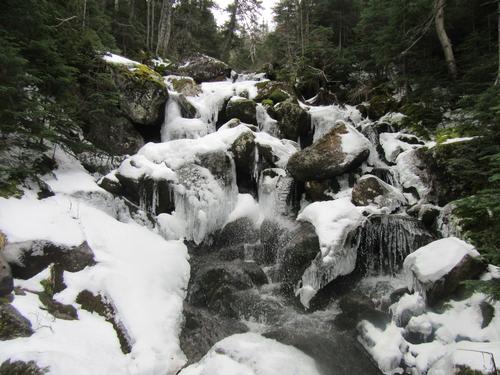 Last Thursday I decided to attempt hiking the Chandler Brook Trail, given it was the first day of a November "heat" wave. This 0.9 mile trail begins in the Great Gulf, ascends alongside Chandler Brook, crosses the brook three times, and ends on the Mt Washington Auto Road at 4000 feet elevation. However, it's 5.1 miles to reach the beginning of the trail plus another 3.9 miles to get back to your car. Therefore, it would be a 9.9 mile hike to "bag" this short trail! I had hiked all the trails before except the Chandler Brook Trail.
I arrived at the AMC Pinkham Notch parking lot at 7 a.m. to experience a first – my car was the only one in the lot! (The pandemic kept the overnight lodging closed this year.) It was to reach 60 degrees in some places in New Hampshire, but Chandler Brook Trail was on a north shoulder of Mt Washington. There was some snow and ice in Pinkham Notch. Hiking with GO members for the past 21 years, I knew to pack my gaiters, microspikes, hiking poles, and winter shell, hat, and gloves besides the usual autumn hiking gear.
I began hiking Old Jackson Road at 7:15. I paused briefly at the kiosk to verify that the higher summits weather forecast still gave a green light to my hike. I knew sunrise occurred at 6:30 and sunset would be at 4:30, essential knowledge for a long hike in November.
There was about an inch of soft, wet snow on Old Jackson Road. I used my hiking poles, but kept the microspikes in my pack. I passed the junctions with Raymond Path, Nelson Crag Trail, and reached the Mt Washington Auto Road. Across the road, I picked up Madison Gulf Trail. I took the spur trail to Low's Bald Spot for my third visit there. It has tremendous views of the presidential range for very little effort.
I continued down the Madison Gulf Trail and crossed several brooks. This was a solo hike for a reason. Most of my friends would have been complaining loudly if I had conned them into doing this wet/sloppy hike. I have no interest in hiking with whiners while also contending with less than ideal trail conditions. Solo hiking allows you to go at your own pace, be lost in your own "great" thoughts, forget about whether enough votes are counted to determine the next president, take as many pictures as you want, and decide when to stop for water, a snack, to put on or take off layers, or when to turn around because conditions are beyond your personal comfort zone. Live Free or Die! Or perhaps I'm just a control freak.
As I reached the junction with the Great Gulf Trail, one of my feet slipped a bit so it was time to put on the microspikes. Hiking the Great Gulf Trail westward, I reached Clam Rock in short order. I took a picture for comparison with my summer pictures of it. My feet were a bit wet and cold, due to being lax in waterproofing maintenance of my boots (Nikwax treatment). On the other hand, I would periodically feel very warm puffs of air on my face, which provided a very odd sensation. The trail eventually crossed Chandler Brook, thereby reaching the junction with the Chandler Brook Trail.
I stopped here to eat my sandwich. I anticipated the trail to be less traveled and thus narrower than the ones I had hiked so far. I quickly reread a photocopy of AMC's trail description and examined my map. My brain also recalled that the Great Gulf is a wilderness area – do not expect any blazes along the trail. Every once in a while, a rogue trail maintainer will take pity on you and put a blaze in the wilderness as assurance you are still on the trail, but don't count on it.
The Chandler Brook Trail was actually fairly easy to follow. Although the AMC description warns in two places that the trail is steep, I really didn't notice much steepness as I slowly ascended. The first brook crossing had two logs without any snow or ice on them. I easily crossed over on just one of the logs. As I came upon the tree-lined approach to the second crossing, my heart sank as I saw a huge snow/ice bridge that could not be safely crossed (much water running underneath the bridge followed by a huge drop off on the other side). Fortunately, once I reached the edge of the brook, I saw a safe crossing just upstream. While crossing, I took a picture of Mt Adams in the distance with the unsafe snow/ice bridge in the foreground. Between the second and third crossing, I was surprised when I encountered one yellow blaze on a rock. Not certain why it is there as I was quite confident I was still on the trail. The third crossing was uneventful.
The trail then opened up into a boulder area. I could now see Jefferson and his knee in addition to Adams. Once I saw a ridgeline above the open trail, I correctly guessed it was the auto road. I stopped for another snack before the final push up to the road. It was windy on the road, so I put my winter shell back on. I then celebrated reaching today's "summit" with a couple of gulps of Gatorade. I took a picture of the Observatory's weather station, which provides the 4000 foot data on their website.
I started walking down the Mt Washington Road at 2 p.m. It was free of snow and ice. After a short distance, I was sheltered from the wind by the hillside on the right, so I took my winter shell off. The auto road is closed for the year. Thus, I didn't need to worry about vehicles speeding down the mountain turning me into road kill. The sun soon slipped behind the presidentials. There was still plenty of light and the temperature remained warm. Upon reaching Old Jackson Road, I retraced my morning steps and arrived back at my car at 4:15. I had seen no one on the trails, although I noticed some human footprints in the snow when returning on the Old Jackson Road.
I'm happy to report this short trail also pushed me over my redlining goal for this year. I have now completed 95.0% of the trail mileage in the White Mountains (per the AMC's Excel file, 30th edition of their guidebook). After completing my 65th free trip around the sun next May, I hope to hike the remaining 5% (72.3 miles) before the end of 2021!
There are 24 photos in Album (Note: Move mouse pointer over larger pic and click on NEXT for better viewing)
JDNnh
Posted Nov 10, 2020 at 4:55 PM
H Jim --- you had a great hike, loved the pics and will now add Lowe's Bald Spot to my bucket list. Your insight to hiking safely was spot on! Congrats on hitting 95% of your red lining goal - an amazing feat in itself!! You are so close to the big finale'.