Evening hike up Mars Hill
06/19/2020
Trip Report/Photos from BillyB1976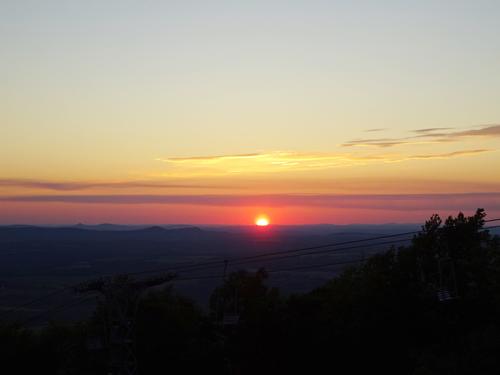 It was still 90 out when I started this hike. My normal route takes me up the ski slopes on the service road. That route is more in the open with not much shade. I decided to follow the route of the Intl. Appalachian Trail up instead as that route follows narrower ski trails and even has some short sections of footpath.
It took me about 35 minutes to reach the summit. The distance going up was just over 1 mile, going up around 1,088 ft. The elevation of the south peak is 1,748 ft.
I decided to take my normal route going down the service road. It was just after 8PM when I got to the top of the ski slopes. Sunset was at 8:30 so I decided to stick around and wait. I had not planned on this and had no bug spray so had to move around to keep the bugs away.
To kill time I called my father. While on the phone I kept moving around to try to keep the bugs away, but that didn't keep the bugs away completely. At one point I looked down and there were bugs all over my left leg and blood running down my leg. I brushed the bugs away with my hand and just kept moving around.
I've though about trying to get a sunrise picture from the top of Mars Hill around the first day of summer. The sunrise at the top of Mars Hill at this time of year is around 4:30 A.M.! That is a little early for me. Not saying I can't do it, but not much motivation. LOL
Here is an interesting fact about Mars Hill. From Wikipedia....
By virtue of its height and Northeast location, the summit of Mars Hill is the first place in the contiguous United States to see the sun rise for nearly half the year, from March 25 to September 18.[2] The first 50-star flag to see the sun in the U.S. was raised on July 4, 1960 at 4:33 AM. Fifty national guardsmen gave it a 50-gun salute.[citation needed]
There are 13 photos in Album (Note: Move mouse pointer over larger pic and click on NEXT for better viewing)